Destination tourism operator RealNZ will look to growth by acquisition as it accelerates out of covid survival mode this year.
Chief executive Stephen England-Hall said the group, which counts 19 'experience' businesses under the RealNZ banner, mostly in the Queenstown-Lakes and Fiordland area, will look to capitalise on a resurgent tourism industry as New Zealand comes out of the pandemic.
And while the family-controlled company will always "have its heart" in the South Island, it had its eye on growth opportunities both outside of and within its existing business portfolios across domestic and international markets.
In an interview with BusinessDesk, England-Hall discounted the prospect of buying the Ruapehu ski assets on the North Island, which had a "complex set of stakeholders", making a money-making proposition "challenging".
One of the first steps for England-Hall, who moved across to the Queenstown-based company from a four-year stint as head of Tourism NZ in February 2021, was to transition the Wayfare group of companies into a common brand, forming the umbrella for Real Journeys, Cardrona Alpine Resort, Treble Cone, Go Orange and the International Antarctic Centre.
While the ski fields and the Antarctic Centre retain their individual brands, its destination businesses – TSS Earnslaw, Queenstown jet boating, Walter Peak Farm, Te Anau glow worm caves and its Milford Sound, Stewart Island and Doubtful Sound excursions – now operate under the RealNZ name.
England-Hall said the entity is a new face for what was otherwise a cluttered, but significant and unique, portfolio of assets.
Ultimately, the brand pedigree is all underpinned by conservation and sustainable tourism, he said.
To recapitalise a business "brought to its knees" by pandemic border closures and travel limitations, last March the company brought on a slate of new, heavy-hitter, investors.
That was led by Milford Private Equity, Xero founder Rod Drury, Forsyth Barr director Jonty Edgar, Mitre 10's Martin Dippie and Sistema founder Brendan Lindsay.
That also saw the immediate departure of chair and former Queenstown-Lakes mayor Jim Boult and former Freightways chair Sue Sheldon from the board.
Lost ground
Queenstown's Hutchins family, who founded the company in the 1950s, remain as the group's controlling shareholders, with Milford now at 21.15% and Dippie, Lindsay and Edgar holding 3.8% each.
Stephen-Hall said the firm was making up for lost ground from the 1.7 million visitors that visited the Lakes and Fiordland regions in 2019, so that's a "fairly large impact on our tourism narrative, across skiing, jet-boating, farming experience and rafting".
To date, the recovery in the Australian, US and European markets had been faster than originally thought and had largely made up for the loss of the Chinese market.
But, he said, given the chronic staffing issues which continued to plague the industry, an influx of tourists from China now would be difficult to manage, and could likely push up things like accommodation costs even higher.
Over the past two years, the group, which employs as many as 1,700 staff in-season, had taken more than $10 million in wage subsidy claims and received about $3.5m in grants.
Looking over the next 10 years, England-Hall said there were "significant" capital requirements across its asset base, including replacement and upgrades of vehicles, replacement of water taxis and engine and gearbox upgrades on coastal vehicles.
Emissions focus
That has allowed the company to have a look at how it could accelerate its decarbonisation strategy at the same time, with upgrades to diesel generators at Walter Peak and creating better operating efficiencies at the two ski hills.
One of the most high-profile upgrades will be to its century-old coal-fired TSS Earnslaw steamship, to change over the 100-year-old coal-fired boiler into a more emissions-friendly powered vessel.
The Earnslaw, which is currently operating at its 250-person capacity across four daily sailings on Lake Wakatipu, burns about a tonne of coal per hour of operation.
A 2019 Ernst & Young report on the Otago region's greenhouse gas profile pegged the ship's emissions at 4,076 tonnes of carbon dioxide equivalent, or about 1% of the region's annual emissions.
"We've had a lot of presentations from different people on how to decarbonise the boiler. The point is often missed that we're not getting rid of the steamship. We're only going to change the way the steam is produced."
Hydrogen
The company is considering switching the power source to hydrogen, wood chips or biomass. Even moving across to diesel, often thought of as dirty fuel, would halve the current emissions.
Ideally, he said, the company will have chosen a pathway and technology by early 2024, with a view to having new boilers in by summer 2026.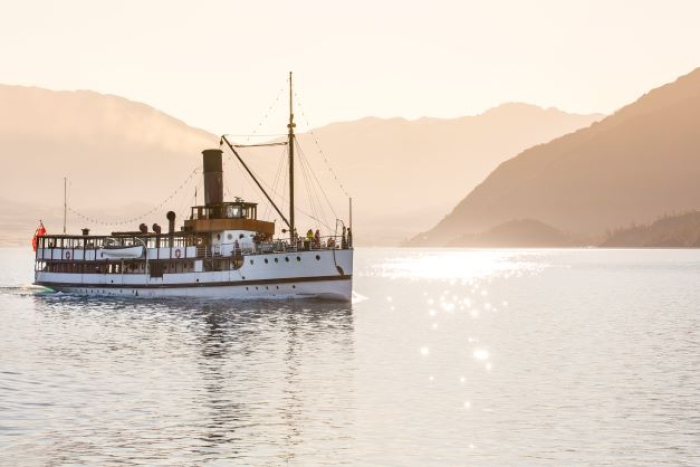 The Earnslaw, accounts for 1% of all Otago emissions (Image: RealNZ)
There are obvious challenges.
"Opting into hydrogen isn't currently an option as the Earnslaw would take up NZ's total current production. Wood would burn up to three times the current one tonne per hour of coal being used currently by the vessel."
England-Hall said it's not a lack of technology, it's a lack of infrastructure.
"You need energy infrastructure to transition away from fossil fuels and that infrastructure isn't in place."
And while RealNZ's decarbonisation plans are being praised, particularly in light of Queenstown-Lakes' aim to be a 'carbon-zero' destination by 2030, the strategy has to be tailored to what England-Hall describes as 'operational reality'.
"We'd love to run hydrogen boats in Fiordland but there's no electricity in the national park, so how do you get batteries recharged in Milford Sound."