The $60,000 three-door Mini Electric should be much, much better.
I expected a polished piece of sub-luxury perfection. Instead, I got a cheap-looking plastic interior, a heads-up display that is rubbish, and a regenerative power system that is a stranglehold on any sort of fun – an officious little bastard of a car.
The Mini Electric retails for $60,400, has a range of 233km, a 32.6kWh battery and a top speed of 150km/h.
The Tesla Model 3 retails for $66,990, has a range of 448km, a 54kWh battery and a top speed of 225km/h.
Each car attracts the Government's "feebate" subsidy of $8625. So, if you were considering buying a Mini before the subsidy was announced, I suggest buying the Tesla. Here's why:
The Mini Electric is the three-door petrol-powered $42,000 Cooper made pricier because it's electric. Even at $42k, the entry-level petrol Cooper promises 100kW of power (phwoar) and a top speed of 210km/h, all with consumption of 5.6 litres per 100km. Plus, it is loads of fun.
As with the normal Cooper, Mini promote the Electric as having "the legendary go-kart feel", but if my experience of driving it for a week is typical, they ought to be wary of buyers laying claims against them under the Fair Trading Act.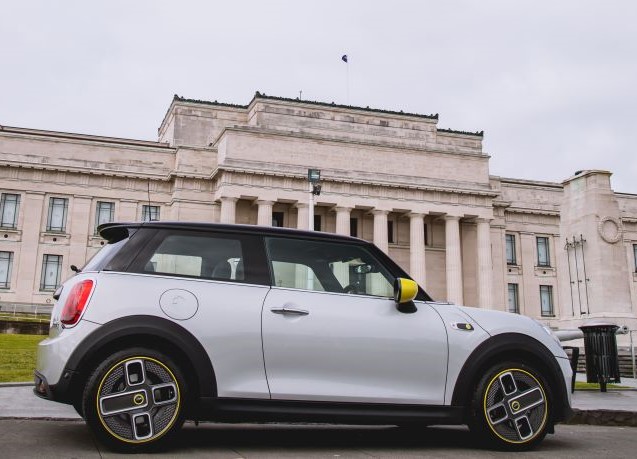 The Mini Electric.
As soon as my foot even contemplates removing itself from the accelerator, the car slows so quickly my whole body lurches forward and Siri books an appointment with the chiropractor. This acute regenerative braking means you need to drive very differently, and often badly.
And even adjusting the settings to try to soften this curse works only till you stop the car. It does not remember your preference.
Each time you get into the car it starts dinging at you until seatbelts are fastened, etc, and the central screen won't work till you yet again agree to some warning message that is both rote and meaningless. "I promise not to press a button unless the car is stationary for at least two years and I have brushed my teeth." Mini: you are a division of BMW and have ALL of the technology. Turn the screen off if you don't want it used while I'm driving or stopped at the lights.
Also, whenever I start the car up and turn on the stereo, it tells me the last station I listened to was BBC Radio 2 and it cannot be found. So you need to jump back in to find FM and then select a station. Possibly I was doing something wrong, but I was in no mood to be generous.
The Mini Electric also has what is sold as a heads-up display. But instead of projecting vital data onto the windscreen and enabling you to see info without shifting your eyes' focal length, it is a popup screen slightly behind the steering wheel that shows the same information as the dashboard console (no, it is not customisable). Viewing it requires the focal shift back to the dashboard, in effect rendering the smart advantage of the heads-up display, well, plain dumb.
The Mini Electric's limited range and my initial impressions meant I didn't feel comfortable taking it all the way to Northland and back for the weekend. Charging options are limited and I remember being stuck at Kaiwaka in the MG ZS EV. Instead, I took my new (to me) 2015 BMW 330E PHEV. A great car for $30,000.
That decision felt justified when I read that in the UK, What Car magazine says it has never managed to get more than 160km out of a single Mini Electric charge.
And even if I wanted to trickle-charge the car overnight at home, I'd be out of luck. The test vehicle has a UK wall plug on it.
The Mini lacks adaptive cruise control, lane-departure warning and other safety systems it is fair to expect in a car for this price.
But what's to love about it? The acceleration is very good. The rear-vision mirrors are a nice shade of yellow.
Alternatives
For the same price as the Mini you can get the clever-looking Peugeot 208e – which has a 100km better range and was the 2020 European Car of the Year – or for not a huge amount more, the Tesla Model 3.
You could also get a Nissan Leaf, which I'll be writing about next week.
So, why would anyone buy this? I can think only that Mini are trading on the marque's fun heritage to ship a substandard car and rake in the cash before drivers catch on.
But people are not stupid, bless 'em. In the year to June 30, Mini sold just 35 Electrics. Compare that to 706 Tesla Model 3s, or 239 MG ZS EVs, or even 75 of the $200,000-plus Porsche Taycan.
I am sure the next generation of Mini Electric will be better. That's easy to guarantee. Maybe that car will be worth investing $60,000 in (before rebate). This one is not.