For such a small place, Waiheke Island sure boxes above its weight. A sliver of paradise located in Auckland's Hauraki Gulf, its golden-sand beaches, rugged coastline and rolling hills are famously home to many an artisan food producer and a generous crop of wineries. But Waiheke can also be a little fly-by-the-seat-of-your-pants, too, if you're game for a winter weekend of action and adventure.
Wheels and wings
In 1946 in the rural Manawatū town of Bulls, a bank robbery took place. The getaway car was a 1937 Buick Special 8. The robbery ended in a shoot-out and jail terms. The car eventually washed up in a barn in Hamilton, from where Warren and Marie Gaylor bought and restored it. These days, "Belinda" is the star of the show at Waiheke Classic Tours, alongside a pair of white 1958 Cadillac Fleetwood Limousines, a 1960 Jaguar Mark IX and two handsome 1957 Chevy Bel Airs. The Gaylors, who were inspired to start the business after a trip to Cuba, where thousands of classic cars are still in everyday use, have five tour itineraries on offer. BusinessDesk chose the Waiheke Wine Experience, a happy few hours spent being chauffeured in head-turning style around the island with stops for snifters at Stonyridge, Mudbrick Restaurant and Vineyard and Kennedy Point Vineyard, plus a restaurant lunch of your choosing.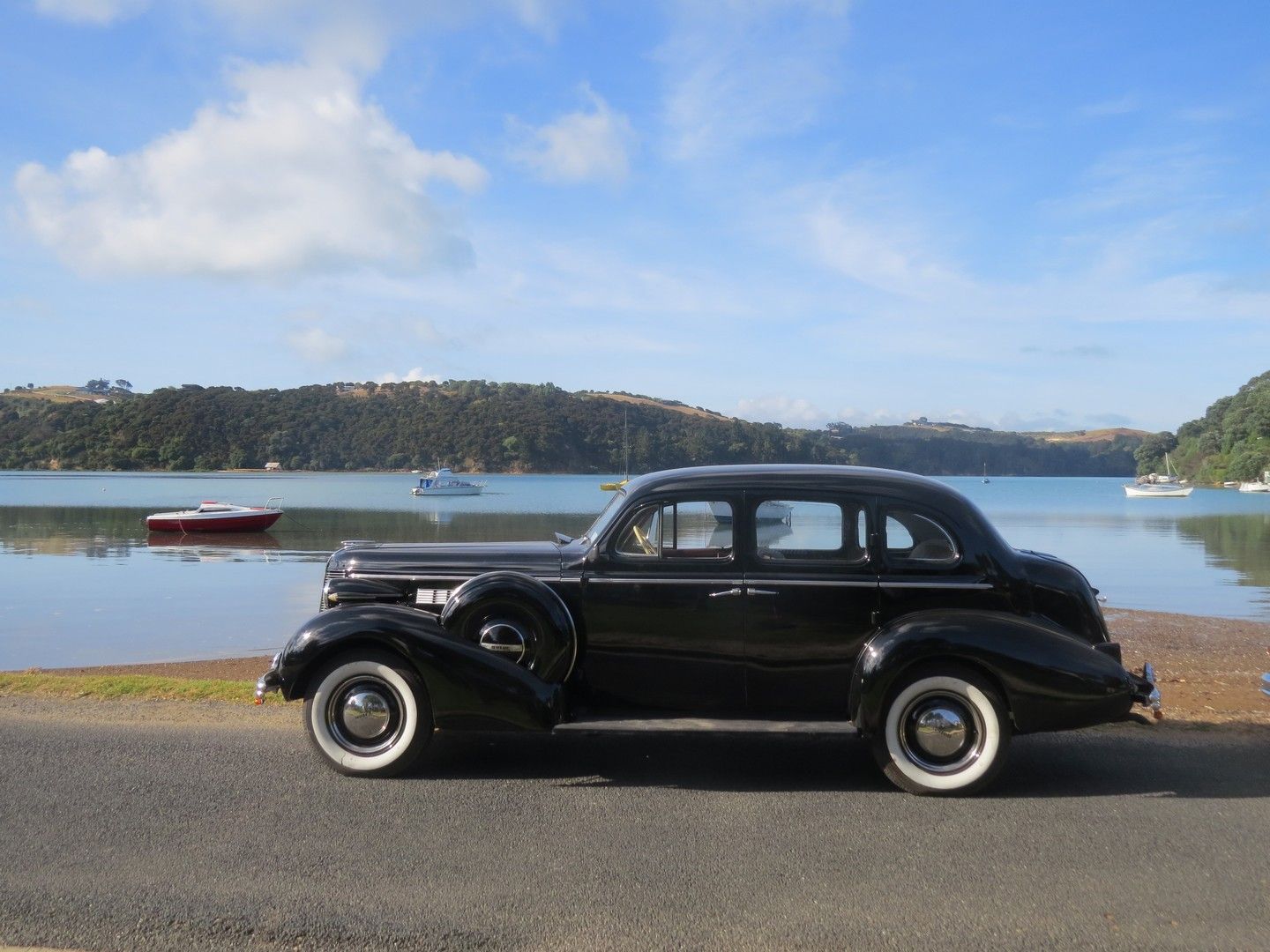 "Belinda" the 1937 Buick Special 8.
The Waiheke landscape ducks and dives around hills and valleys before dipping its toes into the ocean. One of the best ways to appreciate the island in all its glory is by air – and a Cessna 172 flown by the good folk at Waiheke Wings is just the ticket. The flight takes off from the Waiheke Aerodrome before sweeping out over Oneroa beach and heading out to the Hauraki Gulf – giving a bird's-eye view of millionaires' mansions and the oyster beds and mussel farms that serve many of the island's eateries. The flight path takes in volcanic Rangitoto and the islands of Pakatoa, Rotoroa and Ponui before descending over Onetangi beach and the vineyards that cloak the northern side of the island. Lovely.
One of New Zealand's most exciting art trails sits hidden on a 25ha block at the eastern end of Waiheke Island. Connells Bay Sculpture Park is privately owned and managed by the affable John and Jo Gow, who made their fortune in London's West End theatre productions including Cats, Les Misérables and The Phantom of the Opera. The couple bought the estate at Connells Bay in 1993, with the intention to revegetate and invigorate the land, and starting in 1998, the first of the large-scale outdoor artworks was installed. These days, there are more than 40 works around the park, including Neil Dawson's Other People's Houses; Fatu Feu'u's Guardian of the Planting; Gregor Kregar's comment on self-portraiture in Vanish, and Fiona Connor's Found Minimalism II. The Gows also host temporary works, which makes the park an evolving experience. Make sure you trek to the top of the hill trail to see Julia Oram's Bung – a giant bath plug that floats at the end of the jetty in Connells Bay. The entire art-trail walk takes around two hours to complete and you'll need to book, as viewing is by appointment only.
Stonyridge Vineyard has made its way into Waiheke lore over the past 39 years. Owner and winemaker Stephen White was inspired by his travels to France and Italy in 1981, and on returning to the island, he planted his first vines in 1982. Set atop a hill, the vineyard has Mediterranean-style buildings and acres of vines and olive groves. Famed for its events, which usually involve a DJ and plenty of dancing, the vineyard has earned something of a global reputation for good wine and good times. Its Verandah Café serves a weekday menu of sharing plates and small dishes – think slow-roasted duck with fennel radish, green apple and herbs, or burrata with apple, fig and almond – with wine matches. The weekend menu goes the whole hog, with starters, mains – including pasture-fed black Angus beef fillet – desserts and cheeseboards. And leave room for the excellent Stonyridge wine selection.
Celebrity chef Josh Emett and his wife, Helen Cranage, took over the Oyster Inn last year. The place has long been a melting pot for the island's inhabitants and has earned a reputation as a locals' haunt. Oysters, of course, are de rigueur here – they're freshly shucked and can be consumed au naturel, dressed with chilli sambal and chives, or if you like your shellfish a little less slippery, battered with wasabi mayonnaise. The menu changes daily, but the octopus a la Gallega and the market fish are recommended, and the cocktails are delicious.
There's plenty to like about Onetangi's beachfront Three Seven Two restaurant, which bagged a couple of Metro Restaurant of the Year category awards in 2019. With its friendly staff, whitewashed walls and generous outdoor seating, it wouldn't look out of place on the Amalfi Coast. The menu is by Canadian chef Bronwen Laight, who now calls Waiheke home, and is well curated, with an emphasis on fresh seafood and seasonal produce. There's nice attention to detail in Laight's food, even with the side dishes; the smoked agria potatoes with black garlic aioli is a rare treat.
Not every restaurant can boast a helicopter-landing protocol and luxury overnight accommodation options on its website, which is partly why Nick and Robyn Jones' Mudbrick Vineyard and Restaurant has long been a favourite of the smart set. But really, what matters most is that the food and wine are sublimely good and are served meticulously by crisply uniformed waiters. The views are arguably the best in town – stretching right over the gulf and back to Auckland city. Choose from the restaurant or the bistro or just relax on an outdoor beanbag with a glass of something nice.


Where to stay
If you want to get to the heart of Waiheke living, the Art Lovers Retreat is a stylish, self-contained one-bedroom cottage just off the main road at Onetangi and a stone's throw from the beach. The cottage is built around a central deck from which you can whip up a feast on the barbecue or just recline with a good book. There's also a deck at the front of the house which affords lovely views across the countryside. The living space is light and airy, with a dining table for six, and a comfortable couch and a smart TV for when the weather packs up. As the name suggests, this feels very much like a retreat; the owners have found that sweet spot in creating a proper home away from home. Everything you need is on hand, from wifi to a fully functioning kitchen and laundry, a Nespresso machine, and a car if you wish to take to the open road or even just venture over to the island's hub at Oneroa.