Allegations of physical and mental abuse at Arise Church have put a $12 million loan facility from an ethical Christian investment and lending charity under the microscope.
Auckland-based non-bank deposit taker Christian Savings Limited signed an agreement with the Pentecostal megachurch in 2019 to lend it up to $12m to fund a $7m land and building development project in Christchurch and a $5m redevelopment project for its Whangārei church.
Arise Church's 2020 annual accounts show it had drawn $5.2m of the loan by that year but its chair Graeme Kirkwood said this week borrowings had increased to $5.9m.
He said Arise Church was not in breach of any lending criteria and was in weekly contact with Christian Savings about the borrowings.
Christian Savings chief executive Dan Mazengarb confirmed none of its lending portfolio was in arrears.
Bullying
"We do not condone any bullying or abuse," Mazengarb said.
He declined to disclose specific details about the Arise Church loan, citing privacy related to all client borrowing, but confirmed Christian Savings had been looking at the Arise situation closely and that all relevant stakeholders had been notified.
"We can say that at the time of approving the [Arise] loan our lending criteria were met," he said, adding that Christian Savings did not lend to charities without taking a first mortgage security position.
"Calling up a loan upon a breach – or in the event of default, depends on the nature and degree of the breach, and the subsequent actions of the borrower.
"No decision in respect to the Arise Church loan will be made before the conclusion of the independent review."
The review is one of two being conducted into the church. Christchurch-based Pathfinding NZ was appointed in April to do an independent review of "serious allegations" following accusations of harassment, bullying and exploitation of interns within the church.
Along with this review, Arise revealed it had approached law firm Duncan Cotterill in December 2021 to conduct a human resources review. Both reviews are still in progress.
Accusations by former interns and workers were exposed by independent journalist David Farrier on April 4 in his online Webworm newsletter, under the headline How New Zealand's largest megachurch lost its way.
Resigned
Arise Church's founder and pastor, John Cameron, and his brother Brent Cameron resigned as trustees from the trust board eight days later and both they and Cameron's wife Gillian resigned from their church positions on May 27 while the reviews are being done.
Charities office filings show the Arise Church trust board, chaired by Graeme Kirkwood, also changed its rules earlier this year, ending a system where John Cameron had been the sole approver of all trustees since the megachurch started in 2002.
He appointed all new trustees for a year, then for future terms at his discretion. According to the filings, the change means "decisions regarding appointing and removing Trustees shall rest with the Board at all times."
Arise said on its website this means board appointments now require 75% approval.
Arise Church wrongly called Christian Savings a bank in its 2020 annual report when it detailed the loan facility as well as other borrowings.
It reported repayments of $17,430 on the $12m loan facility had risen in 2020 to $88,987 a month. Its total assets at December 2020 were $20.47m.
Kirkwood told BusinessDesk this week Arise is awaiting the clearing of settlement funds from the sale of land that was surplus to needs in Christchurch, and that the $2.4m from that settlement would be used to refund more of the Christian Savings loan.
"The Whangārei property construction is now completed," he said.
Borrowing ratio
Mazengarb said the Arise loan represented less than 3% of its total lending portfolio and that under its trust deed there was discretion to lend up to 10% of total tangible assets to a single borrower.
"There has only been one instance in the last 60 years, that we are aware of, where Christian Savings has enforced its mortgagee rights to effect a sale," he said.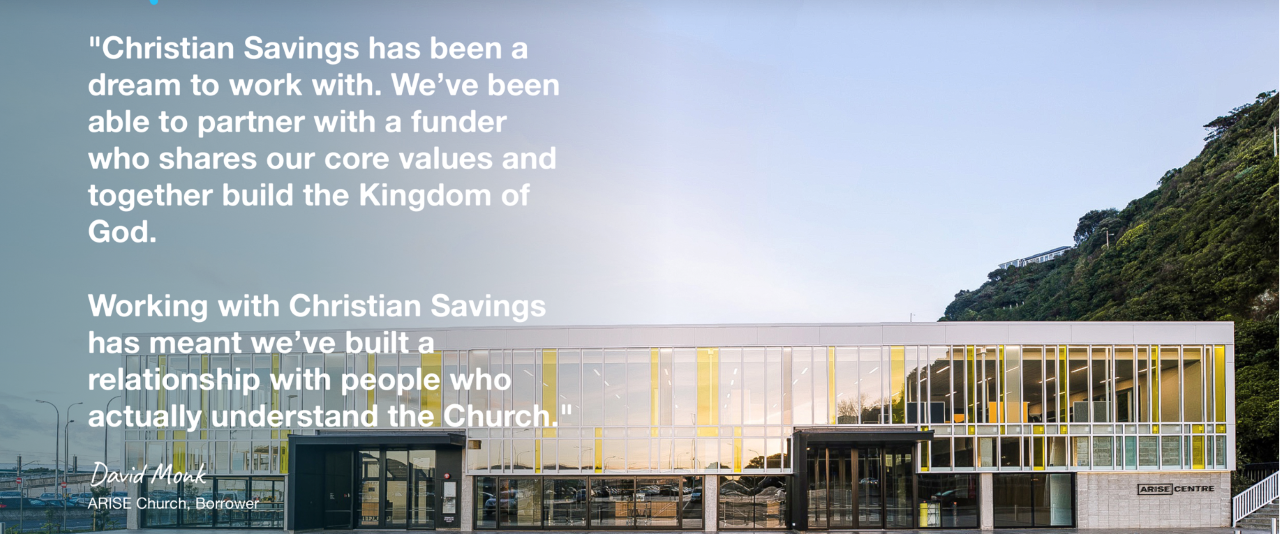 David Monk's testimonial on the Christian Savings website.
Christian Savings has a testimonial on its website from David Monk about the loan. In 2020, Monk left Arise Productions, a publishing company affiliated with the church that distributed Christian music from New Zealand artists.
Monk says on the website that Christian Savings had "been a dream to work with" and that it has found in it a partner as its funder "who shares our core values and together build the Kingdom of God".
Mazengarb was asked whether it was appropriate to still have this testimonial on its website in the wake of the Arise Church accusations. He said: "These charities are vital to the fabric of our society, and we stand behind them (including Arise Church, at this stage) and the good work their people do.
"Obviously, we have been tracking this closely and are looking at Arise from the point of view of credit, reputational risk, the future of evangelical churches, what we do well, what we can do better and what part of this do we pay close attention to?
"Our core values are demonstrated in the lending that we facilitate; this includes community housing providers caring for the homeless, local churches and running soup kitchens and food banks, among many other community-based initiatives.
Christian Savings, formerly Baptist Savings Capital Ltd, has been in business since 1962 for the purpose of ensuring "Christian charities had access to fair, affordable and effective finance".
The charity has 16 shareholders listed on its company register. The largest is Baptist Savings Trust Board, owning 40.6% of the 29.65m shares on issue. Behind it, Matua Foundation owns 16.8%, followed by Elim Savings Ltd (10%), the Auckland Baptist Tabernacle Trust Board (9.4%), Waiapu Anglican Social Services Trust Board (4.4%), The Wellington Diocesan Board of Trustees (3.4%) and the Presbyterian Church of Aotearoa New Zealand (2.2%).
The balance of shareholders holding less than 2% include Baptist entities, Business Life Investment Fund Ltd, the Lutheran Church, Wesleyan Methodist Church Trust, the Wilberforce Foundation, Acts Churches Trust and Vineyard Christian Fellowship Trust Board.
This article has been amended to fix Pathfinding's name, identify the law firm doing the review, add detail about board appointments, clarify that the Camerons resigned and clarify repayment figures.