Fifteen months after prime minister Jacinda Ardern symbolically turned the sod at a planned $30 million solar project in the Far North, the site remains untouched.
It's certainly not cluttered with any of the planned 32,000 solar photovoltaic panels promised by developer Far North Solar Farms (FNSF).
The joint Australian and New Zealand venture gained consent to develop a mass solar generation farm on the leased 12-hectare site near Pukenui last July.
That was part of its plans to bring an estimated 1.1 gigawatts of solar generation to the grid by 2025.
A spokesperson for the firm said it now had plans at "various stages" across 13 sites, but said it was commercially sensitive to disclose their exact whereabouts.
He confirmed that Pukenui, along with another three sites in Northland, Bay of Plenty and Taranaki, were now at "ready to build" stage, and had connection agreements with lines companies in place.
Ostensibly, the Pukenui project will be able to throw 22 megawatts onto the grid, which would be enough to power about 3,000 homes.
Those homes would have to be located north of Kaitāia, a Far North township with about 1,100 homes.
In July, Far North Solar Farms director Richard Homewood said the Far North farm would be operating by the end of 2021.
In May, the company announced it had entered into an agreement with German-based sustainable investment company Aquila Capital, which would underwrite construction of a "handful of selected projects in 2022", generating about 11% of NZ's clean energy generation capacity and create up to 40 full-time jobs.
The company has not tapped into any government funding so far, it said.
The company's Australian director, John Telfer, said the pipeline of projects would "build on development work since the ground-breaking ceremony at the Pukenui solar site".
So, a low base, then
Russell Shaw, chief executive of Top Energy Group, confirmed that the Far North lines company has a connection agreement in place with FNSF and that the local network had the capacity to incorporate the farm.
Where there wasn't capacity, he said, was on the line south of Kaitaia. Both Top Energy and Northpower had been working with national grid operator Transpower on the area's renewable energy zone, to open Northland up to more renewable generation.
Applications representing more than 2 gigawatts (GW) of renewable electricity would have to wait until that consultation was complete, he said.
Those include an application by Lodestone Energy, which last year announced it had five farms on the cards, including a project in Kaitaia with up to 80,000 panels. Like FNSF, it said it had hoped to be generating power by now.
Network capacity is proving to be a significant bottleneck to new generation.
Last year, Transpower recorded 124 inquiries from potential developers and said it had picked up 28 more inquiries during the first quarter of this year alone.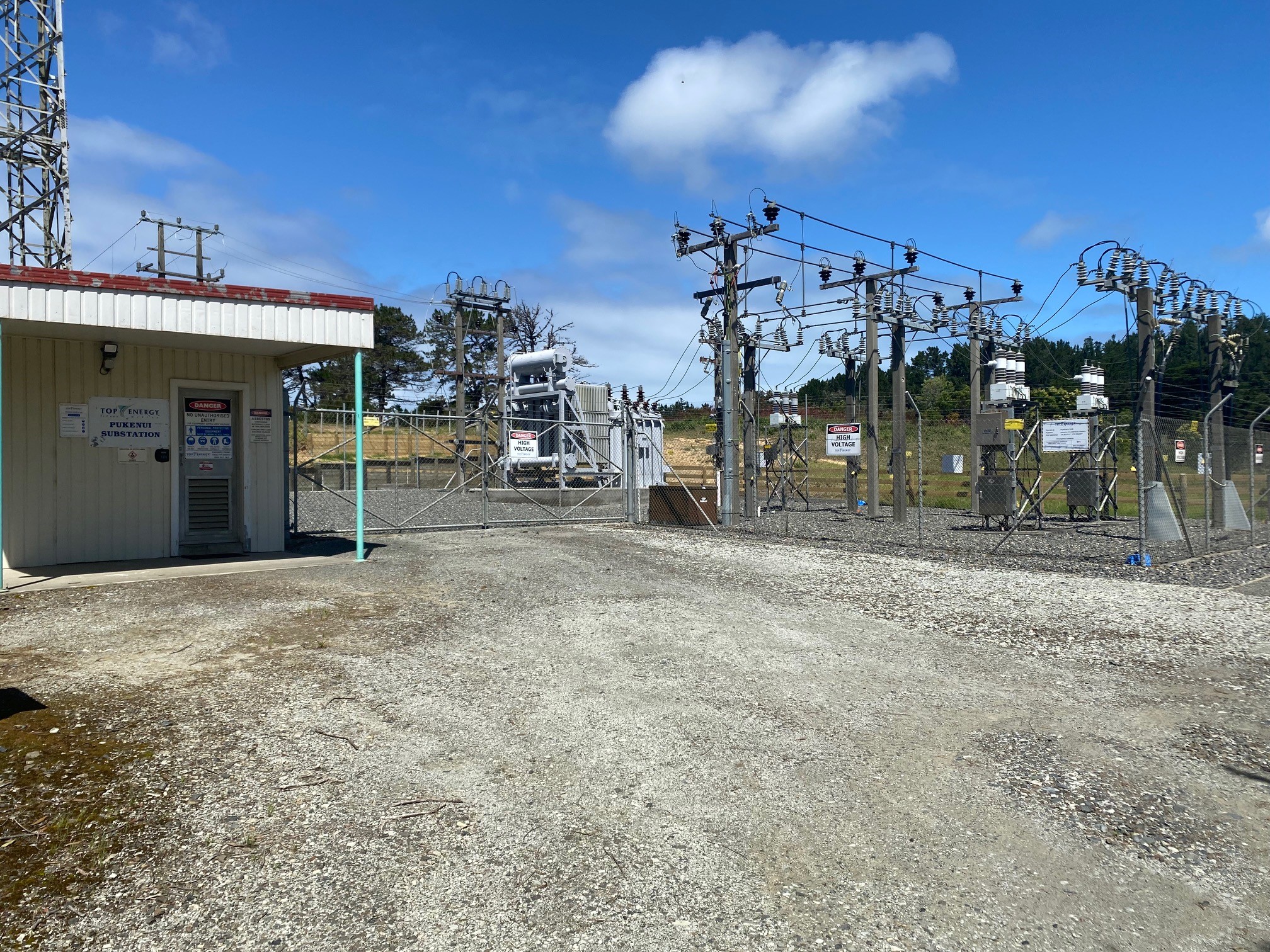 The plan is to run an underground cable to connect to this Top Energy substation across the road from the site. (Image: BusinessDesk)
In its September monitoring report, Transpower lists total potential capacity of generation in the pipeline of 27GW. More than half of that, about 53%, is for grid-scale solar, 43% is now for wind generation and the remainder includes battery energy storage systems.
The report accepts, however, that much of this is in the 'early stages of investigation'.
Illusionary projects
Those applications that look more solid include a 115MW solar farm in Edgecumbe, Bay of Plenty, by Helios Energy, three wind projects by Mercury combining for 191MW, and a 400 MW solar farm near Taupo being developed by Nova Energy. Nova operates the Kapuni Solar plant in South Taranaki, which it opened in 2021.
Meridian has also bought a 105-hectare tract of land adjacent to the Marsden Point oil refinery, which could generate more than 100 MW.
In response to the growing backlog, Transpower is going back to the drawing board on its 'first in' grid connection queue process, filtering and prioritising projects that are able to meet "key milestones in order to progress through the connection process".
Tony Woods, a director with Big Sky Solar, said the market as "saturated" with solar opportunists.
"It's been a bit of a gold rush, but I don't think people really understood how constrained the grid actually is.
"Until Transpower built another power line out of Northland, projects like these are a dead duck, really."
Big Sky, which has a 100MW, consented project in Hawke's Bay on the application list, is stuck in a queue. It's estimated it will take three years before it will be in a position to get off the ground.
"So, for us, that's had an impact on project finance. What they need to understand is that 'illusionary', speculative projects, are having real-world implications, as project financiers walk away from these deals."