Queenstown's prestigious Carlin Hotel has been put on the block with a price tag expected to fetch more than $35 million.
Developer and hotelier Kevin Carlin confirmed the land and building had been on the market for the past fortnight and was attracting offshore buyers interested in owning a high-quality new building.
Carlin, who took two years to develop the 43 Hallenstein St site, holds a 50% stake alongside 'silent' Queensland investor Da Vinci Qld and will continue to lease the building under a 30-year management contract.
American-born Carlin made his first investment in New Zealand in 1991 when he bought a section of real estate from the Jardine family at Remarkables Station.
Now, after holding NZ citizenship for 22 years, he has a string of developments to his name, including the 41-section Lakeside Estates near Jack's Point and the first gated community at Styx Mill Country Club outside Christchurch.
He was also involved in Queenstown's $70m Radisson Hotel development, a project that is now being undertaken by Australia's Centuria Capital. Though, Carlin said that development had seen significant build delays as Centuria had "preferred to focus on hospitals and medical centres," through the pandemic, and hotels became less of a priority.
Carlin, who lives in the sub-penthouse of The Carlin and drives his 12-year-old son to school every day, said the hotel was his "retirement plan" and he had no plans to depart.
The Carlin, classed as a 'beyond 5-star' hotel, opened its doors last April after a two-year build. It officially celebrates its one-year anniversary this Saturday, having racked up a host of international accolades.
That has seen it feature in Conde Nast Traveler's high-net-worth travel magazine and being judged the world's best new hotel at last year's boutique hotel awards.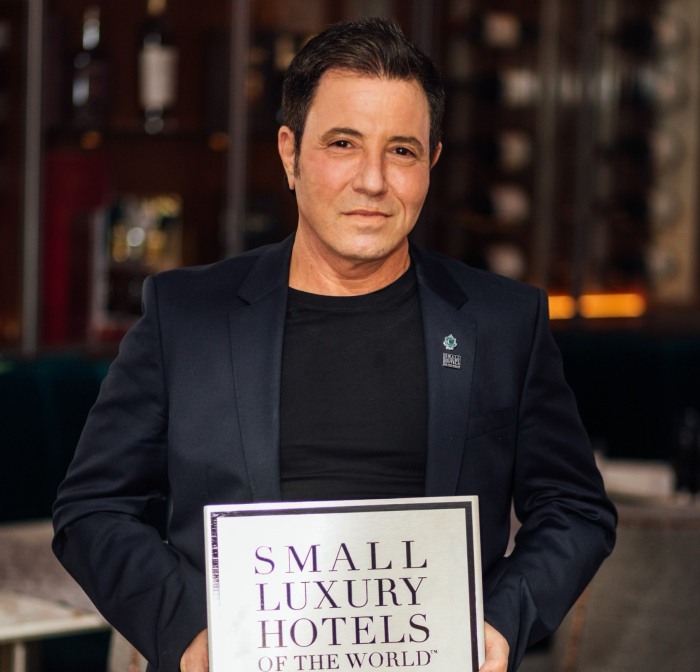 Presidential suite
The hotel's Oro restaurant, headed by executive chef Yann Robert, who worked at the one Michelin-starred Restaurant Le Relais de la Poste in France, has also been ranked as Queenstown's best by Viva magazine.
The hotel, fashioned as a European-style villa, boasts a combined 14 bedrooms including eight lakeview suites, each with lounges, kitchens, private spas and outdoor gas fires on private terraces overlooking Lake Wakatipu.
These range in size from 98 sq metres for the princess suite to the 166 sq metre presidential suite.
The pinnacle of its offering, however, is its three-storey, 520 sq metre penthouse, which – touted as the largest in the southern hemisphere – offers seven bedrooms, 7.5 bathrooms, four lounge rooms and four outdoor spas.
For VIP and celebrity guests, the penthouse also offers a private entrance, private lift and office – as well as a private jet service to avoid all those nasty airport queues and passport control issues.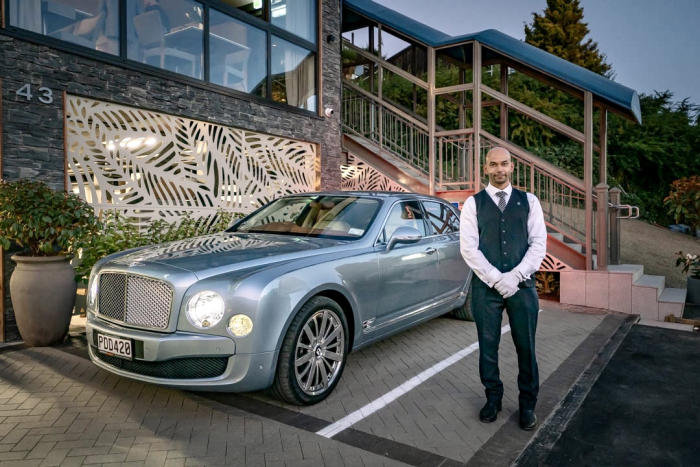 Those guests have included a host of celebrities, as well as Alibaba founder Jack Ma and "an undisclosed member" of the British royal family.
Private jets
It's not just high-flying celebrities, Carlin said. "We've had plumbers, tradespeople stay here, and they are some of our biggest spenders. We are for anyone who really wants to spoil themselves."
He said one recent guest, an Auckland contractor, ran up a $1,860 bill for two – including caviar and champagne.
To cater for those guests, the hotel leases and manages three private jets, operating out of Brisbane, Auckland and Queenstown. Its small fleet of luxury vehicles includes a Bentley, a Maserati GranTurismo and a Porsche Cayenne.
Its guests can also access private in-room massage therapists while the in-room kitchens are used exclusively by the hotel's private chefs, for those guests who "don't want to be seen in a restaurant".
Booking out the entire three-level penthouse will set you back between $20,000 per night during the low season and $24,000 during the high season.
The hotel's least-expensive option – a 120 sq metre lower-level, two-bedroom, two-bathroom lakeview suite – starts at $2,500 per night.
Difficult to work for
But because it sleeps six people, Carlin said, it becomes more cost-effective for a family of four or six or two couples travelling together. "We encourage larger families or two couples as it makes the accommodation more cost-effective."
Given the extraordinary level of personal attention, the boutique hotel has an employee roster of 38, of which only two are New Zealanders – attributed by Carlin to both high turnover and a resistance to working in the industry.
"The calibre of staff determines the ratings of this hotel. I may be considered difficult to work for, but when we have the 'A-list' clients here, they expect perfection. So, if our staff can't deliver quality, we have to find somebody else."
"After a year, he said, the hotel had now assembled an "outstanding team".
The property, which has a total building area of 1,780 sq metre, is being marketed by Wayne Keene of Bayleys Real Estate. Expressions of interest for the site close on April 26.
The story was updated to clarify the relationship between Carlin and Centuria Capital.