Ninja Kiwi, founded in 2006 by Kumeu brothers Chris and Stephen Harris, is the latest success story to come from New Zealand's gaming market.
It has risen to global prominence thanks to its Bloons TD (that's balloons tower defence) series of mobile games.
The basic premise is to stop balloons from reaching the end of a course by placing towers and roadblocks in their paths.
Towers are the primary defensive tool with each tower having different powers, complemented by engaging characters like Quincy, an archer, and Pat Fusty, a giant monkey.
Swedish entertainment firm Modern Times Group (MTG) said on Thursday it is acquiring Ninja Kiwi in a deal worth NZ$271 million, with an up-front consideration for SEK 1.2 billion (NZD$203m), and SEK 406m ($68m) in earnouts associated with after-deal targets.
But it could have all gone horribly wrong.
"There was a point at which we came close to making a really bad decision," Chris told BusinessDesk.
He said an unnamed American company approached Ninja Kiwi around 2008 interested in taking the Bloons IP to mobile as iPhone and mobile gaming boomed in popularity.
"We didn't really know anything about mobile gaming, so we were reasonably close to doing a deal that would have signed away the mobile rights to the game and the brand for not much money," Chris explained.
He cites turning down the offer as one of the company's most important decisions.
Upward trajectory
Another of those decisions happened earlier in 2012 when Ninja acquired Dundee-based mobile game developer Digital Goldfish, with whom it had partnered to produce several Bloons titles.
"The launch and success of the original Bloons flash game was successful enough to allow us to decide that we were going to be able to work full-time in this business, possibly for quite a long time," Chris said.
The first Bloons game debuted in 2007 as an in-browser game running on Adobe Flash, a technology Stephen said he learned while working as a website developer for Saatchi & Saatchi. At the time, Chris worked as an independent financial advisor.
But that taste of success with Bloons was enough to see them both leave their jobs and shoot for triumph in the gaming industry.
Chris said the business has been profitable ever since the first Bloons game. That financial steadiness grew to the point at which Ninja Kiwi posted revenue of $50.3m in 2020 according to the 2020 Technology Investment Report (TIN), just shy of Rocket Lab's $51.5m.
The MTG deal, worth $271m after earnouts, will be quite the payday for the brothers, with Companies Office records showing Chris and Stephen (and related parties) own about 74% of the company's shares.
They said conversations with MTG started three years ago thanks to an introduction from Emily Greer, then-chief executive of US game publisher Kongregate, which MTG acquired in 2017.
Initial conversations based on earnings before interest, taxes, depreciation and amortisation fell through. When it came down to it, Chris said he and Stephen wanted it to be a 100% acquisition for the good of the company.
"By and large there wasn't a huge amount of negotiation on the price. We got the figure we wanted."
Refining the genre
"The thing that Ninja Kiwi has done really well is really lean into the area that they know best," said Chelsea Rapp, chair of the New Zealand Game Developers Association (NZGDA).
"They have succeeded because they made a really great game that consistently ranks at the top of the app store."
According to Chris, Ninja Kiwi has 1.1m daily active users across its games with 860,000 of those on Bloons TD 6. This is the game Rapp is referring to.
It went stratospheric after its launch in June 2018 and is regularly at the top of global app store bestseller charts.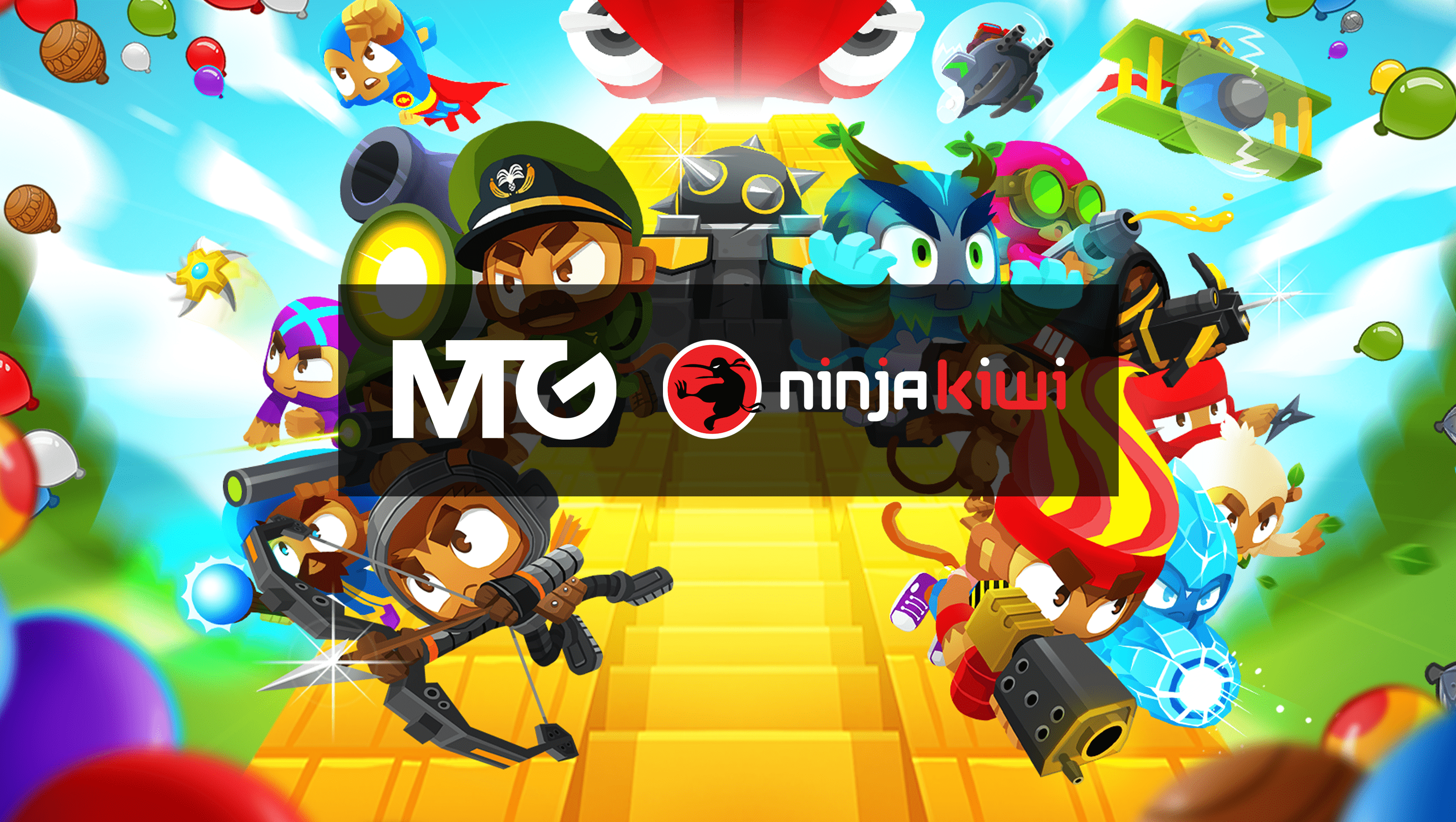 Part of Ninja Kiwi's attractiveness for MTG is how the Bloons TD series has been successful in straddling mobile game pricing models. The games have an initial cost (Bloons TD 6 is $8.99 at the time of writing) but also include in-app purchases.
"We were quite nervous about bringing in-app purchases into a game that you already had to pay for, but there's never really been any large objection to that," Chris claimed.
"There are hundreds and hundreds of hours of play and basically people don't seem to mind paying a bit more for maybe another hero skin or something like that, cosmetic stuff," he said, though admitted the company had found it difficult finding the right balance for their free games with in-app purchases.
So, why tower defence games?
"It's a sub-genre of gaming but it's got its roots in real-time strategy games like Warcraft III or Starcraft where the battle is playing out in real-time, and you need to make decisions about what units to buy and resources to acquire," Stephen explained, citing classic PC titles from the late 1990s and early 2000s.
He said he and Chris envisioned Bloons as a "casualised, distilled version of that fun," and combining the Bloons IP with the paid game/in-app purchase pricing model would be the best way to cast a much wider audience by capturing smartphone gamers.
Pieces of the puzzle
That net was also cast well in the company's early days when it snagged Scott Walker, current chief operating officer, from gaming giant Electronic Arts (EA) where he was an executive producer.
When Walker and his Kiwi partner moved to NZ to bring up their children, he emailed the Harris brothers out of the blue about possible jobs.
"We thought it was hilarious. We actually did laugh out loud," Chris said of the likelihood at the time of receiving such a communication from an EA highflyer. He said Ninja found a way to bring Walker in at the time without having to pay him a Silicon Valley salary.
Walker and all of Ninja Kiwi's 70 staff across its Auckland headquarters and offices in Dundee, Scotland, will stay Ninja Kiwi employees.
MTG only has 15 employees according to Chris but is working well as a holding company building a portfolio of industry assets. It holds a 51% stake in InnoGames, a leading German game developer, and acquired UK racing game studio Hutch in December for USD$375m.
It also owns eSports companies ESL and DreamHack, which was part of the attraction to the Harrises.
It was announced on Thursday that sequel Bloons TC Battles two will launch later in the year, and Chris has ambitions for it to become a key global esports game, a channel Bloons has not yet conquered.
Despite the successes of the past 15 years, it still sounds like the brothers have their work cut out.
"If you asked my wife how many hours per week I work at Ninja Kiwi she would probably say 60," Chris said, as he constantly checks his phone to answer emails and Slack messages round the clock.
He doesn't see this changing but Chris (aged 46) and Stephen (aged 43) still come into the Auckland office three days a week to make sure their vision is evolving while working from home the rest of the week.
Asked which of their many games is his favourite, Chris immediately says Bloons TD 6. Stephen can't answer.
"It's a bit like asking what's your favourite child," says Stephen.
"They're all precious to me because we spent a lot of time on all of them."
This acquisition doesn't mean game over.
This story has been edited to correct a date.