A Māori game developer believes New Zealand could be at the forefront of the gaming development industry following the government's introduction of a 20% tax rebate for studios.
The budget's Game Development Sector Rebate of 20% seeks to help attract and retain gaming studios in NZ, following significant pressure from international incentives, particularly in Australia.
Maru Nihoniho (Kai Tahu, Te Whānau a Apanui, Ngāti Porou) said NZ can be the future of gaming development and the local industry is now looking "much brighter".
Nihoniho said there is an international demand for authentic storytelling within games and believed the technology will bring stories to life.
"We're validated across our social media platforms about growing our international audience.
"They're telling us that they want to know more, and they want to see more, so I'm trying my best to provide the content – you'll see it soon."
She noticed the demand has increased for Māori storytelling in recent years and her latest project, Guardian Maia, is inspired by her whakapapa (genealogy).
"Guardian Maia is fiction but it's taking the values of our culture and building a story around them.
"The gameplay allows for the audience to interact with our culture in an immersive way and we should be telling our own stories because we know our own stories, we grew up with our own stories.
"Māori in general have a really good opportunity to tell our stories on these digital platforms."
Nihoniho started her gaming studio Metia in 2003. The studio is in the pitching process for Guardian Maia and the announcement is the push she needed to deliver her game.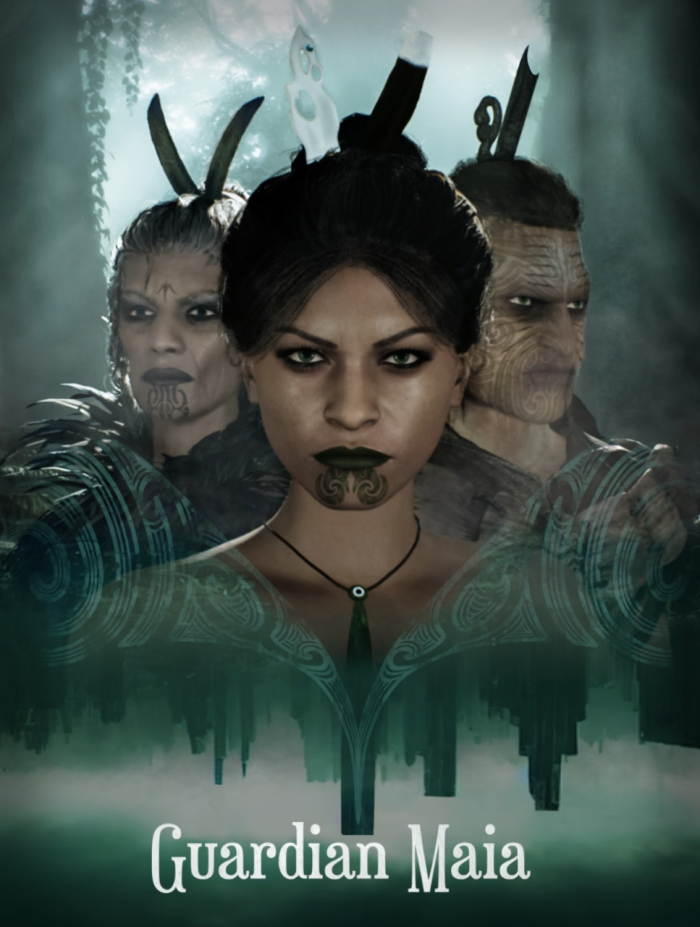 The government rebate means Nihoniho will get back some of Metia's spend so it can reinvest back into their projects and offer attractive employment to local talent – her studioMetia employs 8 staff.
This is the biggest government contribution Nihoniho has experienced. She said it was hard 20 years ago when she first started out.
"We've all built our studios and businesses off the thread of our own back.
"We reached out to our international partners for various reasons, whether that's for funding or for networking support.
"I made it this far, but it has been hard."
She said the biggest concern has been the competition of the Australian gaming industry, so much so that even she considered the move but she wanted to stay authentic to Guardian Maia – being a Māori story, she felt it had to be created in NZ.
"This is a problem, there's a real risk of losing our talent in our industry. Even though it was relatively new, we still lost a heck of a lot of our staff."
Nihoniho sees many opportunities for her industry and is determined for it to thrive in NZ. She said studios needed to work with training providers and give emerging talent practical skills.
"The games design or development industry isn't going away so we need to look at the opportunities available to us now at this point in time because after yesterday's announcement that's looking much brighter."
Game Developers Association chair Chelsea Rapp was pleased the government responded to the international threat of the industry in the form of the rebate.
"Clearly it recognises the value of the sector's contribution to New Zealand and that the government is prepared to support us in the face of Australian subsidies that threatened our future.
"This will go a long way to reducing the loss of valuable business, jobs, and resources across the Tasman.
"Now we can focus on growing them at home."
Rapp said NZ's game development sector is valuable to the economy as it grew by almost 50% last year, earned over $400 million in weightless exports and provided 1,200 high-value jobs.
"Our growing sector paid more than $100 million in tax last year, so we believe this is a responsible investment.
"We can continue to grow and contribute high-productivity jobs and exports."
The Australian government introduced a 30% Digital Games Tax Offset from 1 July 2022, on top of 10-15% state-level rebates.
Rapp said this led to Australian studios poaching staff from NZ and studios relocating across the Ditch.
The new rebate does not fully match the Australian one but the association welcomed the initiative, she said.
"The rebate for studios, along with support for start-ups via the Centre for Digital Excellence and the Digital Skills programme means we have the pieces to develop a solid industry plan."
The new rebate will be available for game development studios meeting the minimum $250,000 expenditure threshold per year. Individual studios will be able to receive up to $3m per year in rebate funding, and the scheme will be backdated to April 1.