The New York Tabletop Show is normally a frenzy of cocktails and canapes, but in this time of covid, this year it involved mainly video workshops on the best porcelain tableware, drinking glasses and cutlery. Two luxury tableware trends stood out:
Up to the penthouse: Shiny and slightly 1970s, with polished surfaces and cutlery plated in gold. Think James Bond dining with a sexy spy who's wearing lots of eyeliner and a mirrored minidress.
Down to earth: This look is all about wood, earthenware and organic shapes. "Considered and authentic" is how the tableware experts describe it.
Actually, the latter is already gaining ground in New Zealand. Every restaurant worth its Himalayan rock salt is serving food in giant handmade plates that look like a cross between a wide bowl and a platter.
We're not sure what you call these bowl/plate hybrids. Powls? Blatters? Whatever they are, they suit our way of eating. We like cheese and wine one night and a gourmet spread the next. We want our food fancy – but friendly.
So, here are some leading New Zealand ceramics artists who craft luxury tableware. You can update your table with a few new plates, or commission a one-of-a-kind set of fine tableware.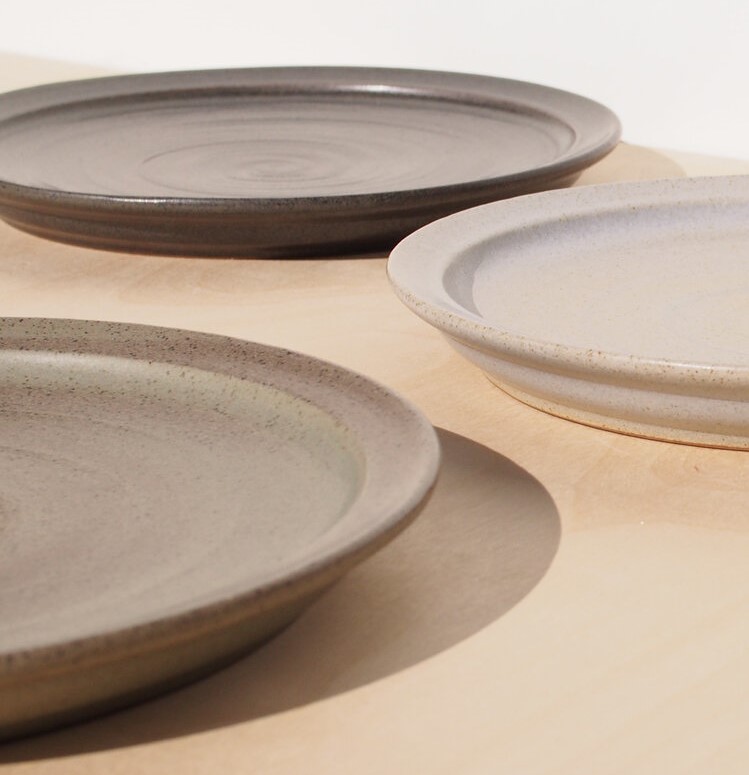 Rachel Carter handmade plates.
Rachel Carter Ceramics
If you've eaten out in Auckland, you've eaten off Rachel Carter's haute handmade plates. They're at seafood restaurant Kingi at The Britomart Hotel, at Ahi in Commercial Bay and at Mr Morris, possibly the hottest eatery in town. Michael Meredith, celebrity chef at Mr Morris, wanted handmade plates to complement the smoky flavours of his new Asado grill. Carter served up the sizzle with platters in toasty greys and creams. Her cups start at $38. Individual pieces are available at Kaolin or for private commissions for tableware, enquire here.
Thea Ceramics
You have to wait months to get a reservation at Hiakai restaurant in Wellington. Chef Monique Fiso is making history with her take on Māori food. To showcase her theatrical meals, she commissioned Esther McDonald of Thea Ceramics to create earthenware plates in grey, blush pink, cream and inky black. Thea Ceramics products sell out fast, especially the signature blue Aumoana medium platter. At 25cm wide it's ideal for cheeseboards and sharing platters. From $75.
Rachel Carley Ceramics stackable cups.
Rachel Carley Ceramics
Remember Crown Lynn pottery, the iconic tableware brand from the 1970s? We're pretty sure Rachel Carley does. Her designs come in cream, pink, yellow, pistachio, and turquoise, all with an appealing vintage vibe. Her bestselling stackable cups echo the iconic Koru cups Crown Lynn designed for Air New Zealand back in the 1970s. Carley's Sunflower dinner plates sell from $69, her stackable cups for $52.
Waiheke Ceramics
Waiheke Ceramics' lines are authentically handmade, but in volume. So you don't have to wait to set a unique table. Bowls start at $30, plates at $40. The company has supplied bespoke tableware for restaurants up and down the country – from Canyon Food & Brew Co in Queenstown to Three Seven Two, an award-winning restaurant on Waiheke Island. To discuss a customised dinner set, email peter@factoryceramics.co.nz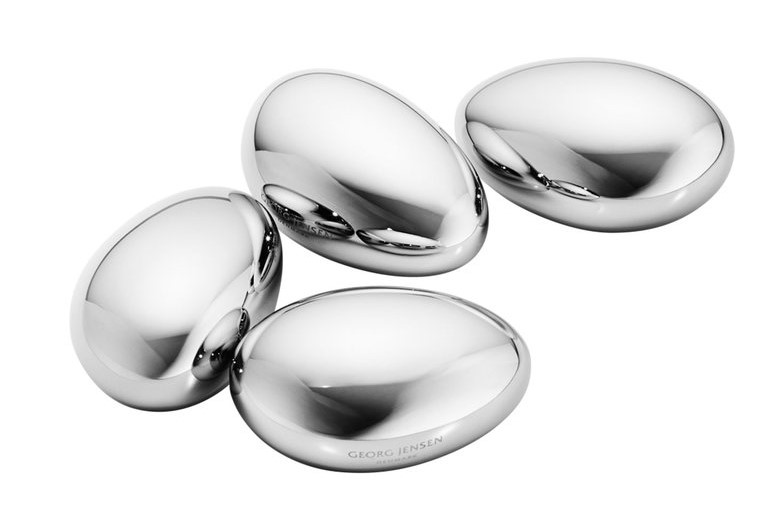 Sky ice cubes, by Georg Jensen
These are the ice-cube equivalents of Jaws, the cool Bond villain with the steel teeth in the 1977 movie The Spy Who Loved Me. Pop these stainless-steel pebbles in the freezer, then later take them out to cool your drink without diluting it with boring old water. $75 for a set of four from the Finnish Design Shop.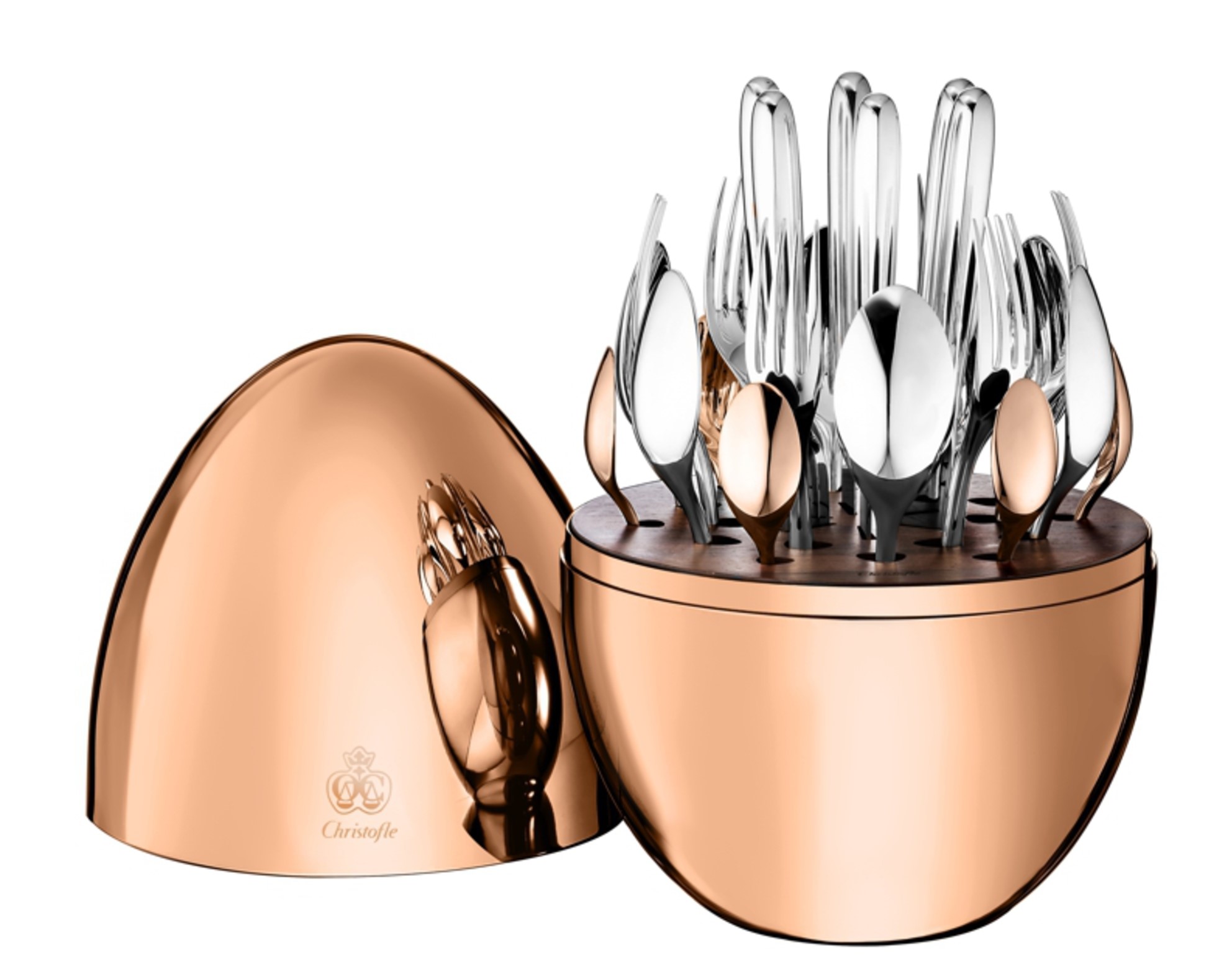 Mood Golden Egg, by Christofle
The Kardashians are famous for over-the-top style, but wouldn't you love an invitation to one of Kris Jenner's epic Christmas parties? Yes, we'd go, too. Mood by Christofle is a 24-piece cutlery set presented in a giant metal egg, gilded in yellow gold, white gold or rose gold (pictured). Jenner showed off her personal sets on social media. Perhaps she sits down for brunch with her girls and jokes about the Kardashian goose that laid the golden egg? Each Mood set is special-order and dishwasher-safe. $4067 from The Studio of Tableware.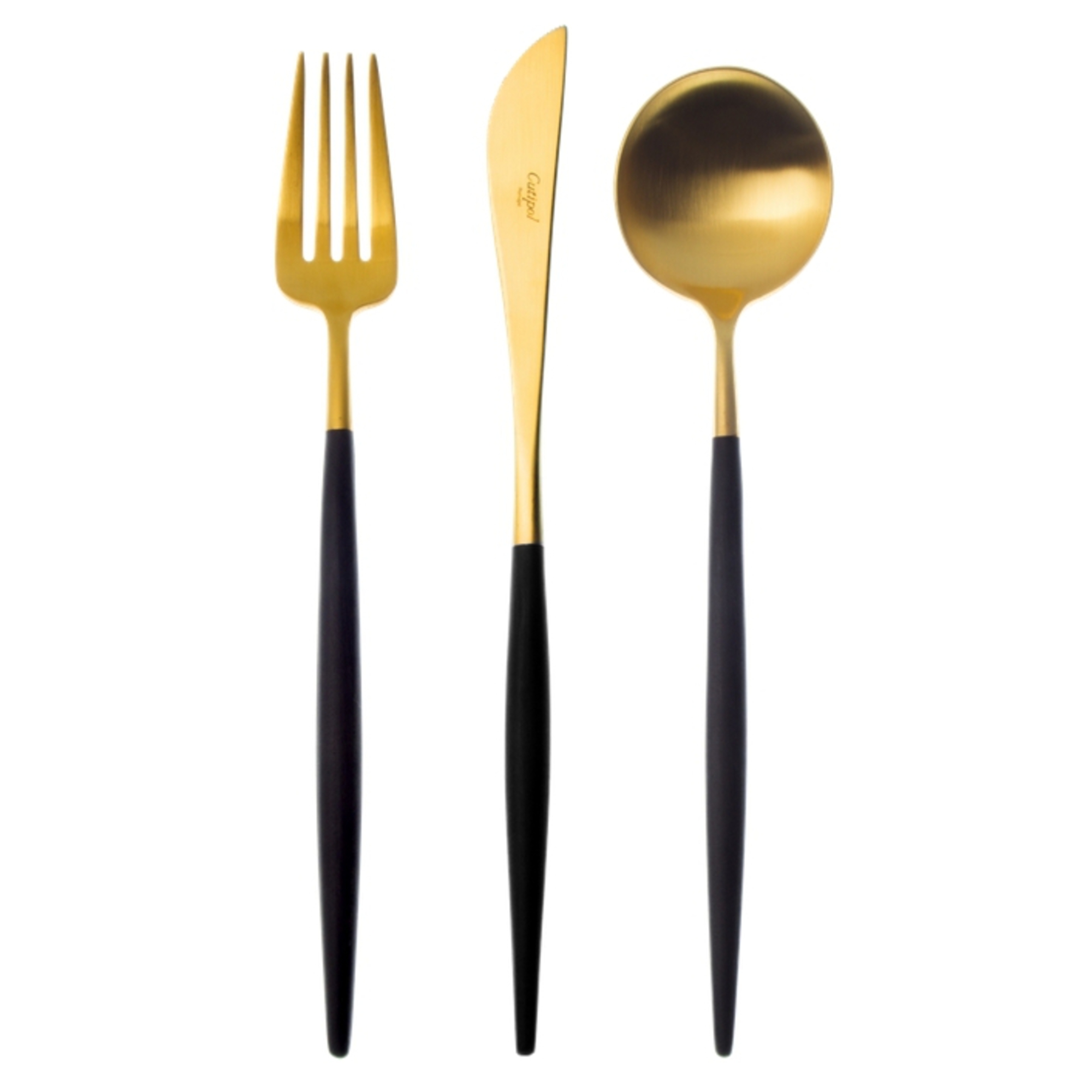 Gold-plated cutlery, by Cutipol
You'll probably be the only person in your circle to have heard of Cutipol – unless your friends get invited to the Met Gala in New York, where this luxury brand from Portugal is the preferred supplier of cutlery. That's because it's handmade, comes in silver- or gold-plate and has handles that zing in a fashionable rainbow of colours. Matching Asian cutlery is available. The latest Goa design in black and matte gold-plate is $3058 for a 58-piece cutlery set. But hey, delivery is free! From The Studio of Tableware.
Stemless Wings wine tumblers, by Riedel
Launched in late 2020, Riedel Winewings glasses have shapes and curves designed to bring out the best in each grape varietal. Newest additions to the range are Riedel Stemless Wings: three wine tumblers for riesling, pinot noir and cabernet sauvignon. They are due to arrive in New Zealand this month, so sign up for the waiting list and be among the first to raise a glass. Price is not set yet, but as a guide, one Riedel Winewings champagne glass is $55.92. Join the waiting list to buy here.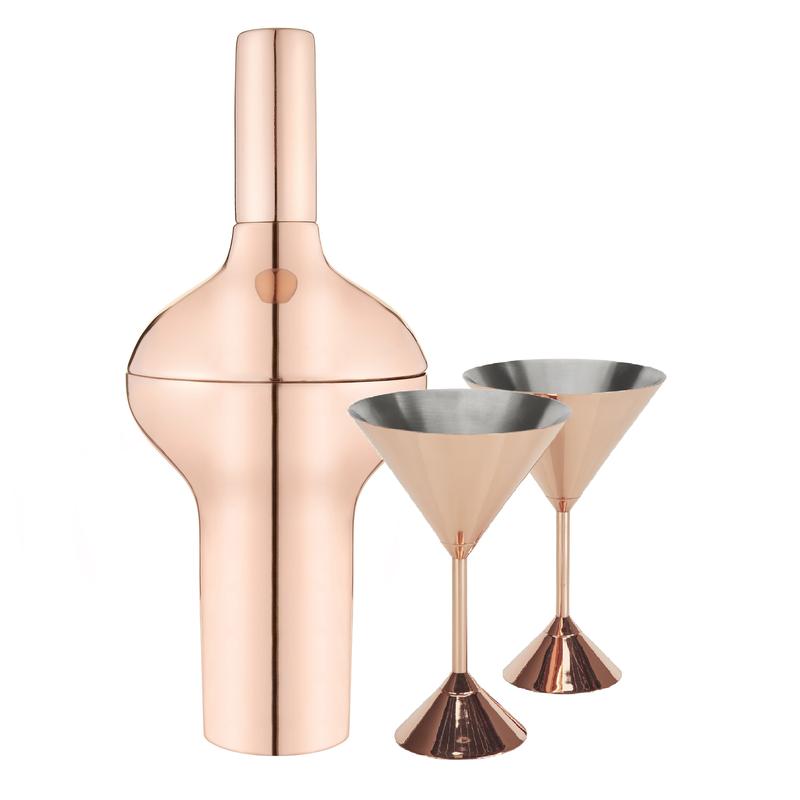 Copper martini glasses and cocktail shaker, by Tom Dixon
Sip in sexy style from these gold-tone stainless-steel and copper Plum martini glasses from British designer Tom Dixon. Sold as a set of two, with a gift box, for $276. The matching cocktail shaker is $274, both from Farfetch.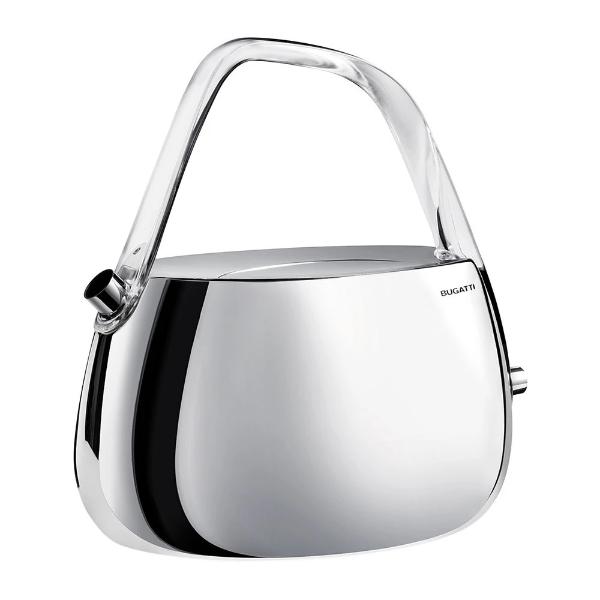 Bugatti Jacqueline kettle
You know Bugatti of Italy design high-performance cars, but did you know they design kettles? The latest addition to the Bugatti luxury entertaining range is the Jacqueline kettle and teapot. It boils water and has a tea infuser with a special display so you can monitor water level and temperature. Plus, the base lights up when the kettle is turned on. When did serving tea get so sexy? The Bugatti Jacqueline is $679 from The Green Boutique.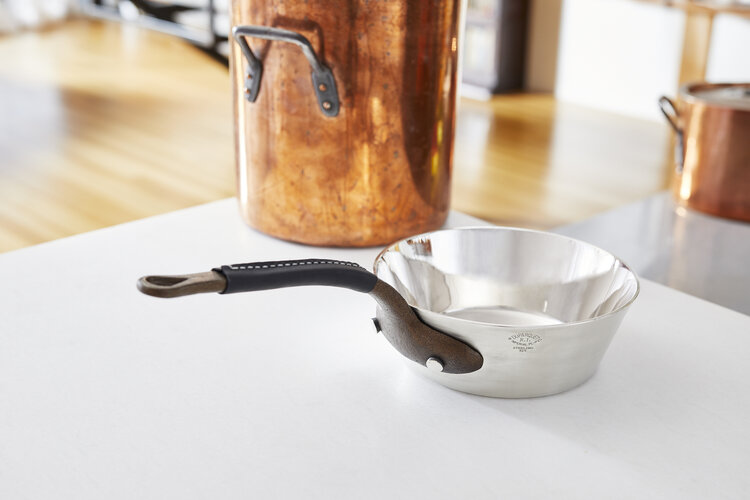 Sterling-silver handmade cookware, by Duparquet
It's trendy to bring food to the table in a frying pan or Dutch oven – and now you can use sterling-silver cookware. (Apparently silver has the highest heat conductivity of any element, even copper, so you don't need the traditional tin or copper lining.) Duparquet is a US company with a cult following for its handmade copper cookware, priced from US$500 a pan. The sterling-silver range starts from US$2600 a pan, is made to order, and can be engraved.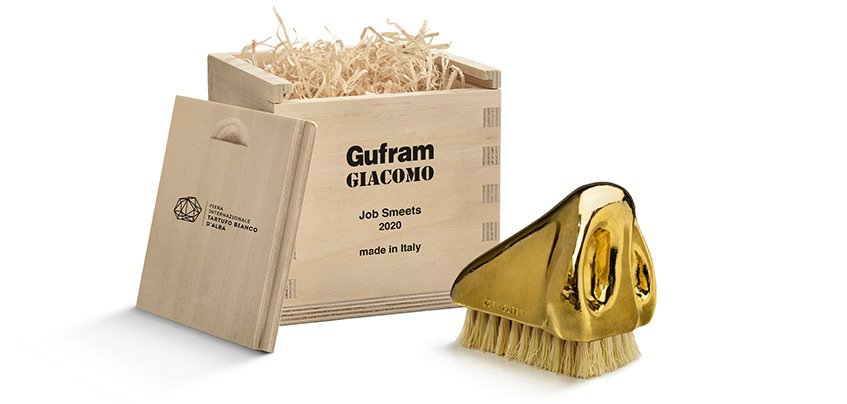 24-carat gold truffle brush in the shape of a nose
Gourmands go gaga over Italian truffles, which often cost $3000 a kilo. These fragrant fungi are shaved over meat, eggs or pasta, right at the table. You don't wash truffles, because doing so dilutes the scent; instead, you brush off dirt. Do it with the Giacomo truffle brush, shaped like a nose and plated in 24-carat gold. It will feature at the Alba White Truffle Fair, starting on Oct 9 in Italy. But you can get ahead by a nose and buy online at info@fieradeltartufo.org