The new Ninebot KickScooter MAX G2 Powered by Segway was an enjoyable, sturdy ride, but is it worth the nearly $1800 price tag?
Well, given that the review model I was sent temporarily broke down on my way home from its first long test drive, it's hard to give it a 'must buy' status.
Segway has been around since 1999 – originally an American company named after the two-wheeler, upright personal transporter invented by engineer and inventor Dean Kamen.
In 2015, it was purchased by a Chinese company and rival, Ninebot.
Easy to assemble
E-scooters have rapidly gained popularity worldwide as people look for more sustainable ways to move around major cities. New Zealand has been no exception, with the introduction of roadside hireage brands like Lime and Beam available in most major centres.
The Ninebot KickScooter Max G2 was easy to assemble. Without looking at the instructions and being mechanically incapable, I was able to unfold and attach the handlebars via four small screws, and then it was ready to go.
Like all of these scooters, it was pretty self-explanatory: you have a thumb-controlled accelerator, a left-handed brake, as well as indicators and a high-pitched electronic horn to warn people of your approach.
The Ninebot KickScooter comes with a simple LCD screen, which displays a few essential pieces of information, such as speed and battery life. However, it's difficult to read on a sunny day.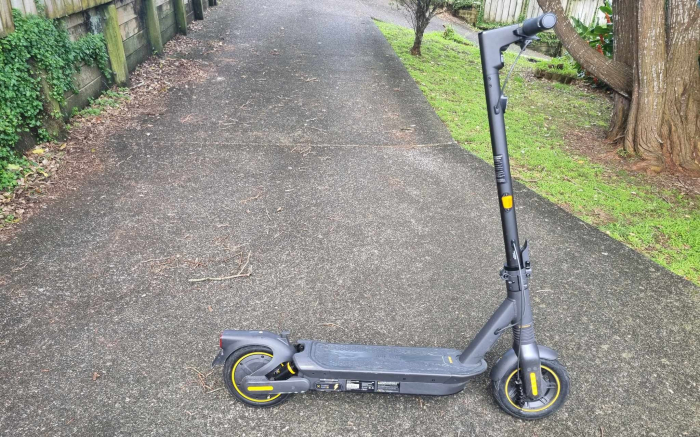 There is an internal power supply, which means you only have to carry around the cord with you for charging.
Unfortunately, the cord is laughably short. I had to dig out an extension cord in order to reach an unobstructed power point in the garage to connect it. From a quarter full, it was fully charged in four hours. It takes about six hours to charge from completely empty.
Once charged and after doing a few preparatory laps of the carpark, I felt confident to take the Ninebot on a proper journey to test its capabilities.
From Hillsborough to Avondale
My journey started on a very steep hill in Hillsborough, the incline of which proved too much for the Ninebot.
I was passed soon after leaving by an exhausted cyclist as I got off to push the scooter up the final incline. In all fairness, it is an incredibly steep hill and I weigh over 100kg, so I'm a bit closer to the 120kg weight limit than many users would be.
In addition, the 900-watt motor claims to only keep easy riding on hills with a 22% incline, and while my hill isn't precisely hors catégorie (beyond categorization), it's well beyond that.
Once riding on the flat, I began to pick up speed quite quickly. Due to the fantastic suspension and dual rear adjustable shocks, the ride was incredibly smooth.
I could tackle bumps and small divots in the road and footpath, with the suspension soaking most of them up.
This gave me confidence not to have to slow down at every Auckland road inconvenience as I felt stable and well-balanced regardless of the condition of the road.
However, at one point, I turned onto a loose gravel road just as it started to rain, and my wheels spun and I slightly skidded, so I turned and returned to solid pavement.
The scooter is meant to be for both loose and solid surfaces, and the 10-inch (25cm) pneumatic tyres should undoubtedly have been able to handle the gravel, but I lost confidence to try this again, not wanting to injure myself or damage the scooter.
On the flat, the engine allowed me to reach a maximum speed of 32km/ph, and thanks to the sturdy design and sizeable flat deck, I felt confident that I was in control and that the scooter could safely be handled at this speed.
The Ninebot has mechanical drum front brakes and electric rear brakes, and these were reasonably responsive. At high speeds, they groaned, and I ended up feeling as though I needed to compensate for my slowing and stopping distances more than I would have liked to.
The journey home
The Ninebot had no issues getting me the 7.5km to Avondale. Other than needing a bit of learning around brake timing, I felt fairly confident riding at about 25km/ph.
I decided to take a different route home. My journey to Avondale had mainly been side roads and bike paths, but I wanted to see how the Ninebot felt alongside cars on the busier main roads and have a play with the indicators.
Again, thanks to the suspension and deck stability, I felt confident to go at pace alongside cars on a bumpy road.
The indicators were a nice touch, an easy flick on and off with the left hand. However, I don't know how visible they were to cars behind me, located on the end of the handlebars and potentially obscured by the person riding the scooter.
I was about halfway home when the scooter began to lose power. Confused, due to the still half-full battery life displayed on the LCD screen, I was unsure what was happening as the scooter slowed to a stop.
The LCD then started flashing a red 51 error code, which after some roadside Googling, suggested a fault or issue with the battery. I restarted the scooter and managed to travel a bit further before the same thing happened again.
This continued throughout my journey home until I stopped and turned it off for about 10 minutes. Eventually, I was able to get home but it was a frustrating end to what was an enjoyable and sturdy ride.
I folded the scooter down to put it in the boot of my car so I could take it to work the next day.
This was an easy process, but it's not light. At close to 25kg in weight, presumably due to the battery size, it didn't feel like the type of scooter you could fold up and carry with you onto a bus or train.
I also had to fold down one of the seats in the car as it didn't quite fit into the boot of my Hyundai hatchback.
PROS
Great battery life for travelling longer distances (40-50km in mainly flat areas).
Powerful and quiet motor.
Good max speed.
Sturdy design.
Amazing shocks and suspension.
Reflectors and lights for night driving.
Easy to assemble and fold up.
CONS
Too heavy and oversized to be convenient for carrying from place to place.
The brakes didn't feel super responsive.
Battery failure on the first long journey.
Loses a lot of speed on hills.
LCD is hard to read in sunlight.
Pricier than a lot of other options.
I would love to recommend this scooter as it has a lot going for it but at the current price tag and the fact that it broke down on my test drive, it's hard to suggest you fork out the cash for this particular brand and model.
Despite the fact it was sturdy, had excellent battery life, and the suspension was impressive, based on my experience (and a quick Google to discover other people with similar issues), there is no guarantee you will get home without incident.