Put yourself in the driving seat of a Tesla Model 3 you recently bought with a helping hand from the government's clean car rebate.
You drive around feeling a little smug about your choice of the "world's coolest car". Your Model 3 is now one of New Zealand's top-selling cars, and you are at the forefront, a brave early adopter with a save-the-planet electric car full of cool gadgets and a cache.
You love your car – Tesla becomes your identity.
And then someone pulls up alongside you at the lights in Grey Lynn in a bloody Polestar. What the hell even is that thing? Souped up Chinese-made Volvo or some such, right?
But it looks pretty good. Maybe, just maybe, you are no longer the cool kid. Just a middle-aged media/ad/tech exec with a sad need to show off.
This, reader, seemed to be my experience when BusinessDesk was among the first media offices in New Zealand to test-drive the Polestar 2.
I saw a good few Teslas, and each time the driver snapped their head and displayed a look of shock that could best be described as, "Say whaaaaat?"
The first time I saw this reaction, it was comical. But when it happened every time, I started to wonder about how weird Tesla drivers must be.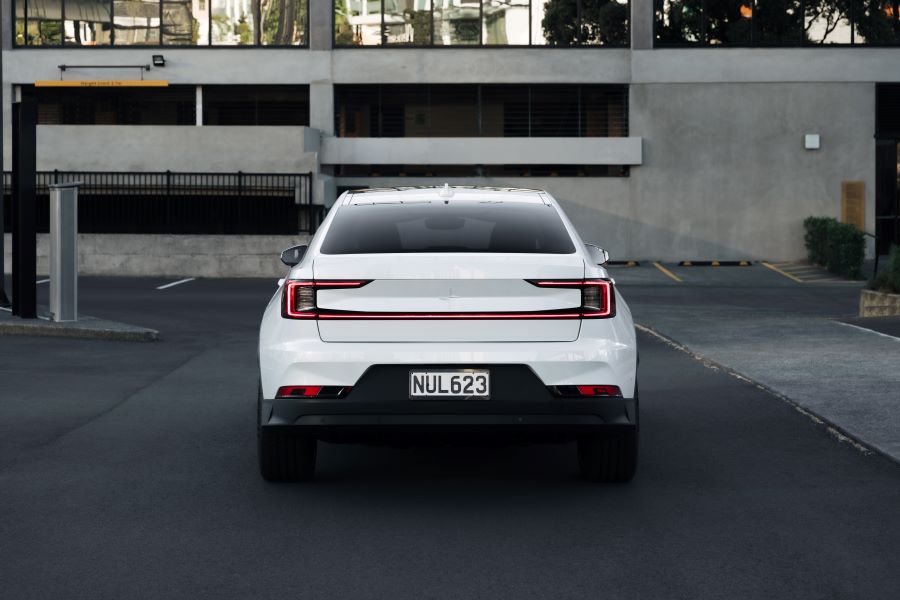 The Polestar 2 is described as a "performance sport back."
Later this week, the first Kiwi Polestar 2s will ship to about 100 customers. When more stock arrives in February, Polestar New Zealand will just keep sending them out to buyers who until now may not even have driven the car before purchase.
And I now know why. The Polestar 2 is a really good EV, the only decent sub-$70k non-Tesla.
The Polestar 2 looks more like a muscle car than an EV, a purposeful design choice to win over the Americans. It really is a good-looking vehicle.
So, if you are looking at any of the other mid-spec electric vehicles, it is lights out. The Nissan Leaf, Hyundai Ioniq 5 and Mini Electric can all pack up their toys and go home (except, of course, that the Mini Electric may not make it all the way, given its limited range).
Polestar is a joint venture between China's Geely and Sweden's Volvo, which is, erm, owned by China's Geely. The joint ownership seems mostly to do with the fact that Polestar will list on the Nasdaq and make both firms a lot of money.
Just like the Tesla Model 3s we get in New Zealand, the Polestar 2 is made in China. Any thoughts you may have about Chinese-made cars can now be discarded. They are superb.
Polestar repeatedly says it is a "companion" to the Tesla, rather than a competitor. They want to entice people out of fossil-fuelled cars into electric vehicles and so the Model 3 and Polestar 2 are both part of the puzzle.
This is mostly nonsense. The cars are similarly priced, similarly specced, and any purchaser would make a choice between the two. What Polestar really means is that the market for electric cars will expand as more and better cars come on to the market.
Another Polestar advantage is a move to being climate neutral by the end of the decade, not through carbon offsets, but by being a more and more efficient user of clever and recycled materials, etc.
How it stacks up

Lowest price

Speed to 100km/h

Range

Polestar 2

$69,900

7.4 sec

470km

Tesla Model 3

$66,900

6.1 sec

491km

Nissan Leaf

$61,990

7.9 sec

270km

Hyundai Ioniq 5

$79,990

8.5sec

384km

Mini Electric

$60,400

7.3 sec

233km
Pricing before clean car rebate of $8625
Hyundai's Ioniq 5 looks incredibly unattractive. It is more expensive, has a shorter range, has a cloth interior, and has no panoramic sunroof.
Tesla's long-range 3 model is $82,990, which rules it out for the EV rebate. Polestar has priced its long-range variant at $78,900, with a 540km range. They will also launch a $93,900 long-range dual motor model, featuring a 300kW, 660Nm all-wheel drive powertrain.
How it drives
Polestar was originally Volvo's performance brand. They say a huge amount of work goes into refining the vehicle's drive style. I have the car for only a day, but it does drive well.
The Polestar 2 is a "performance sports back" (in the distant past, this was a fast hatchback). Its interior is polished, as you'd expect from a Volvo But Not a Volvo.
The Polestar 2 also has the best single-pedal driving configuration I've seen. Its aggressiveness is controlled via the touch screen, but even at the most regenerative, the car will not brake so hard that it slams your face against the dashboard or gives you whiplash.
I end up turning it to the maximum mode for city driving, and then a mid mode for longer-distance trips.
The large touchscreen is the first to fully integrate Google's Android operating system, providing a voice-recognition system that actually works. You can also log in to your Google account and suck through everything Google knows about you.
There are lots of clever advantages to this. For example, if you put a charging station into Google Maps, it'll automatically heat the battery, which allows it to charge at faster rate.
This functionality was delivered as an over-the-air update. Polestar has updated the car often – seven updates in the past year for functions like air conditioning, battery charging, and the Google set-up. Polestar says the car you buy today will keep improving over time. This week, it will even improve its range in a new update.
The roof is entirely glass, but a UV film prevents too much heat or light from getting in. For markets that get really hot, Polestar will soon add a physical sunshade as an option.
On the downside, I found the seats to be too hard, and my left knee rested on a centre console panel with a seam in it, which caused the leg to hurt after a few hours.
Polestar doesn't have showrooms in New Zealand yet, but you can borrow a car from any Sixt dealership for half a day at no cost.
Faced with the choice of a Model 3 or a Polestar 2, I'd pick the Swede. The design is better, the driving is comparable or better, the infotainment is better and the build quality is better.
Game on.