Given how quickly the market for electric cars is evolving, the best time to buy one is probably next year. Or the year after that.
While there are superb vehicles on the market now – the Mercedes EQC, Tesla Model 3 and Audi e-tron are cars I've driven and loved – there is an argument for holding out as long as you can, unless you're planning to replace yours every couple of years.
As an example, Volkswagen has announced its intention to become the world's biggest maker of electric cars by 2025. To do this, it's employing up to 10,000 developers, building six new battery gigafactories and launching scores of new models across its VW, Audi, Skoda and Porsche brands.
Tesla shares are down 25% since January and VW is up 25%.
So, what's on the way in the year ahead as the old-time petrolheads go all in on battery power. (Note: prices are generally not available.)
Hyundai Ioniq 5
Available later this year.
Hyundai is steadily moving upmarket, from cheap and reliable to sub-luxury. The new Palisade costs $100,000, and expect more in that price range from the Korean manufacturer. The Ioniq 5 is pitched directly at the Tesla Model 3, and by all accounts it is good.
The Ioniq 5 features a giant dashboard screen, and highly adaptable interior seats, which recline and slide back up to 14cm. Think business-class seating, rather than a standard Hyundai.
It will be a game changer in the way Kiwis think about Hyundai, so expect a massive marketing campaign. The Ioniq 5 looks like how, 20 years ago, we all expected electric cars to look.
Specs: 350kW charger takes it from 10% to 80% in 18 minutes. Battery capacity is either 58kWh or 72.6kWh. Max driving range of 480km for top-of-the-line model.
BMW iX and i4
Available later this year.
I'll be writing more about the new electric BMWs next week, but for now, you need to know that they are quite revolutionary.
The i4, in particular, looks awesome. It is similar in size to the 4 series, achieves 0-100km/h in about four seconds and has a range just short of 600km. The 390kW output is the same as a 530HP traditional motor. It was due to be released next year, but BMW is three months ahead of schedule, so worldwide release now looks likely to be in September.
The iX is a mid-sized SUV with a 100kWh battery pack offering a range of 600km. It'll charge to 80% in 40 minutes, which is not super quick compared to other vehicles on this page.
BMW is also releasing an electric version of the X3 this year, the iX3, which is not to be confused with the iX. The company plans electric and hybrid variants for every model, and will make its Mini brand totally electric by 2030.
Specs: iX xDrive 50, 100kWh, range of up to 600km. iX xDrive40, 70kWh, range of 400km-plus. i4: Range of 590km, but no public data on battery size.
Audi e-tron GT
Arriving soon. E-tron GT quattro, $194,500, RS e-tron GT, $273,500.
I reviewed the e-tron last year and loved it, but the e-tron GT is a whole new level of sexiness. I've had a good few people ask me to take them for drives when I get to test one, and the only other cars I get asked that about are Teslas.
The e-tron GT is a four-door grand tourer, coming in at five metres long, and with a decent 405-litre boot in the quattro GT model. The RS variant will get you to 100km/h in 3.3 seconds and has a top speed of 250km/h. It packs 440kw of power, which can jump to 475kw in launch-boost mode.
The GT is all-wheel drive and has two motors and air suspension, which makes a real difference to ride comfort.
Like all of these new electric cars, there's an emphasis on zero or low emissions in manufacturing and a large quantity of recycled materials. The GT can charge to 80% in about 20 minutes. Specs: 85kWh, up to 487km range.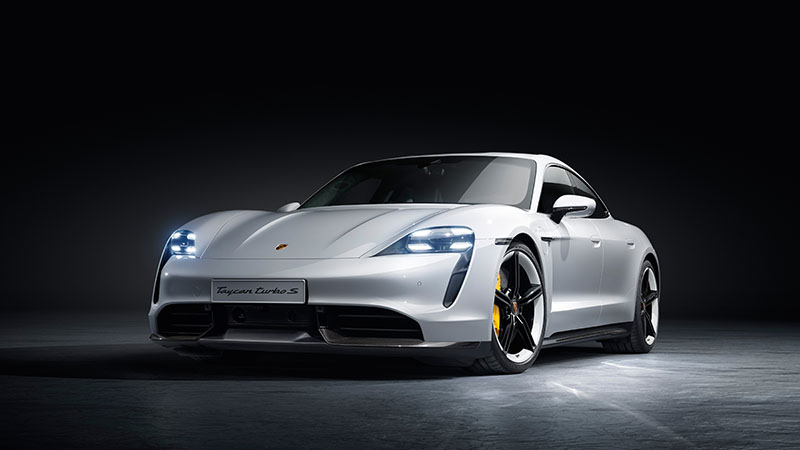 Porsche Taycan
Porsche Taycan
Available now, from $173,900.
I haven't seen one in the flesh, but apparently the Taycan was incredibly impressive at a recent Porsche track day at Hampton Downs race track in the Waikato.
Featuring many large interior screens the Taycan is a four-seater performance vehicle. It'll do 0-100km/h in 5.4 seconds with launch control and has a top speed of 230km/h.
That performance is similar to the 918 Spyder, and Porsche are proud of the fact that the Taycan can do the 0-100 speed test repeatedly, whereas a Tesla wilts pretty quickly with repeated fast acceleration.
As with the new VWs, you don't have to press a power button to start the Taycan – just select a gear. Specs: 80kWh, or 93.4kWh for "performance battery plus"; range up to 521km range.
VW ID.3 and ID.4
Available 2023, or earlier for parallel imports.
There is no doubt that the ID.3 has taken Europe by storm, slashing into Tesla's market share and growing the overall electric car category. It is so popular that VW New Zealand can't even get stock for the next two years.
The ID.3 (pictured top) is the next "people's car". It looks a lot like the Golf – nothing too exciting – and is well priced and has good specs.
The ID.4 is a smallish crossover SUV built on the same platform. The minimalist interior across both vehicles is clean and functional, and just futuristic enough.
There's no start button, which feels a little weird and takes some getting used to. If you have the key on you, just depress the brake to start. To turn the car off, just put it into park and leave.
Specs: ID.3: Up to 77kWh and 550km range. ID.4: 92kWh and range of 520km. Specs for both may have improved by the time they reach New Zealand. Coming up: VW is planning an electric beach buggy.
Ford E-Transit Cargo
Available next year.
For logistic firms, this has got to be worth the wait. The E-Transit goes on sale in New Zealand next year. It will have a 350km range and come with a 230-volt plug so you can run a worksite from it. Expect to see courier and logistics companies installing banks of charging stations.
Ford is promising a 40% reduction in the service cost of ownership compared with a diesel, which sounds plausible. If adopted at scale, the E-Transit will also make a difference in the environmental burden of our endless e-commerce deliveries, more so in Amazon-reliant countries.
On the Ford car front, we're still waiting for details on a New Zealand arrival date for the Mustang Mach-E. Specs: 67kWh battery with up to 350km range.
Tesla Cybertruck
I finished this article without including Tesla's Cybertruck because it is stupid and only cool to morons. But then I felt guilty and worried that the Tesla nuts online would be all over me, so here you are.
Rumoured to arrive as soon as the end of this year, the Tesla Cybertruck is the ugliest vehicle to have been released since the mid-1970s' Triumph TR7, a car with which it shares some design traits.
It is a car for the end of times, with a stainless-steel exterior, armour-plated glass and "vault-like" storage with its steel rear tray cover. The tri-motor variant will do 0-100km/h in under 2.9 seconds, can tow 6.4 tonnes and has a range of more than 800km.
I once met a man outside a pie shop who had already put a deposit on it. I moved table.