"Why do journos always do that?" one of the PR reps asked me at the media briefing on the new Samsung S23 range.
I looked up, slightly abashed, from the S23 Plus handset I had placed on the table and made to rock back and forth, the protruding camera housing causing it to wobble as it sat unevenly on the table.
"It's just really annoying," I said to her, fully aware that it's something that most phones do.
"But all phones do that!" she replied. "And you'll have it in a case most of the time anyway."
Flash forward a couple of weeks.
Normally when I do an interview, I'm scribbling notes in a notebook, but this time I have been loaned a review unit of the Samsung Galaxy S23 Ultra.
It comes with a stylus pen and software for notetaking, and I figure, why not give it a go?
I lay my hand down on the screen and begin to write.
Wobble wobble wobble.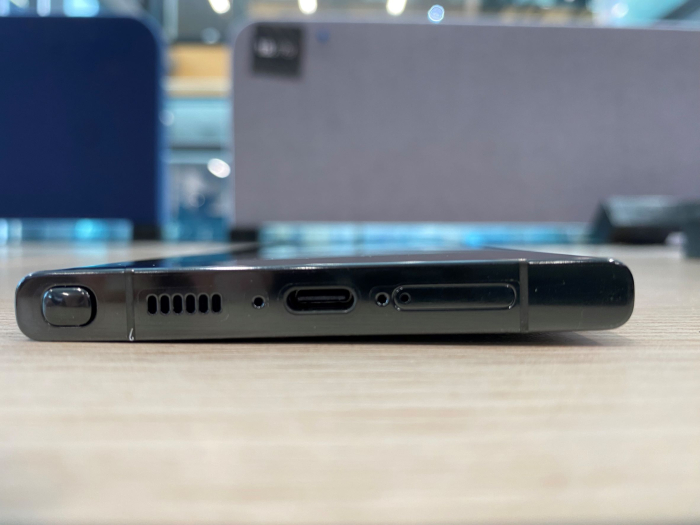 Zagg cases
US-based phone accessory company Zagg sent me two cases for the S23 Ultra review, the black Rio Snap case and the clear Santa Cruz case.
They came late, likely due to shipping delays, but for the day I had them, they made a huge difference to how the phone felt.
The clear case showed off the colour of the handset nicely and felt like it would provide great protection, but on a huge phone like the S23 Ultra, it made it just a little too bulky.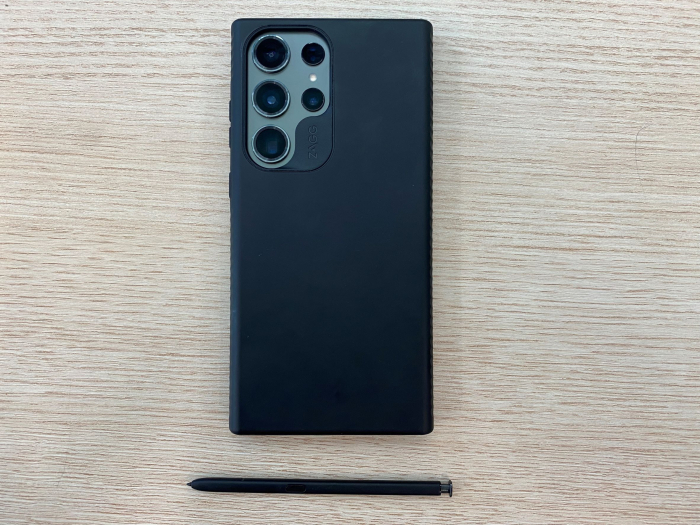 The Zagg Rio Snap case may cover up the colour somewhat, but it matches the pen nicely. (Image: BusinessDesk)
The Rio Snap case still allowed some of the nice forest green to peek through where the camera is, and although it didn't feel like the level of protection was as good as the Santa Cruz, it fitted snugly to the phone.
Best of all, I could write notes using the pen and there was not even a little wobble.
Specs – stellar
The Samsung S23 Ultra comes with the Korean tech giant's trademark "Daft Punk" approach to its flagship devices – harder, better, faster, stronger.
The 6.8in AMOLED display is a highlight: 120Hz refresh, 3088 x 1440 pixels at 500 pixels per inch (PPI), and a brightness peak of 1750 nits.
Interestingly, somehow it doesn't feel as big as it is. While the S22 Ultra felt big, the S23 Ultra seemed to be more comfortable to use. I can't put my finger on why, but it's a good thing, in my opinion.
What all those big numbers mean is that it looks great and is great to look at.
It is powered by the latest Qualcomm Snapdragon chipset, specially designed to work with Samsung software, which means it is incredibly responsive and can handle the most demanding tasks.
I could go on, but what you need to understand is that Samsung has spared no expense in making this phone tippy top of the line.
But you knew it would be because the price starts at a hair under $2,300 for 256GB storage and up to nearly $3,000 for 1TB.
The camera – a case of diminishing returns
The photography arms race continues, with the S23 Ultra boasting a 200-megapixel camera, four times the number of pixels per image as the rest of the S23 range.
The secret is that it uses pixel binning, where it combines the information from four photos into one to create a higher-resolution image.
If you want to take 200MP images, you have to select that mode every time you open the camera, and it takes a few seconds to process the photo after you take it.
It is incredible and produces some amazing images but I'm starting to really feel we've reached a point of diminishing returns when it comes to cameras in phones.
Improving low-light performance and other little changes are all great, but for me, and, I suspect, for many others, if it isn't improving the experience of a point-and-shoot after quickly and easily selecting the right mode, then frankly I don't care.
Unfortunately, I can't show you any of the images I took because when I backed up the review unit to Samsung Cloud, I forgot to separately back up the images, which isn't a thing with iOS.
I've said it before and I'll say it again: Samsung's user interface leaves a bit to be desired.
The software – new ticket: please make this good
I think there's something wrong with me because nothing about the way Samsung sets up its Android-overlaid operating system makes sense.
I had grand plans to use the S23 as a main computer for this review, as a Samsung staffer told me it can be plugged into a USB-C hub and you can do all sorts on it.
He told me I could write with the pen directly into a blank Word page or Google Doc and use an external monitor and keyboard and mouse.
None of that worked for me.
The reviewers' guide said I could use Bixby text call to answer phone calls by texting.
I have never managed to make Bixby do any bloody thing – ever – and the S23 Ultra was no different.
I should not have to look for video tutorials on how to make my phone do what it is supposed to do.
When I press the cloud backup button in the photo gallery app, it asks me to log into Microsoft OneDrive.
No wonder every Samsung fan I speak to says, "Oh, yeah, I use Google for everything."
I have tried so hard to engage with the Samsung ecosystem and hoped that the S23 would bring some cohesive new experience, but no. Still the same old.
Gaming – a winning performance
I play a few mobile games here and there, including a graphically heavy multiplayer online battle arena (MOBA).
I cranked up all the specs to the point where the game was, like, "Are you sure?", and I have to say it never stuttered at all.
The awesome screen made everything look so crisp and there was no problem with responsiveness at all.
It got very hot after an hour or so, but overall was easily the best gaming experience I've had on a phone.
The pen – most improved
The S23 Ultra took what was a useful but frustrating feature, smoothed out some issues and built on it.
The biggest advancement was that in certain textboxes on certain apps, you can write directly into it with the pen, rather than having to laboriously use the handwriting mode on the keyboard.
But even that handwriting mode was improved, allowing for more text at once and not sticking in line breaks where they weren't wanted.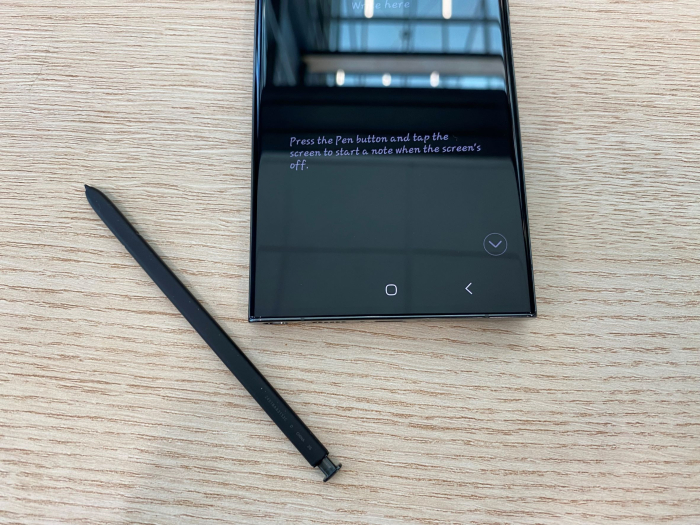 The notetaking app is awesome (once you put a case on the device) and can automatically translate scribbles into digital text, with fair accuracy.
I wish I had more time to use the phone as my main notetaker because it seemed that Samsung had really made an effort to improve how intuitive the pen is to use from the S22 Ultra.
If only the company had applied that same ethos to the rest of its software.
Final thoughts
The S23 Ultra is an incredible phone in so many ways and if you are reading this thinking, "I've never had any problems using my Samsung phone", then you will find the S23 Ultra superlative.
What Samsung is able to achieve technically is nothing short of amazing, especially the AMOLED screen.
It has improved the pen interface, which is a big plus for me and is continuing towards producing something that could one day be functional as a gaming device, at least in theory.
Next time I use a flagship Samsung, I really hope I will be able to say not only, "This phone is amazing," but also, "and it makes perfect sense."