Designer Liam Bowden and businessman Steven Boyd are the husband-and-husband team behind the wildly successful local luxury handbag and leather accessories brand Deadly Ponies, which is seen on the arms of discerning women around the world. BusinessDesk sat down with the duo to find out how business is tracking.
After 15 years, you now sell into Australia, the US and Asia. How do you find your space in a crowded and competitive market?
Steven: "In the international market we are ultimately design-led and yes, there are a huge number of designers out there, but they're not necessarily innovators. What we've tried to do over the past 15 years is to take our own path and that still stands up in the international markets. We're not a replica of someone else's brand."
Do you make design changes for other markets?
Liam: "We have in the past, but it just ends up being a logistical nightmare. Now we create a range that's big enough to be cut up and segmented for different markets. For example, urban areas need more evening product. In New Zealand, it's about carrying a lot of things, whereas overseas it may be about carrying something small."
Steven: "I think we also underestimate the local market in being a bit of a litmus test. New Zealand customers are a very discerning market that will give you a feel for what will work and what won't. I think where the international market has proven different is in the 'event' bag, whereas New Zealand is less common for that."
Is being from New Zealand a help or a hindrance in the international market?
Liam: "There can be reservations from some of the big international department stores about whether you can meet deadlines and have the margins and supply. You just need to get one order under your belt and the trust builds from there. But I think it's more about product first rather than being from New Zealand; it's more about, 'Is the product worthy of our customers?'"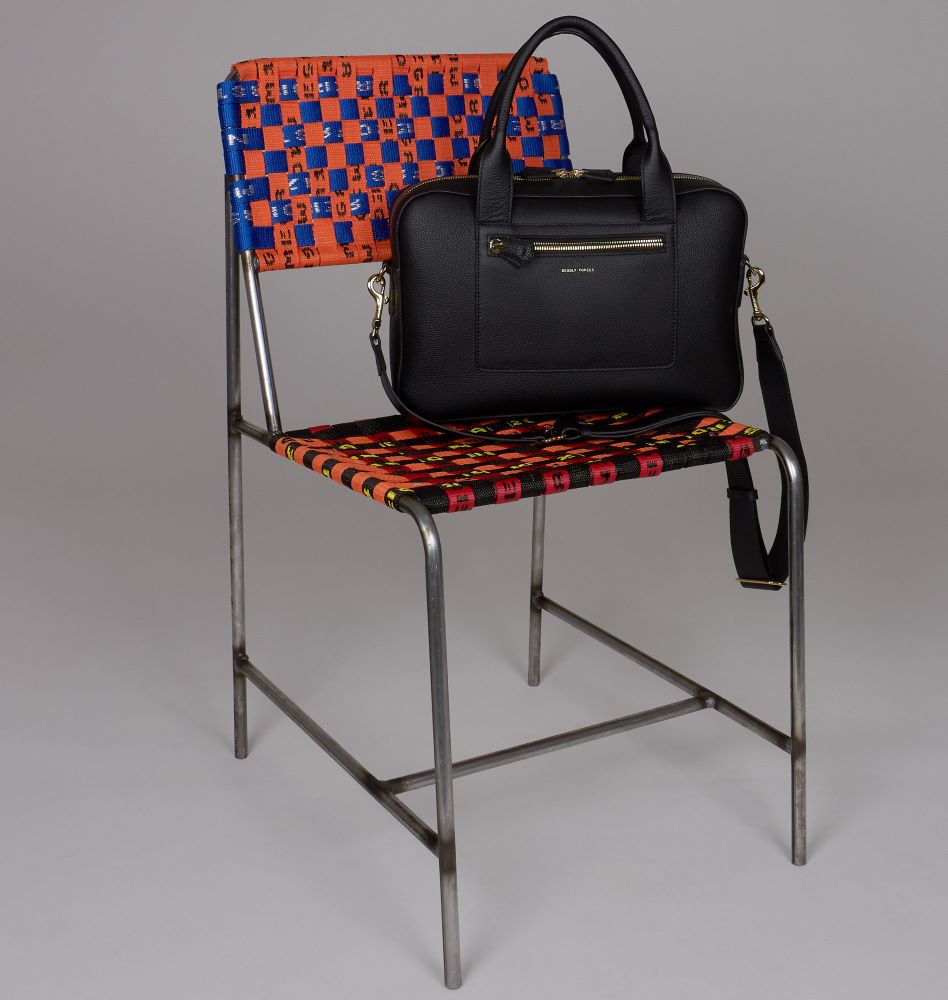 A Zorro briefcase from the Deadly Ponies travel range.
Who do you design for?
Steven: "As a business we design for Liam's taste as a creative director. Less so for a muse. We're driven by what he likes and what inspires him. I guess that talks to the design journey over 15 years. If you look at the product trajectory, it has evolved with Liam's design journey. The New Zealand woman has a conservative aesthetic, and we need to have functionality for her to buy, so there has always been some utilitarianism about the brand."
Liam: "I'm very much an explorer and hunter of knowledge. At the beginning, because I had no formal training in bags or fashion, it was about learning how bags were made, how leather was tanned. So, I was limited by my knowledge, but as those limitations were removed, there came a point where there were no limitations. Now it's about designing and playing and having fun."
Where do you take your design cues from?
Liam: "Anything that excites me. I'm a visual person, so it might be a book, or a photo. A picture, a light, a song, an artist, the way something is printed. I want to help educate our community on things they might not know about, like new artists."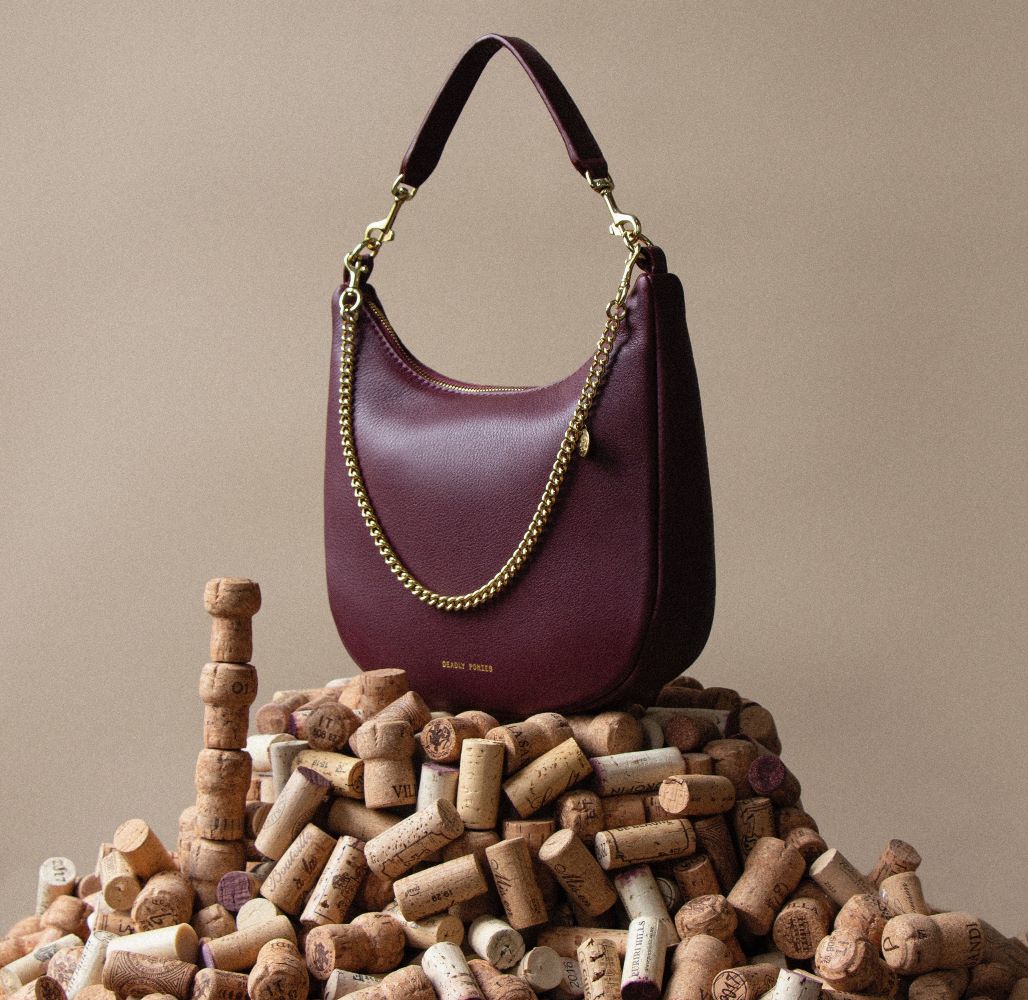 Deadly Ponies mini sling bag in bordeaux
What's the acid test? Who do you trust to tell you if something is good or not?
Liam: "The first person I show a new design to is Steve, who always has an opinion. When we had a younger team, they may have been scared to voice an opinion, but we do a lot of consultation with the sales team, as they're at the forefront of our community."
How does it affect you when people don't like a design?
Liam: "When I was younger, I took it very personally, because you put so much time and effort into it. But now I know our limitations and if I create something too conceptual, we know its place. It might be an auction piece for one of our charities or a hero piece, rather than a commercial piece."
How do you convince people to part with money for a bag they may not need?
Steven: "Ultimately one part of it is selling a bag, the other is selling an experience and a brand. We're not asking them to part with money for a bag they're going to use every day, we're asking them to part with money for a brand they love and aspire to. We understand that it's a big deal for our customers. It's important that we don't forgo that loyalty that someone is giving us by that purchasing act. We don't see ourselves as a commercial retail brand – we often talk internally about the world of Deadly Ponies, and that speaks to the fact that it is our life, our team is our family, it's a bit of a passion project that happens to be successful. That's what keeps the heart in it. If we were producing only product that we knew would sell, it would take the joy out of it."
Luxury handbag marketing can often veer into the absurd. How do you avoid falling into that trap?
Steven: "Our campaign aesthetic is less about the woman, it's about the world that surrounds the brand, so there's a crafted element to it – elements of the raw graft within the styling, letting the quality and intricacy and detail innovation stand out within the imagery."
Deadly Ponies is on a sustainability journey, which has included your cactus leather line. Tell us about how that has challenged or enhanced your business?
Steven: "I think the restraints of sustainability in the industry are long gone; every business worth its salt knows that it is a critical function of their future growth, and we're no different. I think the leather industry is a little far behind where they should be. In the manufacturing arm of our business, which is based in Thailand, we're putting in a bio-fuel reactor, which means we'll be a zero-waste manufacturer by 2022, and we can bring in more organic and biodegradable materials. It will raise the margin but we think the customers will vote with their pocket."
What have been the highlights and low points of your business journey?
Liam: "The best thing is looking back at the road we created. We were the second fashion brand to have an online store. There was not a luxury handbag category in New Zealand, so we've carved out a whole piece of the industry. There have been hard things – we've also opened up the market for competitors. The hardest thing for me is staying creatively inspired; the churn of fashion is constant – the customer always wants newness. But instead of five or six seasons a year, we've moved to two blocks and from that we can do constant drops."
Steven: "It's been an interesting journey for me. I came into the business as chief financial officer, chief operating officer, every incarnation, I've been the whole C-suite. Three years ago, I put in place a leadership team and the pressure that took off me to learn every part of the business was enormous. I truly know how to delegate now and allow progress over perfection."
What is it like to work in the New Zealand fashion industry?
Steven: "One of the major faults of the local fashion industry is its inability to collaborate. It's a very competitive market and there is unnecessary competition. We would all benefit from more collaboration."
What are your ambitions for 2021?
"We've been in Australia for about 12 years and we've got a big market over there. The time has come for a retail store from August. Last year was challenging and it put the brakes on a few things, but we've been well supported by our customers. There are plans for expansions and additional pockets; there's plenty of opportunity here, too. But if covid has taught us anything, it's that now is a really good time to focus on core business and what we do really well.