Introducing the first of our Tall Poppies - a new series celebrating the best of our Kiwi business exports.
SARAI BAREMAN - FIFA GLOBAL CHIEF, WOMEN'S FOOTBALL
As backdrops to Zoom calls go, the one behind Sarai Bareman takes some beating. Over the former Aucklander's left shoulder are Swiss forests, thick with spruce trees, while over her right, 211 flags flutter in the late-summer breeze.
These are the flags of the member nations of the Federation Internationale de Football Association (FIFA) and Bareman is its Zurich-based chief women's football officer, a title she's held since 2016.
It's a role high up the FIFA food chain and involves everything to do with the women's game – from developing women's football worldwide and commercialising the game, to delivering global events such as last year's Women's World Cup in France, which, Bareman says proudly, played to a global audience of 1.12 billion fans.
For the 39-year-old, it's a seat at the big table, a position that, pre-covid, meant she was on a plane almost every week.
"The first few years, I visited 40 countries, and I do miss meeting the people on the ground working for the women's game," says Bareman. "Instead, I'm currently spending a lot of time on Zoom calls at all hours of the day and night."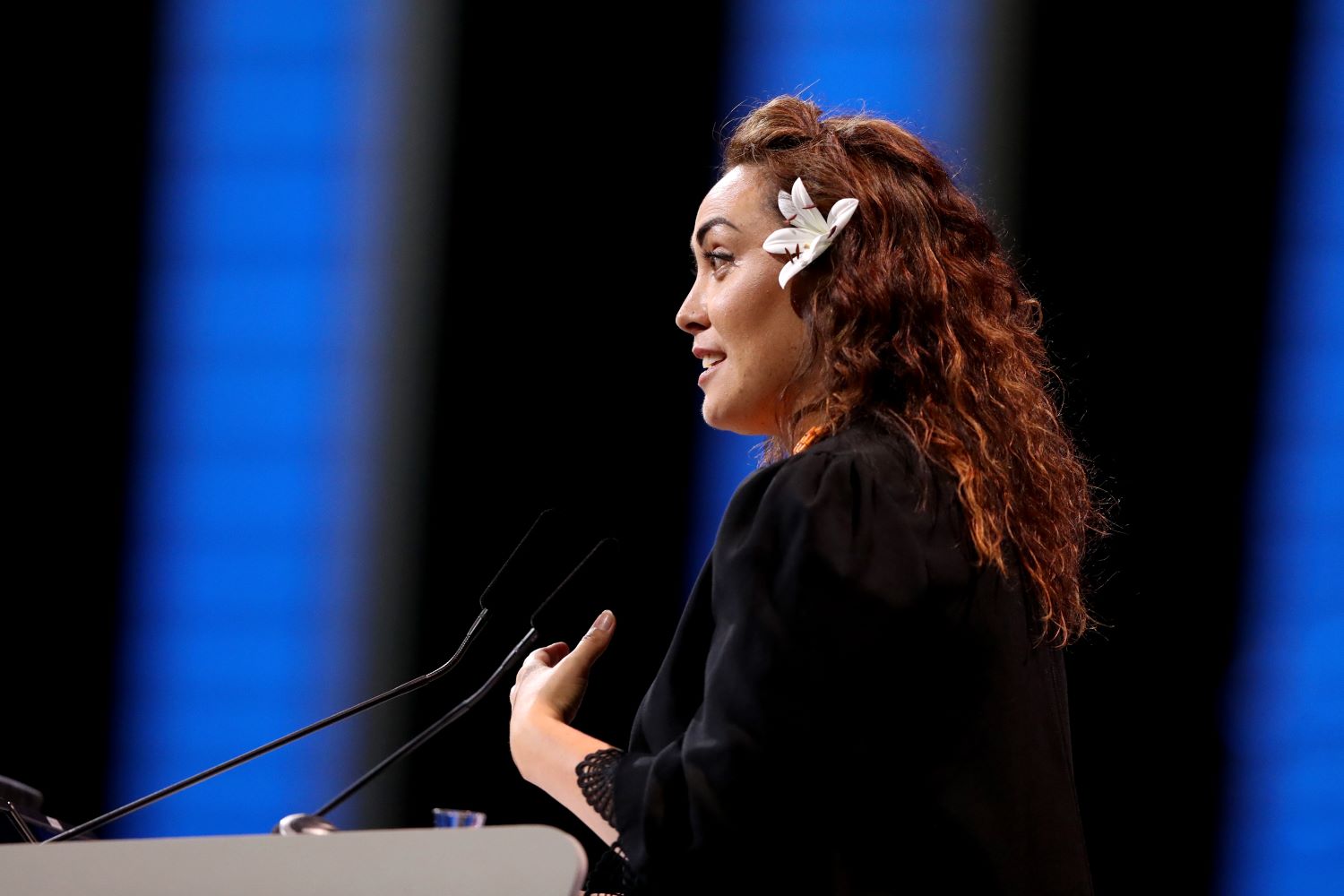 FIFA's Sarai Bareman

Ironically, Bareman grew up in a rugby-obsessed Samoan-Dutch family in West Auckland. "Myself and my three older brothers were always sporty, but dad was a rugby coach and we spent every Saturday at the Massey Rugby Club."
Later, Bareman found football, fitting it around her career in finance. While on a visit to her mother's family in Samoa, she saw a job that married her love of finance with football. She got the job – as finance manager for the Football Federation of Samoa – and ended up staying six years. There followed a stint back in Auckland overseeing football development across the Pacific for the Oceania Football Confederation, before FIFA suffered its infamous 2015 corruption scandal and, post recovery, Bareman was appointed to lead the newly created women's football division.
She and her Kiwi husband, Mark Blakelock-Toma, a quantity surveyor she met in Samoa, rent an apartment in downtown Zurich and say they love their adopted home.
"Switzerland is incredibly beautiful and it's a real privilege to be surrounded by such beauty," Bareman says. "I also love that it's so centrally located – Italy to the south, Germany to the north, and we share a border with France. Most people here speak at least three languages, which is a real challenge for me as an English speaker, but we're definitely taking advantage of the location and seeing as much of Europe as we can."
Bareman, who played for the Samoan national women's football team, still enjoys a kick-around. "But unfortunately, my athletic ability these days doesn't quite match my level of enthusiasm."
Although she's enjoying her role and living in Europe, Bareman says New Zealand will always be home.
"I'm a very family-oriented person, which is the biggest drawback of working in Switzerland. But my roots lie in New Zealand and as long as my family is there, at some point in the future I do see myself coming back. In what capacity and at what point is something only time will tell."
LANCE McGREGOR, US-BASED INDUSTRIAL DESIGNER
Beyonce, P Diddy, Justin Bieber, Nicki Minaj and the Olsen twins. They're celebrities we usually see on screen or sing along to.
But for New Zealand designer Lance McGregor, formerly of Lower Hutt, they're clients he's met and designed fragrance bottles for. Some of them have even become friends, and the 46-year-old has hung out with rapper/producer Diddy at his homes in Miami and New York.
But the New Jersey-based designer doesn't want to talk about his celebrity clients. He'd rather chat about the engagement-ring box he recently designed for Tiffany & Co ("an exercise in classic refinement") or the work he's done for companies such as Tom Dixon, Prada, Giorgio Armani, Calvin Klein, Burberry and MAC Cosmetics.
"I've been fortunate to have worked with some great clients on a range of projects, including lighting design, fragrance bottles and furniture as well as runway shows and advertising campaigns," says McGregor from the home he shares with his American wife, Melissa, and their children Dylan, 9, Quinn, 8, and Hunter, 6.
In 2009, McGregor started his own full-service agency with clients in London, Tokyo, Barcelona and India, as well as across the US. Not bad for someone who 'fell' into his career when, at Naenae College, he attended a talk about industrial design, something he had never heard of.
After graduating from Victoria University, McGregor worked for Fisher & Paykel before heading to London, where he filled his CV with clients such as Habitat and Swarovski. In 2002, he was headhunted for a role in New York, which was his entree to fashion's elite.
"I loved my early years living in Manhattan and Brooklyn. New York City was a magical place full of friends, like-minded people, inspiration, creativity, knowledge and diversity. But a few years ago, we moved to a more lifestyle-focused location around 100km south of NYC. Work brings me into the city every two weeks or so but even after all these years, I still feel like a tourist visiting for the first time when I step off the ferry."
And although McGregor admits "there's no place quite like New York", he and his family are returning to New Zealand in November.
"We had planned to move back in a year or so but with covid, this has been brought forward. We couldn't be more excited, the kids can't wait, and I've truly missed being home. It's something I've been looking forward to for a few years now. With most people in the US and globally working remotely, it seems we can be anywhere in the world and still service clients' needs."
McGregor admits to being a bit daunted about not knowing the design scene in New Zealand. "But I hope to be able to set up my studio and begin working with local brands and companies there and in Australia. I'd love more than anything to create a successful boutique studio at home and settle in for some time."
He's also keen to progress a business he started with his wife when the global pandemic halted some of this work. "We finally had the time to do something we've been wanting to do for a few years. We started a company called Joy & Co, which produces luxury adult toys – 'sculptures' would best describe them. We've reimagined the industry standard with sophistication, modernity and luxury, with each product designed and meticulously refined before being hand-made by artisans in the US. We're hoping to launch Joy & Co by the end of the year."