Team New Zealand and its would-be Auckland regatta backer Mark Dunphy continued to trade barbs in the media today, with Dunphy explicitly saying claims by America's Cup team boss Grant Dalton are "false".
At the same time, Team NZ released the results of a poll from Talbot Mills – formerly UMR and the Labour Party's pollster of choice – suggesting just a quarter of the public would support Auckland to host the 2024 contest if it involved a "significant increase in taxpayer funding".
Some 26% supported Auckland on that basis, while 50% plumped for an offshore venue "without any taxpayer funding at all".
Another 23% were unsure. The poll of 663 people was not given the option of supporting Auckland with the $99m cash and in-kind funding offered by the government and rejected by Team NZ in June.
Team NZ is arguing covid-19 has changed the public's appetite for taxpayer support to hold the cup in NZ.
Polling for Dunphy's Kiwi Home Defence initiative last month by Curia Research, the National Party's pollster of choice, found the opposite.
When asked whether, "assuming funding is available in NZ", would their preference be for Auckland or an offshore venue for the next contest for the Auld Mug, 72% of the 1,000 polled said they preferred Auckland.
They weren't asked about levels of taxpayer funding.
The Team NZ poll found those more likely to prefer a NZ event were Act voters, people over 60, and pākehā men.
Knee-capping denied
Meanwhile, in a statement issued this afternoon, Dunphy denied he was "working with, or on behalf of, any offshore interests" to undermine host venues other than Auckland.
This followed an email to Dunphy from Dalton, obtained by BusinessDesk, in which Dalton instructed Dunphy to stop addressing his correspondence to anyone other than him and claiming to be "aware of offshore lobbyists that are actively campaigning against" the bids from Cork, in Ireland, Valencia, Spain, and Jeddah, Saudi Arabia.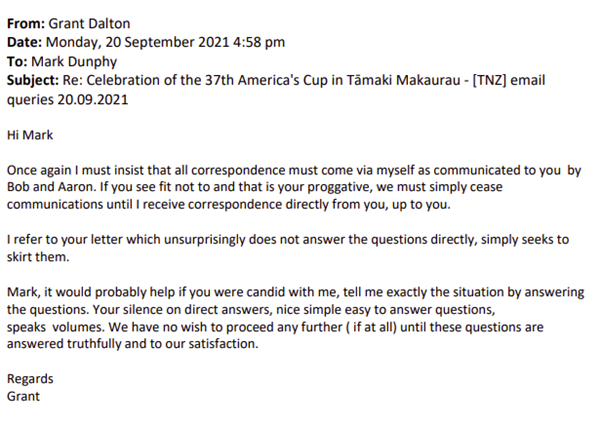 Testy exchanges - Grant Dalton to Mark Dunphy on Monday this week
Dalton asked for "confirmation that neither yourself or your backers are connected to these lobbying efforts" and stated that "to date I have received no answer".
"I further request that your response encompass any of your local associates that are either directly connected to you or who act in any advisory capacity."
Dunphy responded today saying Team NZ and the Royal NZ Yacht Squadron, which officially holds the cup, were aware neither he, nor any others of his backers, had any connection with cup rivals and "any assertion to the contrary is completely untrue".
"Kiwi Home Defence, and prospective donors, are simply a group of patriotic New Zealanders seeking nothing more nor less than to help the squadron and Team New Zealand with the funding to ensure the successful home defence of the America's Cup in 2024," Dunphy said.
Dunphy's prospects as a backer for Auckland to host AC37 in 2024 only emerged in July, a good year after Team NZ had begun seeking offshore venues for the next regatta.
Details of his approach to the bid have emerged in stages over recent weeks, with the most detailed exposition in a letter on Sept 14 last week, three days before Team NZ was to announce its preferred host venue.
However, that announcement was postponed after the Irish government decided late last week it needed another six months to decide whether to help fund a bid for the event in Cork, a few days after the syndicate backing the Valencia challenge disintegrated.
"None of our prospective donors have any interests which in any way conflict with Team New Zealand successfully defending the America's Cup," Dunphy said in response to highly specific questions from Dalton about backers for the Auckland bid.
Forensic inquiry
Dalton had asked: "Can you confirm that none of the prospective donors (that have been approached or have approached yourself or associates) currently have or have previously had at any time an association not only with a team (either that intends entering, is investigating entering or has in fact been an entrant since the cup left NZ in 2003) or could be considered as third party conduits for a team, its major sponsor or indeed its principal.
"Also can you clarify the nature of conversations that you or your associates may have had directly or via third parties with Larry Ellison, Ernesto Berterelli or Patrizio Bertelli."
The three are associated respectively with the Oracle USA, Alinghi, and Luna Rossa America's Cup racing teams.
Dunphy said his team was "expecting to meet in the next day or so with the squadron and TNZ to progress our proposal towards a happy conclusion".
"We have written on four occasions now seeking this meeting. We remain at the dock waiting for our call," Dunphy said.