This article has been republished. It was first published in September 2020.
He wants to be New Zealand's first tech minister, but National candidate Jake Bezzant had to leave his job at a technology firm after disagreements over multi-million dollar contracts and 'fantasy' projects, including a Texas development now mired in bankruptcy and fraud allegations.
BusinessDesk can reveal Upper Harbour candidate Bezzant, standing in the winnable Auckland electorate vacated by former deputy leader Paula Bennett, departed parking technology company Parking Sense over "disagreements" with the board of the company he claims to have co-founded.
Parking Sense was renamed ParkHelp in April 2020. The 2016 Deloitte Fast 50 Rising Star winner sells parking tech which guides drivers to parks, manages the use of spaces and takes payments. It operates in more than 50 countries.
When asked if he was removed from his role, Bezzant denied this, and also said "I cannot comment other to than to say we came to an agreement."
The parties are sworn to confidentiality.
Bezzant was based in the US for the company as its chief executive and declared he would stand for National after returning to NZ, marketing himself alongside former Air New Zealand chief executive and fellow National candidate Chris Luxon as "aspirational for Kiwi business", and promoting his entrepreneurial background.
However, the National Party senior hierarchy is known already to be considering whether Bezzant's candidacy can continue.
Contract dispute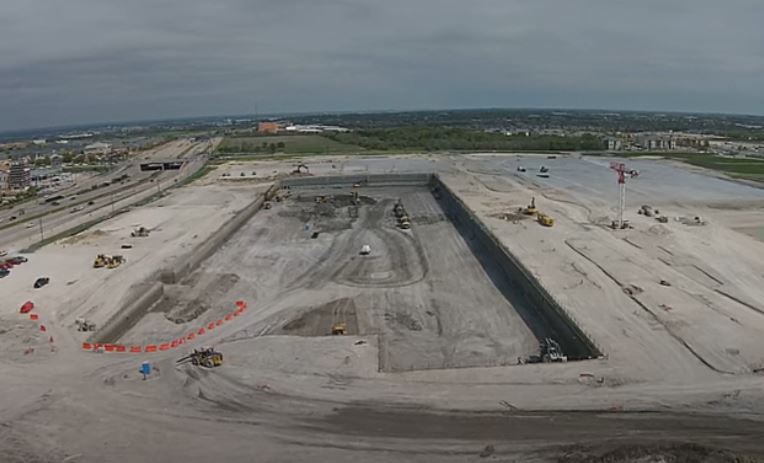 Approached by BusinessDesk, the co-founder of Parking Sense, Paul Collins stated Bezzant left "following disagreement with the board regarding his management of contracts and representation of their value."
A former Parking Sense executive said projects touted by Bezzant were "pure fantasy." One example of this was Wade Park, a stalled and bankrupt US$2 billion urban development project in Dallas, which is now subject to fraud claims.
These claims are between the developer and lender and there is no suggestion they are linked to Bezzant.
BusinessDesk has viewed a US$10 million parking contract dated Dec. 17, 2018 with US developer NYSA Capital for 22,000 carpark sensors, which is three pages long.
The version has no signatures from either party.
However, staff raised concerns about producing equipment for the project which was a "running joke" in Dallas because it was a hole in the ground.
Bezzant told staff to manufacture and ship equipment for 6,000 parking spaces by the first quarter of 2019, so he could invoice NYSA, according to the executive. BusinessDesk has viewed the Parking Sense USA invoice dated March 27 for US$1.3 million of stock.
As there was no address for the construction site, Parking Sense paid to store the sensors nearby. The executive said Parking Sense eventually took back its sensors.
Wade Park is still an unfinished project, with a report in Dallas Business Journal from Sept. 1 2020, describing the site as "a large excavation and two partially constructed buildings, after construction stopped in 2017."
Bezzant said, "I completely deny that, Wade Park project is an enormous project of 187 acres and many different stages."
BusinessDesk has also viewed a letter sent to senior National Party MPs, dated July 19, 2020, which claims Bezzant overstated his business experience.
"I do suggest you clarify the circumstances around his removal as CEO of Parking Sense, and subsequent departure from that company.
"I urge you to investigate his CV in more detail and talk to those who have worked with him."
The letter is signed, "a National Party supporter", but BusinessDesk understands it came from within ParkHelp.
ParkHelp response

Bezzant's replacement, chief executive Ed Robinson said in an email: "As incoming CEO, I did not find any financial wrongdoing. If I had I would have reported it to the authorities."
He provided BusinessDesk a statement it agreed with Bezzant to release publicly.
"After five years at Parking Sense, Jake Bezzant is leaving. Jake started as COO then was promoted to CEO until the board asked him to step down in April 2019, seeking a new focus for the company. After April, he moved back to New Zealand and assisted with sales.
"Jake's departure now is by mutual agreement. He is leaving the parking industry to campaign for public office in New Zealand. We wish him all the best for the future.
"The terms of the settlement agreement when Jake left means I'm not allowed to comment on Jake's time at the company, neither can any of our employees," Robinson said. He said contractually he was permitted to correct any misleading information or statements Bezzant makes, and invited BusinessDesk to "fact-check" statements with him.
A Parking Sense statement from Feb. 5 said Bezzant will "no longer work in the parking industry."
When BusinessDesk contacted ParkHelp's director of business development David Waal in August for comment he said in an email: "I do not wish to get involved in NZ politics or to provide opinions on anyone so at this time I will pass on talking with you. As a journalist you know when to follow your hunches and at this time that is what I would advise you to do."
Founding dispute


Serial entrepreneur Collins, who remains a 18 percent shareholder but is no longer a director of the company, also stated Bezzant did not co-found the company.
This is an assertion Bezzant has made repeatedly, for example stating in a Policy NZ profile that the company "grew from the lounge of my university flat."
Companies Office records show the founding shareholders of Parking Sense were Collins and his wife Joanne with David Mackie added two months later. The company was incorporated in May 2014.
Collins created Parking Sense following the successful 2011 ASX-listing of Meter Eye, another parking tech company he co-founded in 2003, which was later named Smart Parking.
"Jake joined the company as an employee about six months after we founded it, at a point when the development of the system was already well-advanced. He was not involved during his university days," Collins stated when asked by BusinessDesk.
Bezzant did receive a minor shareholding in January 2017, which today equates to approximately 3 percent.
He told BusinessDesk "I am one of the founding members absolutely. I would strongly suggest you talk to the other director and look at when it started operating and had a product which went to market."
He also added by email he was one of the first employees, "prior to any revenue, prior to any commercial product being available," and said he was the first name on the company's US subsidiary.
Bezzant's email also claimed that across the US, major clients and senior leaders, "referred to me as co-founder, due to the huge involvement I had in growing the business from inception."
Robinson, who was forwarded the email Bezzant sent to BusinessDesk, said "the company does not verify your statements," in reference to Bezzant's email.
The political hopeful's emails with BusinessDesk have also copied in Auckland lawyer Peter Kiely, who is listed on the National Party's website as "chairman of National's Rules Committee and advisor to the National Party on legal and electoral issues."
Bezzant was absent from National's EV policy announcement on Friday, with leader Judith Collins despite a host of National politicians including North Shore candidate Simon Watts, Northcote MP Dan Bidois, East Coast Bays MP Erica Stanford, Coromandel MP Scott Simpson and transport spokesperson Chris Bishop appearing.
Questions about Bezzant's candidacy follow a string of embarrassments for the party in the run up to the election, including the resignation of Rangitata MP Andrew Falloon amid allegations he had sent explicit photos to several young women.
This was preceded by the downfall of Clutha-Southland MP Hamish Walker, who leaked private covid-19 patient data to the media.
BusinessDesk asked Bezzant if he felt he had misled the people of his electorate with his campaigning and representations, he said, "No."
Additional reporting by Pattrick Smellie.
This article has been updated to correct the company name Park Help to ParkHelp, and to reflect that Robinson was not copied into Bezzant's email, but it was forwarded to him.