Private equity property investor Kent Gardner is investing $40 million into a new residential project in Auckland, but he isn't expecting rapid fire returns.
That's because the venture, a three-level, 48-unit apartment block in the bustling retail suburb of Onehunga, is one of the first in the country to be developed exclusively as a build-to-rent (BTR).
While BTR, also known as multi-family housing, has taken off as an asset class in the US, UK, Europe and Australia in recent years, it is in its infancy in New Zealand.
It is also a slow burn, despite taking large up-front investment. But Gardner is happy to play the long game.
The Dunedin-born lawyer co-founded European property investment group Evans Randall in 2004, helping turn it into an £8 billion private equity firm with a portfolio covering more than 167,000 square metres of properties.
Those properties include London's The Gherkin, Riverbank House and Milton Gate.
Three years ago Gardner, his wife and three sons headed back to Auckland, where he has been an active promoter of early stage investment.
So far, that's extended to backing start-up property management software company Re-leased, legal technology firm LawVu and Australian consumer lender Plenti.
In July 2018, he paid $4.1m for a 3,248 square metre mixed use site at 50 Selwyn St, including three existing houses.
Those houses were demolished and work began on 'Arc Onehunga' in earnest, with completion expected later this year.
Designed by architect Brewer Davidson, it will offer a mix of one-and-two bedroom apartments of between 50 sqm and 60 sqm, with each featuring quality fittings, heat pumps and LED lighting.
Rentals will be market-related at up to about $600 a week, and renting one of 32 car parks will be optional, given the community is close to public transport.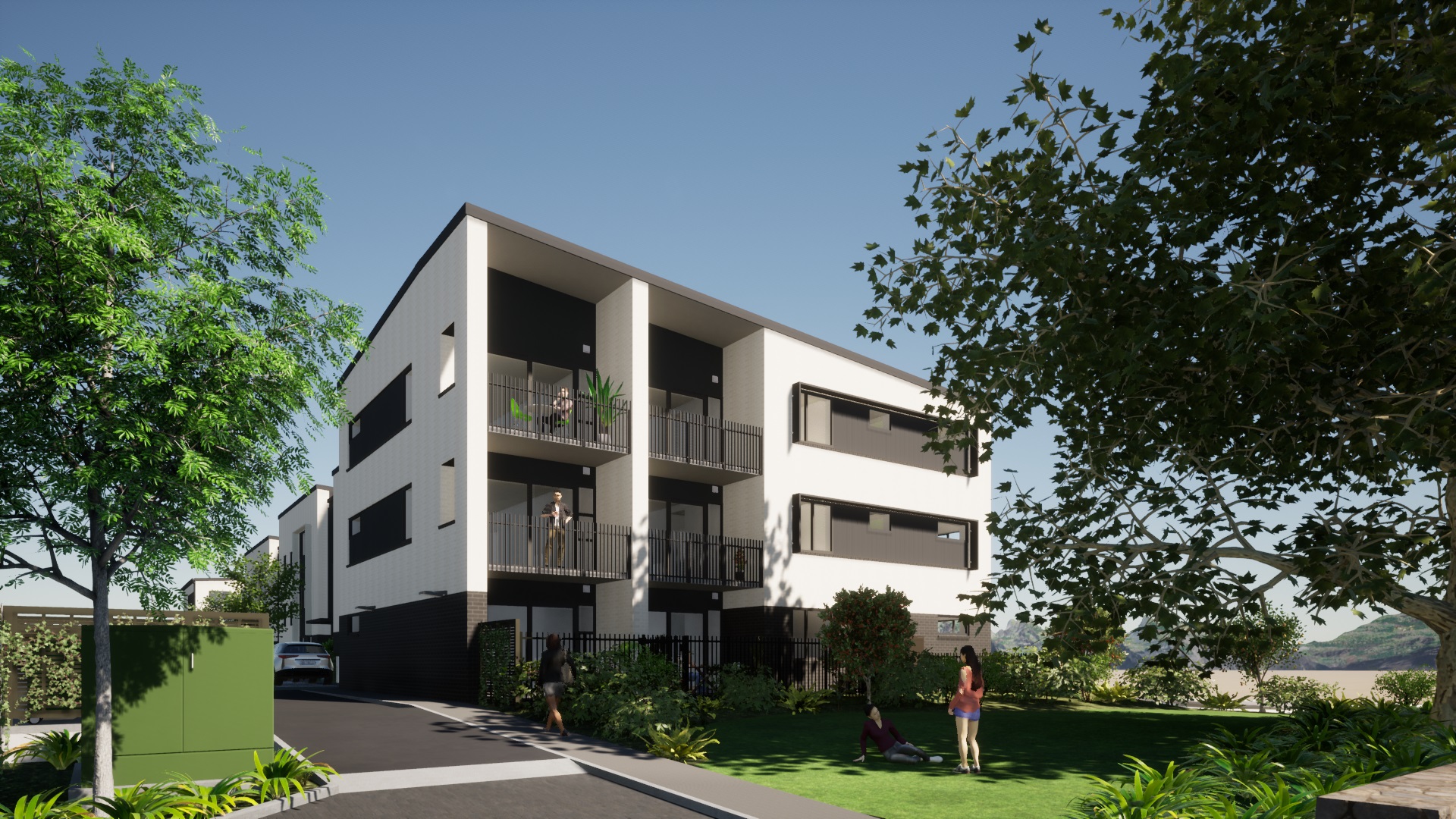 Arc Onehunga
Gardner told BusinessDesk he hoped the Arc development will act as a catalyst to attracting more institutional investment into BTR on a wider scale in NZ.
BTR developments are multi-unit, higher density residential communities built specifically to be rented, rather than sold. Under institutional or syndicated ownership, rental returns are generally paid out to investors in the form of dividends.
'Broken' rental market
Gardner, who alongside his 10 siblings, lived in a state house while he was growing up, believes renting is "broken" in New Zealand.
"That's because there's predominantly short term, fickle capital in the market, much of the stock that is used for rentals isn't fit for purpose and there's poor quality management and maintenance."
The solution to that, he said, is developing homes that are built for long term tenancy.
"When developers build with long term rental in mind, they are building the right stock for that market and they're building it in terms of its viability and design."
Also, because tenants are seen as customers, service is the overriding focus, he said. That means top quality builds, power and internet the day they move in.
Rental agreements and other details of the community are also accessible on a web-based app and it will be a "true community" as everyone is renting, meaning there's no "them and us" mentality, he said.
In Germany, for example, two thirds of people rent and there's "no stigma associated with that".
He suggests NZ's sluggishness to pick up the trend is also due to the short term nature of property investment in this country, with people "chasing higher, shorter term returns".
It's also a capital intensive business, without any vertically integrated players in the market.
"Arc will own and manage the properties it builds for long-term rental."
It's not a novel concept, but it hasn't exactly taken off here.
In the UK, the 2012 Olympics were probably the catalyst, while in Australia, similarly, it was the 2018 Commonwealth games that ignited the trend.
Most of the major NZ property investment companies, like Fletcher Living and Mike Greer, are focused on mass development for sale.
Blair Chappell, managing director of Williams Corp, the country's seventh largest builder and arguably its fastest-growing, said BTR wasn't even being considered. "We'd rather build homes for first home buyers, owner-occupiers and investors on a project by project basis versus doing one large project in a build-to-rent model."
There have been some early NZ adopters, however.
BTR starts
The Du Val Group this week said it was closing out applications for its BTR fund, which it launched in January after seeking to raise $17.5m from wholesale investors. That, however, was to pay for two existing developments in Papatoetoe.
Kiwi Property, the country's largest listed property group, said it is also advanced with the consent process for BTR units at both its Sylvia Park and LynMall complexes.
Major global investors into BTR like the US$160b Greystar group, meanwhile, are being enticed into the Australian market, after both the New South Wales and Victoria state governments offered land tax discounts of at least 50% and removal of foreign surcharges for BTR housing projects.
Paul Winstanley, senior director of alternative investments with Jones Lang LaSalle, said BTR was an ideal model for pension funds, as it offered a diversified and counter-cyclical investment profile, also moving the industry into a more professional domain than that offered by mum and dad individual investors.
Noting that it was difficult to quantify the size of the NZ industry, he was aware of about 1,750 apartments in Auckland that would count as BTR, with several larger developers who wanted to bring scale developments to NZ.
He said he expected one or two of those to break ground in the coming year.
Incentives needed
Last year, housing minister Megan Woods publicly acknowledged the role BTR could play here, but there have been no formal moves to incentivise construction into the asset class.
At issue for large and potentially offshore investors is continuing uncertainty as to the Overseas Investment Act, which could discourage large foreign institutional investment, as does the recent axing of interest deductibility on residential investments.
Denise Lee, head of advocacy at Property Council NZ, said while Inland Revenue has specified that the interest deductibility rule didn't apply to new builds, the issue was still relevant to on-selling a property.
The best way to gain clarity, she said was to reclassify BTR as a new asset class – like retirement villages or student accommodation.
"Having definitions and regulations housed in one easy place for investors is absolutely the way to go if we're going to enable this type of development."
It also needs more Kent Gardners.