Doggone, a service designed to reunite lost dogs with their owners, is nearly ready to launch its direct-to-consumer product.
Originally offered through local council partnerships, Doggone combines smart tag Bluetooth and GPS technology with an SMS service to build a network of goodwill.
Dog owners register their pet on the Doggone network and put the smart tag on its collar. If someone comes across a wandering dog, that person can use the Doggone app to report it as lost.
After a 20-month trial period with Hutt City Council, founder and chief executive Tracy Austin said the time has come to change the business model.
"Every day I get contacted by dog owners saying 'how do we get it?' One of the benefits of covid and having some deep thinking time was realising we need to open up the channels to market."
Doggone smart tags are set to go on sale via the company's website in April, with other retail channels under consideration with vets, pet insurers, and kennel clubs a possibility.
Austin claimed New Zealand councils could have adopted the tech nationally, but did not, meaning the Hutt is the sole council using Doggone.
She said of the approximately 10,000 dogs in the area, about 4,000 owners signed up, with 1,140 dogs reunited with owners so far.
As well as the Bluetooth tag and app method, there is a free SMS service and a cheaper SMS-only tag system that bypasses the need for the app. Both systems claim to quickly link the finder with the lost dog's owner but the system heavily relies on reporting from the public.
"The whole point is that the text service is free so that there's no barrier for someone to help an owner," she said.
Accessible network
Austin sees Doggone as a cheaper alternative to hanging an expensive GPS tracker around a dog's neck.
"We wanted to make it accessible to all. Often GPS products are priced out of reach for a lot of people, they typically start at $250, you've got data plans to subscribe to, they're big and bulky, and you've got to recharge them every couple of days."
Doggone's tags claim to last about a year on their batteries and instead tap into the fact there are usually always people with smartphones nearby, tapping into this ever-present GPS network.
If a dog with a tag wanders within 60 metres of a phone with the Doggone app installed, a location sighting is automatically logged by pinging the phone's GPS.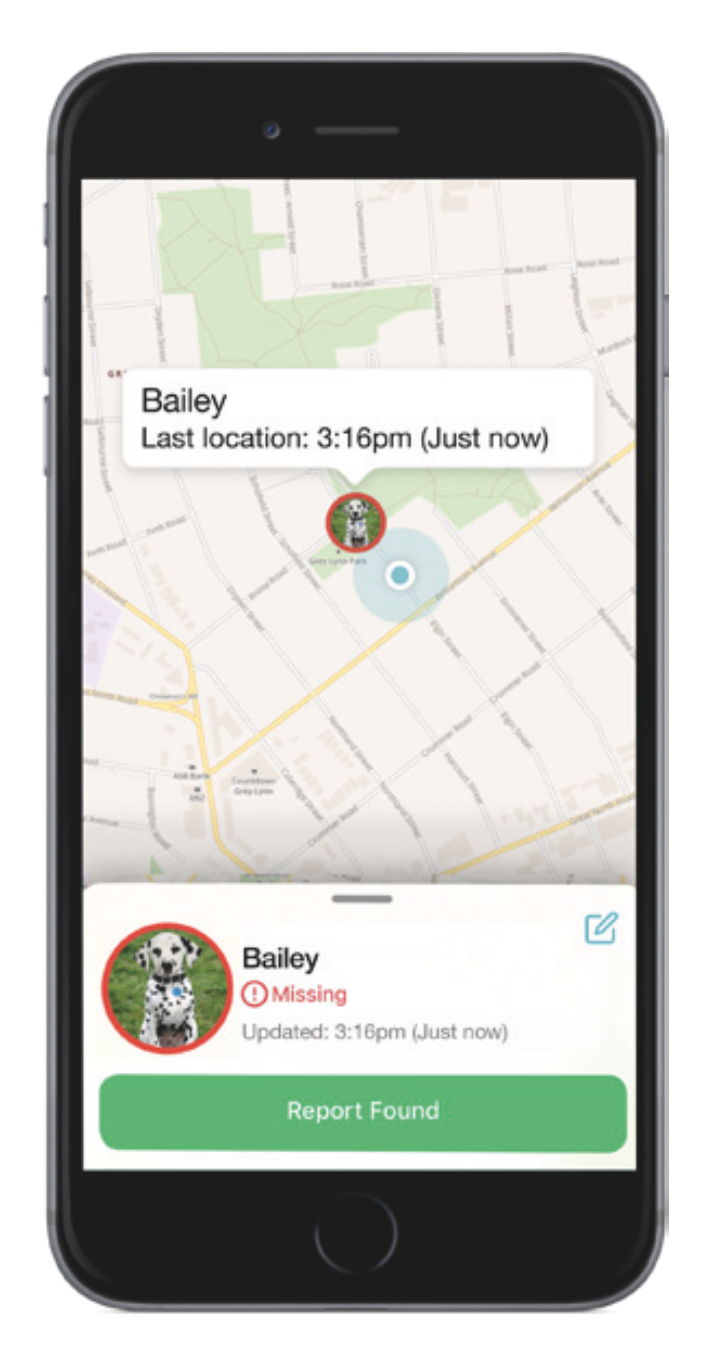 Someone who finds a dog with a tag but doesn't have the app can text the unique dog ID located on the tag to 4133 and receive a free text with a link to tap. This will then connect them directly with the owner via a free call. These automated sightings are stamped with a time and date to give worried owners a bread crumb trail to lead them back to their dog.
Austin believes this is the best way to crowdsource bringing together lost pooches with their owners but is also an effective way to avoid high impounding fees.
"In the Hutt, we've had one dog owner who's had five reunites for one of her dogs who's a real ratbag," she said.
The SMS-only tag will be free, and owners will pay $2 per month for the service. Austin said pricing for the smart tag and service is yet to be decided, but she is certain it'll cost a lot less than a GPS tag.
The advantage of a GPS tag is that an owner can always see where their dog is, provided the tag is still attached to its collar, of course.
Waiting patently
Doggone's in-app 'report a wandering dog' feature is patented but will rely on a widespread uptake of both app and tag in communities nationwide for it to be effective.
Users can use the feature if they see a lost dog, with the app using the phone's Bluetooth to search for Doggone smart tags within 60 metres. If the missing mutt is wearing one, its photo will appear to be tapped on to report a sighting.
Austin is confident that pivoting to a direct-to-consumer business model is the right thing to do.
"We absolutely do see ourselves as unique. There are plenty of GPS products out there, but our product opens it up to make it affordable to a lot more people."
She said the company is self-funded aside from contributions from two investors and has two full-time employees with development work outsourced.
It's a small operation whose success now hinges on spreading the word to dog owners and compassionate members of the public.