Apple's new iPhone 13 range has been unveiled with few remarkable year-over-year upgrades from the iPhone 12 series, though larger batteries and lower prices stand out.
The tech giant is releasing four phones, with an iPhone 13 mini and iPhone 13 offering two cameras and a new pink colour option, while the iPhone 13 Pro and iPhone 13 Pro Max pack in three cameras with more zoom power than before.
All have 5G compatibility, waterproofing, wireless charging, and work with Apple's magnetic MagSafe chargers, cases, and accessories.
"I wouldn't say anything was ground-breaking, but I think there are some strong improvements over last year," said Maxim Wilson, associate market analyst at IDC.
"What stands out to me or was most significant for probably an average consumer, is battery life ... that's something that's actually going to benefit consumers."
Where Apple once opted for a lighter and thinner iPhone every year, it is now stuffing in larger batteries even if it makes the phones bulkier. The company said each model would gain between 1.5 and 2.5 extra hours of battery life compared with the iPhone 12 series.
Wilson said a strong New Zealand dollar could be to thank for the iPhone 13 range costing less than the year-old iPhone 12.
The iPhone 13 mini starts at $100 less at $1,249, the iPhone 13 $70 less at $1,429, the iPhone 13 Pro $100 less at $1,799, and the iPhone 13 Pro Max $100 less at $1,999. They are available to pre-order from Sept 18.
Screen sizes are the same as before but the notch on all four models, which contains cameras and Apple's Face ID biometric verification system, is slightly smaller than the previous few years' iPhones.
The Pro versions get a display upgrade with a higher 120Hz refresh rate to the screens that makes scrolling menus and compatible apps appear smoother with less ghosting on text and images. The regular iPhone 13 and iPhone 13 mini still have 60Hz screens.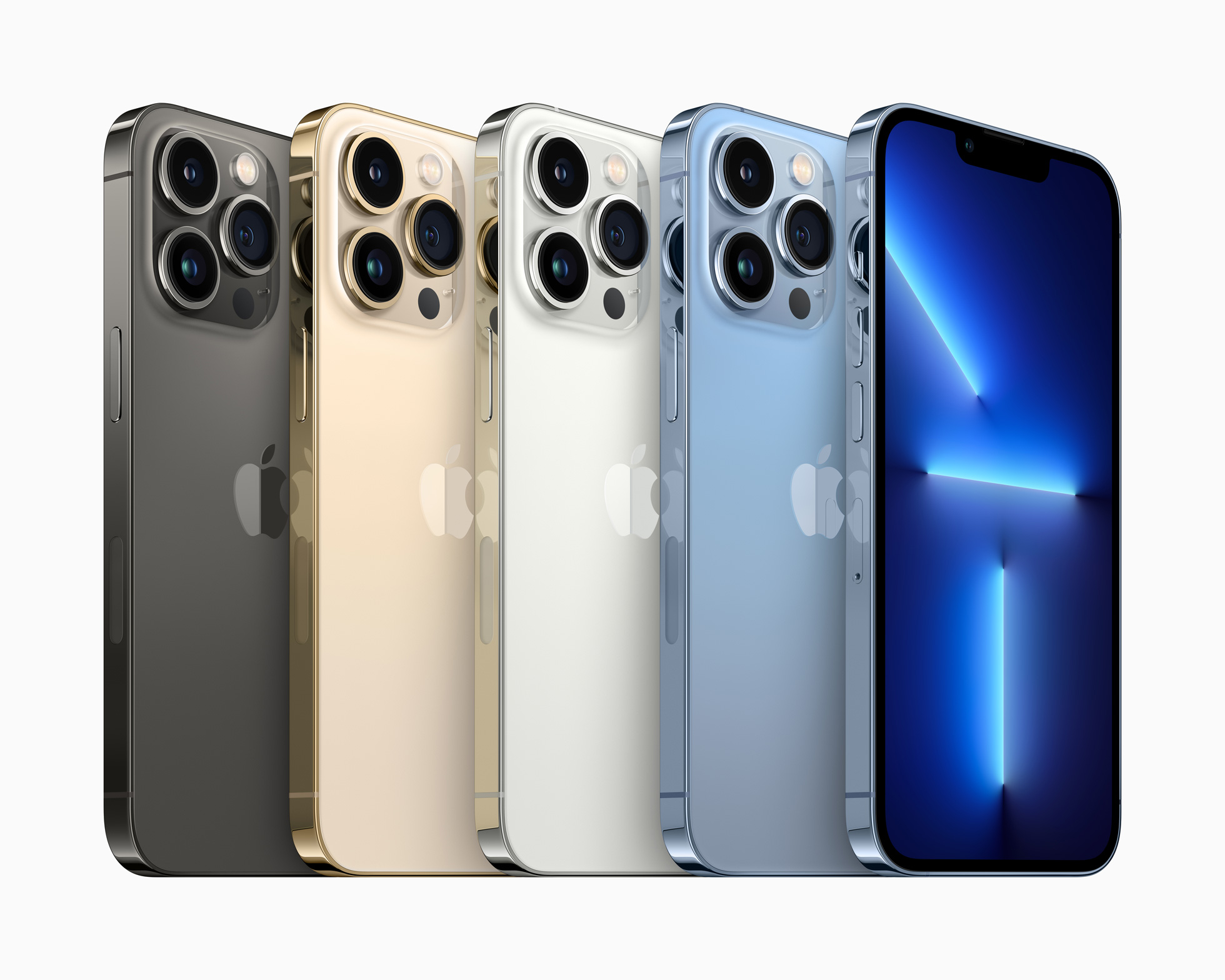 The iPhone 13 Pro. (Image: Apple)
Many mid-range and high-end Android phones have high refresh rate displays and commonly have had them for at least two years.
This iPhone upgrade coupled with more capable cameras on the Pro devices could encourage consumers towards the more expensive models, Wilson said.
He said the upgrade cycle of Apple-loyal customers on older iPhones will see a natural uptick in 5G devices sold this year.
"Your average consumer isn't buying a device because it's 5G, they're just naturally buying and it's got 5G capability."
IDC found 44% of smartphone shipments in NZ in the first half of 2021 were 5G compatible.
Market dominance
Apple and Android rival Samsung represent something of a two-horse race in NZ's smartphone market. IDC numbers show 84% of all smartphone shipments in the first quarter of 2021 were Apple and Samsung devices.
"There are some tailwinds in Apple's favour … one being Huawei's demise," Wilson said.
"They [Huawei] were also another option and that premium segment, so we've actually seen some consumers who had Huawei, they actually switched to Apple."
A US trade ban on Huawei barring it from trading with US companies has meant its phones can no longer run Google services or access the Google Play Android app store. The move has destroyed Huawei's sales in NZ and worldwide.
Though Samsung has recently released interesting new premium folding devices in the Z Flip 3 and Z Fold 3, Wilson said these phones are too niche to yet gain a mass audience, paving the way for strong iPhone 13 sales despite covid-19 affecting global technology supply chains.
"Based on what feedback we've got from the supply chain, they're [Apple] in a really strong position to do well in the NZ market, regardless of what the changes are."
Apple also announced a new iPad, a new Apple Watch, and a redesigned iPad mini, all of which will come to the NZ market.