When the going gets tough, the tough go shopping. Especially in New Zealand, it turns out.
This country has seen a dramatic rise in luxury shopping in recent years, says Chris Wilkinson, managing director of retail strategists First Retail Group.
"Some luxury brands in Queenstown have the brand's global top-spenders as their store customers," he says. "That's the spending power that lies hidden among our customer base in New Zealand. In Queenstown and Auckland, many luxury brands didn't skip a beat through covid. The strength of the domestic market here has even surprised some of the brands."
Luxury shoppers in New Zealand will soon have even more choices. Louis Vuitton, Saint Laurent, Balenciaga, Alexander McQueen, Moncler, Burberry, Jimmy Choo and Michael Kors will all soon open stores at Westfield's Newmarket mall in Auckland. Six of these prestigious fashion brands have never had physical shops in this country before.
And before you ask, luxury spending in New Zealand is not just due to tourists from the United States and China shopping here while on holiday. "Tourism is an important driver, but it's not true any more that tourists are the only spenders on luxury brands," says Megan Phillips, a senior lecturer in retailing at the Auckland University of Technology.
She says New Zealand wealth has grown substantially in the past few years, partly due to immigration and property investments. "We have 214,000 people in the top 1% of global wealth and 1.97 million in the top 10%. Well-off Kiwis who aren't able to travel right now are seeking pleasure in other ways, such as shopping and browsing."
Westfield Newmarket, built at the cost of $790 million and already the biggest mall in Australasia, is designed as a "sustainable lifestyle destination". Even if you don't care for shopping that much, you can visit for the cascading water features, a rooftop dining precinct spread over five levels, and the largest green wall in the Southern Hemisphere. More than 18,000 New Zealand native plants are planted around the mall, irrigated with eco-friendly harvested rainwater and maintained by a specialist team of abseiling gardeners.
Westfield Newmarket is run by Scentre Group, which has 42 malls in New Zealand, Australia and the United Kingdom. This ASX-listed company owns 51% of the Auckland property; Singaporean interests own the rest.
As well as wooing anchor tenants like Chemist Warehouse and Farmers and a smorgasbord of restaurants and cafes, Scentre lured luxury brands by building a plaza area specifically for them. It's on the glossy ground-floor level, between the Broadway/Mortimer Pass corner and a branch of Australia's giant David Jones department store chain.
Scentre Group executive John Papagiannis says the introduction of these brands is a milestone for luxury retail in New Zealand. "We're proud to be delivering this one-of-a-kind luxury retail experience on a scale previously unseen in New Zealand. The introduction of these retailers represents the strength of the local customer and their desire for premium retail experiences akin to the rest of the world."
The luxury stores will open in stages between now and Christmas, to ensure each brand gets its star turn in the spotlight.
Luxury fashion rebounding fast
It may seem like a gamble to open so many luxury outlets while the pandemic still ebbs and flows. All retail suffered during the covid crisis, but luxury brands are rebounding more strongly than the rest of the world's economy – better, in fact, than the rest of the Standard & Poor's 500 index.
To give one example, LVMH, the world's biggest luxury group by revenue and profitability, reported US$34 billion in revenue for the first half of 2021, up 56% compared to the first half of 2020. Its net profit was US$6.3 billion, 62% above the (pre-covid) first half of 2019.
LVMH champagne brands like Moët & Chandon, Veuve Clicquot and Dom Pérignon reported a record 44% revenue growth in 2021, while the fashion and leather-goods part of the business – which includes Louis Vuitton, Dior and Fendi – enjoyed growth of 81% in the first half of this year, compared to the same period in 2020.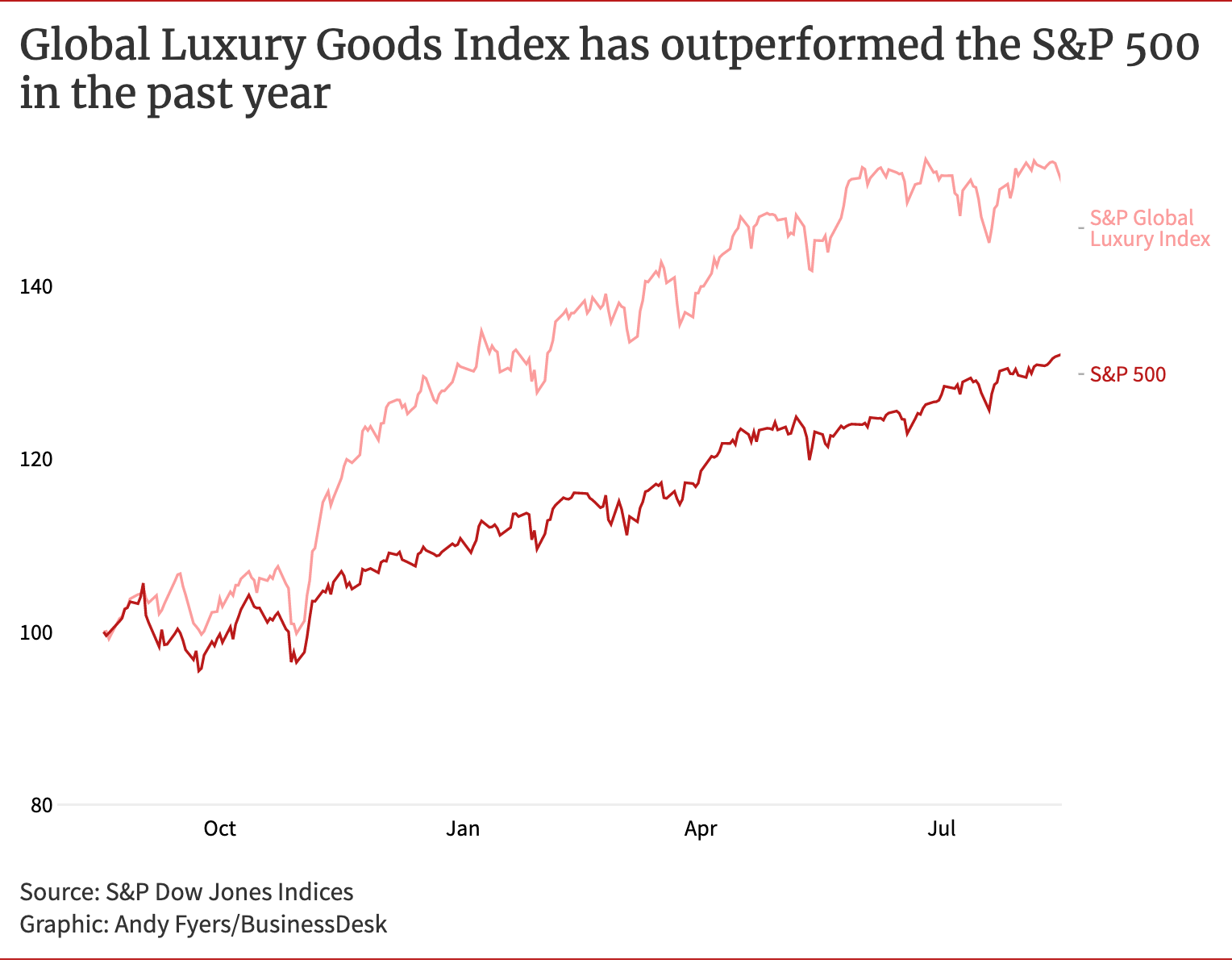 It's obvious online shopping was responsible for much of this growth, but what's less obvious is the boost bricks-and-mortar stores can give to a brand's online sales. Beyond shopping online – which is still mainly transactional – physical stores immerse people in a unique and memorable experience. This is especially important for luxury brands, which are selling not just leather bags, for example, but an aspirational lifestyle.
A physical store helps to create a fanbase around a brand. As well as in-store sales, a physical store increases buzz on social media, boosts shopper confidence in the brand's prestige, and even drives more digital engagement.
This "halo effect" translates to increased traffic and higher-value purchases, both in store and online. The effect is so marked that Google offers a prime location on the search-results page for brands that have physical stores in good shopping locations.
"Having a physical store located in a newly renovated shopping destination makes a brand even more compelling because it allows the luxury retailer to uphold their brand image," says Megan Phillips. "It enables brands to deliver a multi-sensory luxury experience, which can be difficult to replicate online. Westfield Newmarket has specific floors dedicated to luxury, premium and aspirational fashion. It has extra services like valet parking and courier delivery of purchases. Such premium services are part of having an omni-channel experience."
Where exploration meets experience
"Omni-channel marketing is how people discover and engage with brands now," says Chris Wilkinson. "People don't walk down the street and come across your brand. They discover it on social media. TikTok, Instagram and YouTube. They look at the website, and in magazines. Visiting the store is part of that discovery process.
"When you visit a luxury fashion store, it's all about having a unique experience. You have a discussion with a retail consultant who understands the brand and the value it offers to you. Maybe you get a glass of champagne, or a preview of exclusive designs. You feel like you are taken into an inner sanctum. That's hard to do online."
As well as educating shoppers about the brand, stores help brands to gather feedback, Wilkinson says. "Retail staff in luxury stores are highly trained and paid significantly more than other retail staff. They need to understand the products well and provide a very high level of service. By interacting directly with customers, high-end retail staff gather a level of understanding of their clients' needs. They're critical to improving the brand's recommendations in store, and online."
It's all part of the seamless "clicks and bricks" service that's key to luxury shoppers, especially Millennials and Generation Z customers, aged 40 and below. These now represent more than 30% of all luxury spending.
"Younger customers are increasingly buying from luxury brands, but they buy in a very different way to older customers," says Wilkinson. "They don't want the top-to-toe look. It's about buying signature items. These items are coveted because they're on-trend, and a way of showing personal style.
"Young people buy these pieces as a reward to themselves for their hard work – for example, when they graduate from university, or land a job promotion. That's a trend we're seeing more of now."
A few years ago, Louis Vuitton's accessories portfolio was stuffed with dress shoes and slick handbags. Now "outdoorsy" categories such as backpacks, totes, parkas and sneakers are the growth engines, as younger customers look for that sweet spot where style meets comfort.
Resale market booming among the young
Younger customers are also key drivers for the boom in luxury resale. Already worth US$24 billion globally, the luxury resale market is growing at a healthy 12% per year.
And it's not just about saving money. Even those who can afford to pay full price are attracted to the second-hand luxury model, which lets them buy or rent pre-loved designer items. Resale platforms such as New Zealand's Designer Wardrobe play into being eco-friendly and sustainable. Resale promotes the joy of owning your life, not just owning things.
This year, French luxury group Kering took a 5% stake in Vestiaire Collective, a leading platform for second-hand luxury clothes and bags, betting the resale market will help it woo younger and environmentally conscious shoppers. Kering Group owns 12 luxury fashion and jewellery brands, including Saint Laurent, Balenciaga, Bottega Veneta and Alexander McQueen, all of which are set to open soon in Auckland.
Kering Group also owns Gucci, which is crushing it with Millennials. In 2018, 62% of Gucci's sales came from the under-35 set. Kylie Jenner made headlines for carrying her baby in a Gucci baby carrier. Fashionably rebellious rock stars Miley Cyrus and Harry Styles model in Gucci ads, and Millennial social-media feeds are filled with Gucci mixed with thrifted fashion.
But let's get back to the store. "Auckland's tourism, international student market and cruise-liner and convention markets are all poised for growth," says Wilkinson. "Destination malls have the potential to rejuvenate shopping throughout the city… but they can affect the surrounding shops. Globally, we're seeing that retail brands with a unique offering are getting stronger. But places with vulnerability are just teetering along. You need a strategy."
Both Phillips and Wilkinson are interested to see how global luxury brands will infuse Kiwi spirit into their stores. "Kiwis typically don't like pomp and ceremony when they shop," says Wilkinson. "It's popular to serve champagne to VIP shoppers in Europe, Singapore and Hong Kong. Kiwis prefer a functional shopping experience – efficient sales service, and so on.
"And there's still a sense of equality here. You're just as likely to get a wealthy builder walk into a luxury store in Auckland as a top diplomat. Will he want to spend all day sipping cocktails and shopping? It'll be interesting to see how it develops."