With more businesses adopting and advocating for rapid covid-19 surveillance testing, an employment law specialist believes it could become the main tool to mitigate the risk of the virus in workplaces where mandatory vaccination cannot be justified.
Chapman Tripp partner Marie Wisker told BusinessDesk surveillance testing of employees was perceived as a less drastic measure than mandatory vaccination, and could potentially be applied to broader sections of the workforce – not only employees in high-risk roles.
"Most employers I'm working with tend to follow the government guidance, which is vaccinations in conjunction with testing provides you with the best safety response."
But, she said, "most businesses won't be in that safety-sensitive camp where you could lawfully justify vaccination".
The current WorkSafe guidance specifies that in the absence of a covid-19 public health order, an employer can require work to be done by a vaccinated employee, "if a risk assessment establishes that the nature of the work raises the risk of covid infection and transmission above the risk faced outside work".
The assessment must be completed with employees and their representatives.
According to Dundas St managing partner Susan Hornsby-Geluk, workplace surveillance testing under the Health and Safety Act would be subject to similar criteria.
While many employers conduct mandatory drug testing, she said it generally occurs on a random basis or following an incident. Covid-19 testing would be more pervasive and would therefore require an employer to conduct a robust risk assessment and establish reasonable grounds.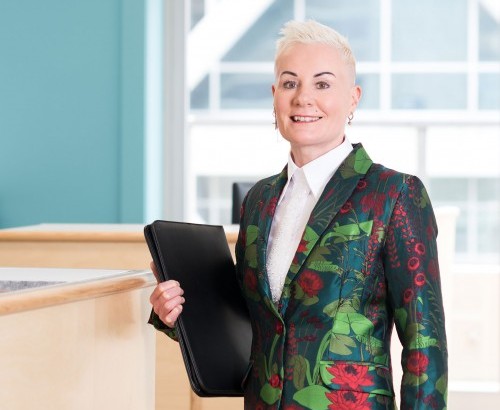 Dundas St managing partner Susan Hornsby-Geluk
MBIE's general manager of workplace relations and safety policy, Anna Clark, said these grounds would include "if the work being done puts workers or others at an elevated risk of covid infection and transmission compared to the rest of the community"
Clark also said testing would depend on whether it could be reasonably done and "complemented the range of other covid infection controls in place, such as cleaning, hygiene protocols, physical distancing, face coverings, and staying home when sick."
Less drastic
While both vaccinations and testing could be classified as medical procedures, which people cannot be subject to without consent under the Bill of Rights, Wisker said less drastic measures like saliva testing could see more extensive use in businesses that are not high-risk.
However, this would only work if there were easier and cost-effective testing options available instead of the current widespread PCR tests, she said.
"I think an employer could make an argument on a health and safety basis about keeping their whole workforce safe, in a context where there is delta in the community, to broaden the testing across the workforce as a whole."
Wisker said she's working with companies that are consulting with staff to implement mandatory vaccination requirements for certain roles. However, most businesses will have a minority of staff who are nervous, unwilling or unable to receive the covid vaccine.
"Those individuals have responded with a willingness to be subject to testing rather than vaccination to be requirements of their particular role."
Antigen test campaign
Several large employers are already running in-house saliva testing programmes through private services, and a 25-strong group of NZ's largest companies are campaigning to bring 370,000 low-cost, rapid antigen tests into the country next week to help protect their workers from covid-19.
Associate health minister Ayesha Verrall said yesterday that rapid antigen tests for covid would start to become available "within a month".
Don Braid, the managing director of Mainfreight – one of the 25 companies – said both saliva and antigen tests are an invaluable way to test and monitor employees quickly and efficiently. But having every employee vaccinated was still the ideal preventative measure, he said.
"It's [testing] not foolproof, but it will pick up an infection in a timely manner. Vaccinations for all would be our desire."
While Mainfreight, a logistics company, would have many employees in high-risk mobile roles and be able to implement more mandatory vaccination under the health and safety act, Wisker said it would be harder to justify in other businesses under the current rules.
She said the WorkSafe guidance is conservative and the spreadable nature of delta could warrant an update to make a vaccination a requirement for a broader range of roles.
"But it's still going to be less than the majority of workplaces.
"Testing could morph into the main tool in the tool kit for many businesses."
Employer epidemiologists
With the vaccine campaign aiming to have 90% of the eligible population fully vaccinated by the end of the year, many employers are encouraging vaccination not only for workplace health and safety but to support the wider social and community effort.
While employers' passion to support the wider vaccination campaign was driven by the right reasons, Wisker said it could be problematic if employers go beyond their responsibilities to create a safe workplace in accordance with the guidance.
"Employers are very passionate because they want to do the right thing, and they want to be seen to be doing the right thing, as well as firmly believing that they are doing the right thing.
"But I do think there is a line at which employers' workplace health and safety duty stop, and then you cross into the wider public health response. And the government's made it very clear from a public health point of view that they will not be mandating vaccinations."
"In terms of where that line is … it's a bit grey."
For employees that are intensely customer-facing and mobile throughout the community as part of their roles, it may be easier for an employer to take a broader scope of their duties in relation to the public. However, it would be harder for an employer of people whose roles are not public-facing to integrate the public health response into their scope of duties, she said.
Other options
Earlier this week, several organisations including the Employers and Manufacturing Association and the Wellington Chamber of Commerce called for vaccine passports to be mandatory in the workplace. EMA CEO Brett O'Riley said this would give employers and employees the certainty and the safety they want in their workplace and it will give an incentive to those hesitant about getting vaccinated.
However, Wisker said this would invariably come back to the same risk assessment processes to justify why vaccines are a requirement in a workplace for a specific role.
She said she encourages her clients to engage in measured and helpful conversations with employees and consider all the options available.
"You need to take a break, take a step back and actually just try and work through this logically.
"Vaccines passports are just one measure available to employers. And it's very easy to jump to because there's so much discussion and focus on vaccines. You've got to look at all of your options. In some workplaces, options such as masking and distancing and potentially testing will be sufficient," Wisker said.