Angela Lim, a medical doctor and founder of the mental health service Clearhead, says New Zealand's high youth suicide rate motivated her to start her company.
Clearhead is a web and app service with a text message-based interface. It uses artificial intelligence (AI) to respond to users' queries on any and all mental health concerns and offers first-hand advice.
The AI can also connect users to real-life help by scheduling virtual or in-person appointments with one of 200 therapists.
"We don't formally diagnose you," Lim said. "The biggest benefit that we provide is we give people a safe space in which they can confront whether they've got a problem. And then when they have that epiphany that they do, we then make it super easy for them to get support."
In 2017, a Unicef report found the country had the highest rate of suicide in teenagers between the ages of 15 and 19 out of 41 OECD and EU countries.
Lim said her vision for Clearhead was for it to emulate a text messaging service to make help more accessible to younger generations who shy away from phone calls, though it is available to all ages.
"I was really passionate about the role of technology to transform the way we deliver healthcare as a way of improving outcomes. When we look at the inequity in health outcomes, it disproportionately affects Māori and Pasifika."
As well as English, Clearhead's interface fully supports te reo Māori. Lim said it was a world first as no other mental health service supports conversational AI in an indigenous language.
Tailor-made
Clearhead's AI engine was built from scratch and is maintained by the company's seven full-time employees, Lim said.
She said testing showed off-the-shelf AI products were not suited to mental health services and were often found to suggest a negative and harmful form of action to users.
It is of utmost importance that Clearhead's AI engine does not behave in this way to users in distress. Lim said she is proud of the company's model built around sentiment and intent analysis that steers users towards seeking help.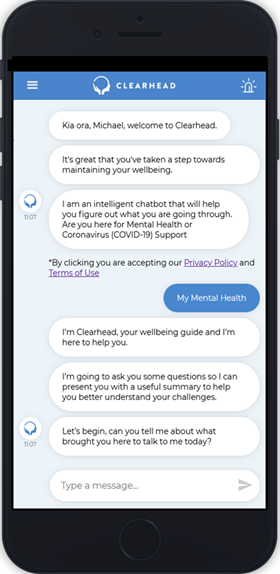 She said Clearhead has about 9,000 monthly users taking advantage of a system that puts their needs in front of the health industry's, with user numbers growing at about 15% a month.
It was while attending an AI conference in Switzerland in 2018 that Lim met her first and to date only private investor.
She said the investor bankrolled Clearhead for three-to-four years, meaning the company does not have to seek further investment until 2022. Companies Office records show German entrepreneur Joachim Schoss has a 99% shareholding in the company.
Schoss is the founder and former CEO of digital marketplace company Scout24, which was acquired by Deutsche Telekom. An active angel investor, he is also chairman of the board at German data management firm 1plusX.
Context
Commenting on mental health apps, and not Clearhead specifically, Shaun Robinson, chief executive of the Mental Health Foundation of New Zealand, told BusinessDesk there is a place for apps in mental health and wellbeing services in NZ, but he said they should be seen as one part of the overall approach range of services rather than a replacement for traditional care.
"Apps are really useful where they help people to build up their sense of wellbeing and sort of encourage them to adopt the kind of healthy habits of mind and body," he said.
He added apps that link to where to get help are also useful, with a caveat.
"Access to actual therapy, counselling, and mental health services continues to be in a real crisis in New Zealand," he said.
"We are more concerned about apps that are about encouraging people to self-assess or even self-diagnose. If someone really is struggling in a long-term, ongoing way, that is when they do need to try and reach out to a GP or health service."
Fast track
Lim sees NZ as having a supply and demand mismatch when it comes to accessing mental health services.
There was increased demand with an ageing and growing population, which the health workforce had not kept pace with.
"That meant long wait times, or that meant people who want to go private can't afford it because it's so expensive. And it meant that basically, the most vulnerable are the ones that are obviously most likely to not access care."
Clearhead is available to individuals free for the first month and $5 per month thereafter. Payment to any therapist appointment booked through the app is arranged outside of the app, though payment within the platform is part of the roadmap.
Therapists are available seven days a week and outside of work hours, and the app shows their availability.
Lim said this dramatically drives down the average wait time to see a therapist.
"We removed the barriers of asking for help," she said. "Don't make people jump through so many hoops."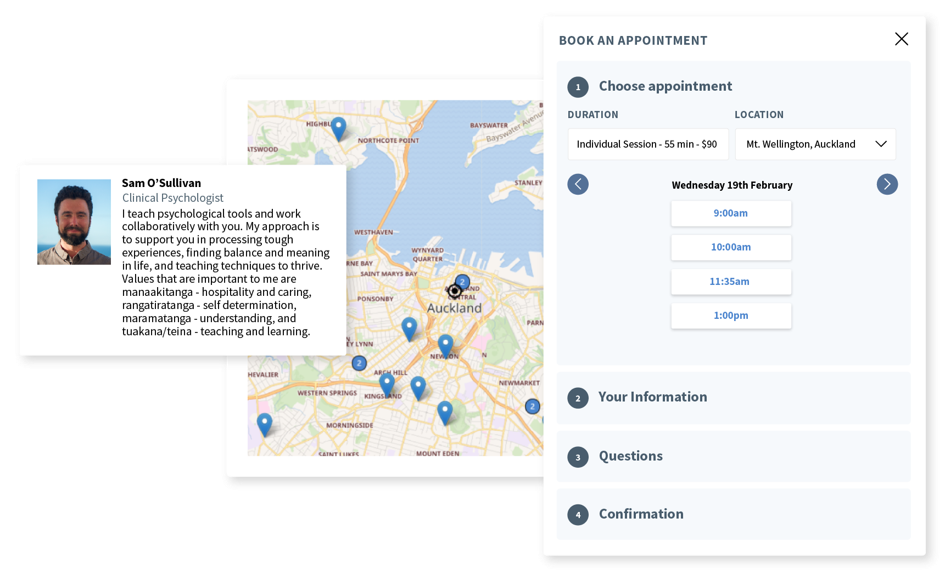 Workplace
Businesses can pay for Clearhead through a tiered pricing model to offer the service to their employees for free. Those employees can use the app as normal.
Notable clients include Foodstuffs, TSB, and the Ministry of Social Development. The latter partnership allows unemployed beneficiaries to use Clearhead free of charge.
Clearhead gives businesses anonymised employee user data to offer an overview of widespread issues and to encourage management to address workplace mental health problems.
"You can't manage a risk that you don't know," Lim said.
She said Clearhead will never sell user data to third parties for commercial gain.
"One of the things that is super clear on our privacy policy is that you own your data, you don't sell it to a third party, and everything's encrypted."
The encryption is designed to exist in siloed buckets that even if Clearhead's systems were hacked, patient information could not be linked back to an individual, Lim said.
Where to get help:
Need to talk? Free call or text 1737 any time for support from a trained counsellor
Lifeline 0800 543 354 or 09 522 2999 or free text 4357 (HELP)
Suicide Prevention Helpline 0508 828 865 (0508 TAUTOK0)
Youthline 0800 376 633 or free text 234
Samaritans 0800 726 666
Supporting Families in Mental Illness 0800 732 825