This is the second part of a three-part series on Fisher & Paykel Healthcare. Read part one here.
There's no doubt Fisher & Paykel Healthcare has been successful in recent years, in part due to covid. Due to pandemic demand, the company sold 10 years' worth of hospital equipment in just two.
In the past five years, sales revenue has climbed from $964.5 million in 2018 to $1.68 billion in FY 2022 after a spike in 2021 to $1.97b.
The increase in demand has flowed through to the company's bottom line, with net profit after tax up from $190.2m to $376.9m over that five-year period.
Earnings before interest, tax, depreciation and amortisation (Ebitda) stood at $602m for the year 2022, and while analysts expect that to dip, most analysts canvassed by BusinessDesk picked a rebound by 2025.
Forsyth Barr described the firm as a "high-quality medical device business" which is "well positioned for strong future growth". Citibank described it as having "good fundamentals".
In January, leading analyst Stephen Ridgewell upgraded his rating for the firm to neutral.
Ridgewell, who is head of research at Craigs Investment Partners, said a covid upsurge in China, an RSV outbreak in the US and the fact that inventory levels were back to pre-pandemic levels boded well for the company.
The company said growth will come from changing doctors' minds and convincing them that using their devices for treatment is better.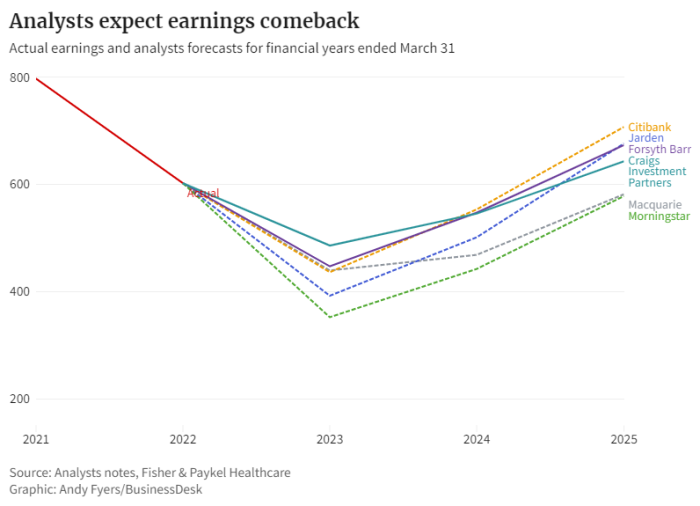 Profiting off a pandemic
F&P Healthcare products were clearly in demand during covid and while it sold a lot of devices during the pandemic, it claims to have not raised its prices.
"We could have jacked the pricing up like there's no tomorrow. But that's not us … we are working with these hospitals for years, that's a trusted relationship," said chief executive Lewis Gradon.
"For a lot of that hospital business, most of our customers will be hospitals or chains and they will be on contracted pricing, so those contracts will be renegotiated soon."
Indeed, at 66.2%, the gross margin for the 12 months ended March 31, 2020, fell to 63.2% in 2021 and 62.6% in 2022.
Ridgewell's forecast is for margins to return to 65% by the end of 2025.
Citibank's earnings forecast to 2025 is at the top of the range at $707m, while Morningstar's is the lowest of analysts canvassed by BusinessDesk, at $578m.
The long and the short of it
But forecasts out to 2025 aren't even considered short-term for Gradon, who regards short-term as five years and long-term as 30-years plus.
"We think the sustainable model – because we've done it for 20 years – is to double the size of the business every five to six years," he said.
To achieve this, F&P Healthcare has planned a new site in Karaka for 15,000 to 20,000 employees.
There are currently about 4,000 employees at the East Tamaki site upon which another manufacturing/office building and parking building are currently being established.
The purchase of the 105-hectare site is yet to be approved by the Overseas Investment Office and will require a planning law change to get consented.
"It's a big, big investment," Jonti Rhodes, the executive in charge of the project, conceded, "but we think NZ is a fantastic place to be. We've got the right people and we think that the land will be surrounded by people and infrastructure in time."
City planning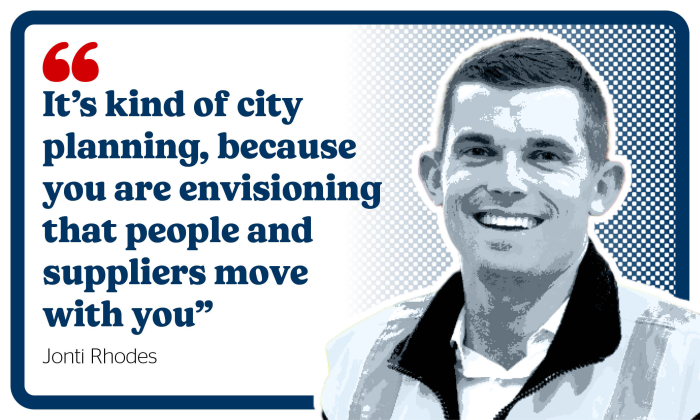 Rhodes said F&P Healthcare's supply network gravitated towards East Tamaki over time, and it expected the same to happen for Karaka.
"It's kind of city planning because you are envisioning that people and suppliers move with you," he added.
As well as suppliers, employees were expected to gravitate to the site. Approximately 75% of F&P Healthcare's manufacturing workers live in South Auckland, and Rhodes expected workers heading to Karaka to have a similar 15- to 20-minute commute.
"Another part of our decision-making was the fact that our average age of a research and development person is probably mid-20s to mid-30s sort of space. Where are these people going to be able to afford a house? It's not going to be Remuera."
Rhodes is insistent on person-to-person interaction, "because that's where a lot of the collaboration, a lot of the ideation comes together".
"One of my core responsibilities is to create workspaces that people want to come to so that the actual physical barrier of having to go to a place is overcome once I'm there."
However, Gradon accepted this is a challenge in the post-covid working age.
"It's a valid concern and a valid worry. We've got ways of addressing it, like there's an expectation of, like, if I work for, say, Spark, I can work from home, whereas here, I wouldn't say we're inflexible, but you are expected to turn up.
"The question is how do you get that individual to understand you can enjoy yourself here, you're going to have fun and learn a lot more."
Read tomorrow: The Fisher & Paykel way – at the frontier.