One of the best things to savour about winter is the chance to enjoy hearty, warming food and the conviviality that comes from shared culinary experiences. This month, there is a new Auckland community-style restaurant to check out, dining under the stars in Wellington, and some high-end toasted sandwiches to tuck into.
New this month
Freshly minted on Parnell's main drag is Va Bene, a 45-seat, European-inspired eatery that centres around a large, shared table. Esmeralda Kasmara (Non Solo Pizza, Bandung), chef Paul Patterson and their friend Brent Newdick are the team behind the opening and the tagline "Small plates, Champagne and good times".
Leo Hendra has been brought in as head chef. He's worked alongside notable UK chef Angela Hartnett and has recently relocated from England, where he did stints at the lauded Lime Wood Hotel in the New Forest, Hampshire, and the Michelin-starred Pollen Street Social in London's upmarket Mayfair district.
Patterson says the idea for Va Bene came out of his eight years in Paris and Newdick's time in Italy. "We both missed community-style eating and wanted to bring that to Auckland," he says. "Our dishes have no more than three or four ingredients – simple but with big flavours. We're pretty seasonally driven in what we're making, which is constantly changing, or it could just be what we feel like eating that week."
Bookings can be made through Va Bene's Instagram account.
Happy first birthday
Hats off to the team at Rodd & Gunn's Commercial Bay, Auckland, eatery The Lodge Bar & Dining, which celebrates its first birthday with an invite-only soirée on June 11. The success of The Lodge dining concept, which is also found in a sister restaurant in Queenstown, has spurred the group to open across the ditch. Rodd & Gunn's general manager of hospitality, Josh Beagley, confirmed to BusinessDesk that they will be opening another restaurant in James St, Brisbane, this year. "The Lodge Bar openings have been a fantastic addition to the Rodd & Gunn network. We've recorded almost 25,000 diners through them. We also welcomed executive chef Matt Lambert into The Lodge Bar group on a full-time basis, bringing his immense talent and technical skill exclusively to our venues."
Bon appétit
Auckland's Euro has always had a certain je ne sais quoi that has kept its well-heeled clientele coming back for decades. After a successful autumn menu, which was head chef Uelese Mua's first for the restaurant, he and executive chef Gareth Stewart are now focusing their formidable culinary skills on a French winter offering. Marseille-inspired bouillabaisse, côte de boeuf, tarte tartin and cauliflower grenobloise are but some of the delicacies included on the new menu. "I learned how to enjoy the French way of cooking from a young age," says Stewart. "Spending time in French-inspired kitchens allowed me to truly master their techniques and philosophy, which for some time I believed was the only way."
In-house mixologist Katie Cramphorn's bespoke collection of cocktails for the season include the classic Sidecar, and award-winning photographer Alistair Guthrie is featuring works from his travels in France in 1990 – the same year Euro opened.
Winter warmers
Wellington's St Johns Bar and Eatery are pulling out all the stops this month with their "winter village", which runs until July 25. Punters can enjoy a share-style banquet under the stars in a fairy-lit igloo. There will be plush blankets and loungers to recline on and a well-curated menu of cocktails to choose from. We're plumping for the St Johns rum Colada – that'll put some fire in your belly.
Stanley Avenue Wine Bar and Bistro in Auckland's Milford has been getting some good word-of-mouth lately. The neighbourhood eatery was opened last September by Kathryn Aitchison and her brother Matthew, a certified sommelier, alongside Bruce and Lesley Baillie – and they've got a bit of star power in the kitchen from head chef John Fan Chiang (Baduzzi, The Grove and Sydney's three-hatted Momofuku Seiobo). The winter menu is now in full swing and features some enticing offerings including spiced butternut agnolotti with saffron velouté and seed crumble, and barbecue venison with milled wine jus.
Visa Wellington on a Plate has released its 2021 programme and it's a cracker. The festival runs from Aug 1 to 31 with 140 events to choose from. Our picks are the Barrel Cave Degustation at Luna Blue Rock winery in Martinborough, Billecart Salmon Heli Lunch at Wharekauhau Country Estate at Palliser Bay, and Noble Rot's A Sommelier's Journey in the central city. Pre-sale tickets for Visa card holders are open from June 14 to 16, with general sale tickets available from June 21.
Special treat
Park Hyatt Auckland executive chef Brent Martin is acknowledging Coeliac Awareness Week with a special afternoon tea each day from June 9 to 13 in the hotel's Living Room. Martin, who has coeliac disease in his family, will be preparing a high-end offering designed to surprise and delight. "Our focus isn't to create dishes which replace gluten; rather, we're focusing on constructing dishes using naturally 'clean' ingredients," he says. "We want to make sure everyone can come and enjoy a delicious afternoon tea experience." Bookings can be made by emailing aimee.tuck@hyatt.com
Something to chew on
As novelties go, this one's a baller. The Glenlivet whisky brand has launched a limited-edition Capsule Collection range of "glassless cocktails" – 23ml measures of Pineapple Punch or Old Fashioned presented in an edible, round casing that dissolves in the mouth. You can get in on the action at Coley & Punch, Sugar Club, and Sardine in Auckland; Arborist in Wellington; The Last Word in Christchurch, and Bordeaux in Queenstown.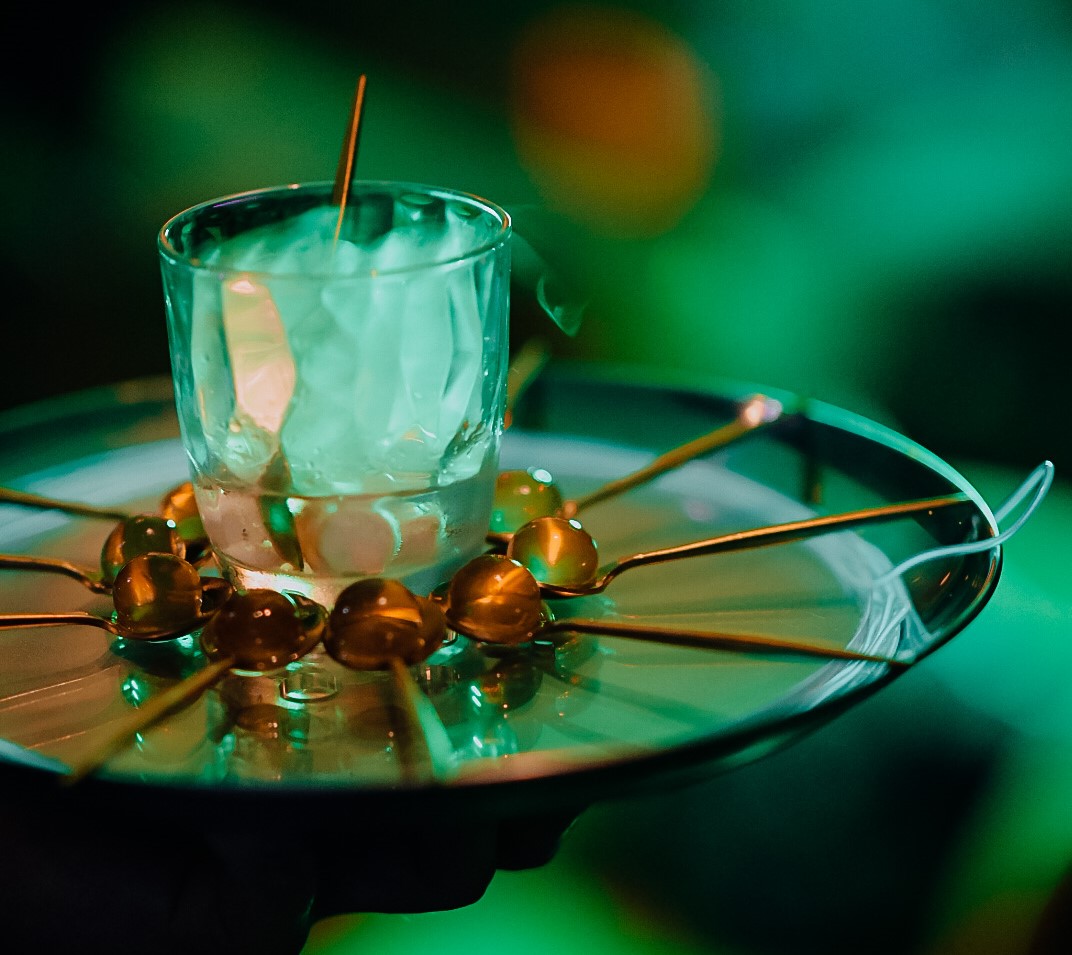 The Glenlivet "glassless cocktails".
Toast of New Zealand
In a world juddering on its axis under the strain of the pandemic, it's nice to be able to get involved in something comforting – and a little competitive. The Great Toastie Takeover, now into its fourth year, is scouring the length and breadth of our fine country to find the best toasted sandwich. Heavyweight entrants include Farro Fresh, Auckland's Federal Delicatessen, and last year's winner, Dunedin's Hungry Hobos, and teams are putting some serious spins on this most humble of meals. Think hangi, haggis and spicy pulled carrots. Fear not, though: the rules state entries must also contain the traditional cheese, and tangy McClure's pickles. Toasties will be judged on presentation, preparation technique, eatability, taste, innovation and originality. The winner will be announced on July 30, and you can also have your say in the public vote part of the competition.
Follow Jacqui @jacqui.loates.haver