The way John Chow tells it, getting into the brothel business was just one of those accidents that could happen to anyone.
A bit like the 2010 forced demolition of a heritage hotel opposite Auckland's SkyCity casino where Chow, with brother Michael, planned a mixed brothel, strip club, gym, and office complex.
The only reason the façade on the old Palace Hotel started buckling dangerously was due to his concern for the health of the strippers and pole-dancers not having enough headroom to do their thing.
With a basement ceiling height of just 2.1 metres, the budding property developer was simply trying to do the decent thing and excavate a three metre stud appropriate to the needs of the professional adult entertainer.
"Otherwise they hit their head, right?"
The place where they got their start in the sex industry, the Mermaids strip club and brothel complex in Wellington's Courtenay Place, was just another example of 'needs must' happenstance.
Having purchased an old ANZ bank branch building in the late 1990s, before Courtenay Place became the weekend drunkard's paradise it is now, the sons of Hong Kong immigrants were desperate to find a tenant.
So dire was their situation their father had to sell the family home in Lower Hutt to clear the bank debt crushing his boys. As a result, the whole family – Mum, Dad, two brothers, two sisters - were living in the vacant three-storey building.
John had come back from a three-year stint in Hong Kong as a telecoms engineer in order to run the family takeaway shop – at that time one of the only places to stay open later than 11pm.
An initial approach from a would-be strip club operator was turned down. Who would want to rent office space above a flesh bar? the brothers reasoned.
It just wasn't commercially practical.
But as the entrepreneurial pair plodded nightly between the takeaway bar – about 300 metres down the street - to doss down in their untenanted digs, they noticed Courtenay Place changing from Dead Zone to Party Central.
An open-minded approach
"It came to my mind, maybe that strip club was not a bad idea," said John, who recently turned 50 and meets me dressed in a checked shirt and chinos at the head office of one of the country's largest franchise house builders, Stonewood Homes, on swanky Princes Wharf in Auckland.
It's a far cry from 10 years ago, when the Wellington bad boys came to Auckland and made a virtue of looking like a couple of gangsters in sharp suits, shiny shaven heads, flashy offices, and being photographed at the opening a Penthouse-branded bar surrounded by hard-faced beauties in minimalist garb.
Next door to the Stonewood offices is the Hilton Hotel.
A few hundred metres away: the Viaduct Harbour, the headquarters of the various America's Cup syndicates, and some of the most expensive real estate and floating gin palaces in the country. Up at 280 Queen Street, John and Michael are spending $120 million renovating a multi-storey office building that marks their entry into the big time in Auckland commercial property.
In Wellington, they own the building housing Westpac's head office, a big chunk of turf on the edge of town they call 'Top of Tory' and a bunch of other commercial property in the capital, along with hotels in Wellington and Rotorua.
Living in a derelict bank branch with his extended family is a distant memory for Chow, who now lives off wealthy Paritai Drive, and claims a property portfolio worth half a billion dollars.
But what really defines the Chow brothers now and in the future is their 2016 rescue of Christchurch-based Stonewood Homes from receivership.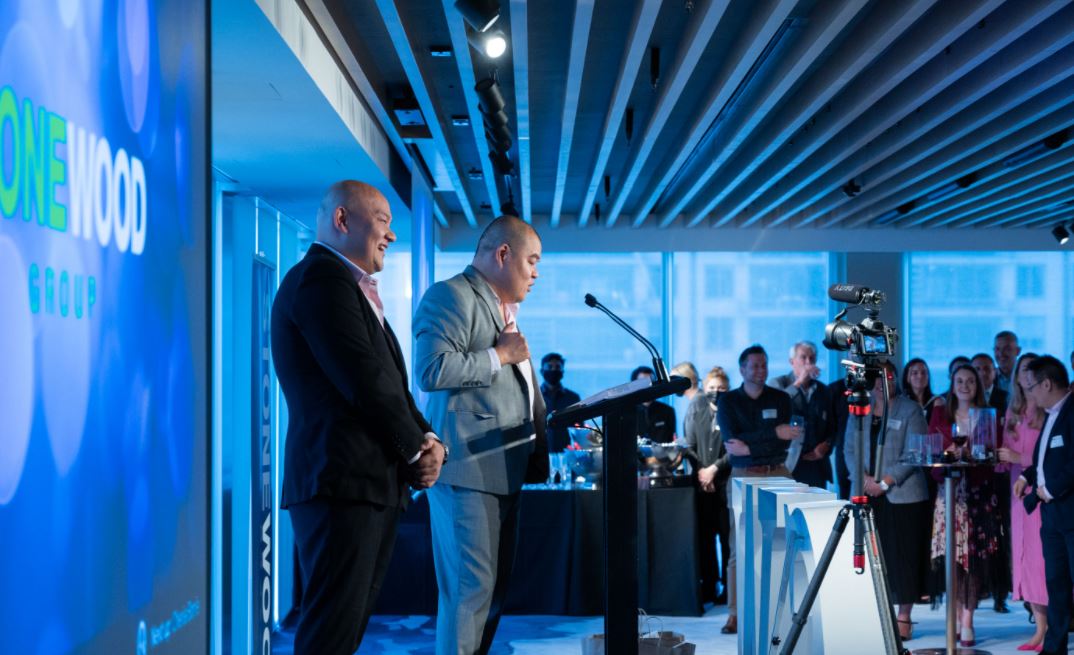 Swapping sex for the suburbs
The folksy, family-friendly advertising for Stonewood Homes is everywhere and, in an important move the brothers are keen to keep emphasising, they sold out of their last sex business in December last year.
The sex businesses were "no longer core assets," he explained.
"You could also say it comes with some legacy and some moral issues and all that," he said. "We accept that that's not everyone's cup of tea but then that's also part of our history. We're not going to deny that."
However, the message is - the Chow brothers have gone straight.
And now they want your money a new way.
At a launch event on Thursday evening, high up in the Park Hyatt Hotel, the brothers' road to respectability was on full display.
In the room were not only National Party leader Judith Collins, former leader Don Brash, celebrity economist Tony Alexander, NZ Herald editor-in-chief Shayne Currie and boxer David Parker – whom Stonewood is sponsoring for his next big fight – but star speaker for the evening was ex-prime minister and current ANZ Bank chairman John Key.
Just last month at the investment professionals' INFINZ conference, Key warned: "One of the things that could be a real worry here is that if you start seeing a non-bank deposit sector really growing", offering high interest rates, especially if "they look like a bank when they are really mezzanine finance providers for property developers."
"Then hello and welcome to all the problems I dealt with when I was prime minister. There's a reason we wrote off a billion dollars on South Canterbury Finance and all these kinds of people."
Fast-forward to Thursday night and there was Key spruiking an as-yet-undefined new residential property financing fund, Stonewood Capital.
The Chow brothers, said Key, were a sterling example of hard-working migrants who'd "started at the bottom, if you like and worked their way, arguably, to the top."
These were fundamental values of the National Party.
While not professing to know much of the detail, Key said this was "not the first real estate fund in the world, but if you accept the view that interest rates are likely to stay very low for a very long time, then people are going to have to look for alternative sources to earn returns on their capital."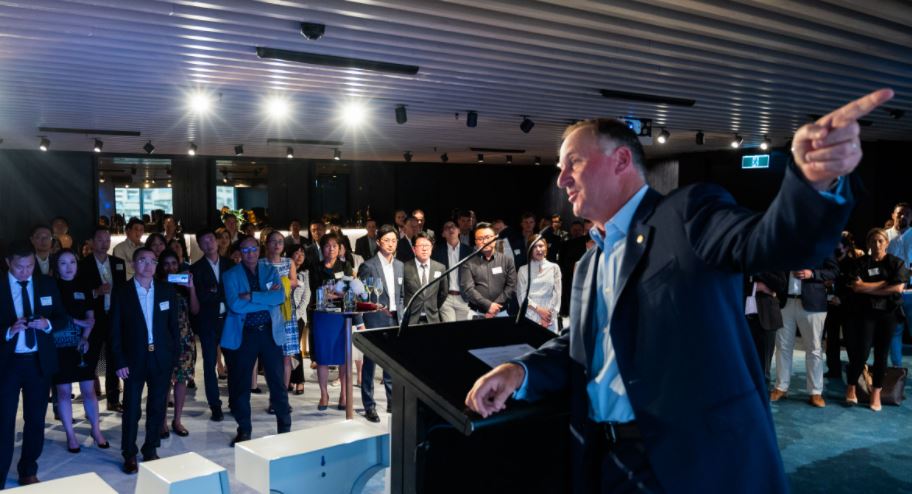 What's the deal?
All of which is true, and none of which passes judgement either way on the $25 million - or is it $50 million, or is it $100 million - fund the Chow brothers are about to try and take deposits for.
In an interview late last month, John Chow talked $25 million for a start, rising to $50 million if there was appetite. Subsequent conversations with advisers suggested the target was $100 million.
Thursday night's announcement said $25 million to $50 million.
Whatever the ultimate sum, the Chow guarantee is they will put in the first 10 percent and always be last to take their money out.
"It's not a finance company. We're only investing in our own projects," Chow told BusinessDesk last month.
The offer was to involve redeemable preference shares, paying quarterly dividends of between five-and-10 percent, said Chow, but the detail would emerge at the Nov. 19 launch. Professional director Trevor Janes and long-time National Party minister Murray McCully were to be on an advisory board, he said.
Back in October, the plan was to raise the funds only from the wholesale market – either institutional or high net worth, so-called 'sophisticated' investors – which requires only an Information Memorandum rather than a full product disclosure document to satisfy the Financial Markets Authority's regulatory requirements.
Come Thursday, however, there was no IM, no prospectus, no Janes, no McCully, and almost no detail except that the fund would invest in accelerating only Stonewood Homes projects.
Just a roomful of influential Aucklanders, a promise to produce an investment proposition sometime early next year, and an update on the brothers' ambition to own assets worth $2 billion by 2025. Their current portfolio is worth perhaps $500 million, so that's a lot of growth in a short time.
Sceptic alert
Now, perhaps a sceptical reaction to all of this is unfair.
The Chow boys didn't migrate to NZ to run brothels, it just happened that way.
"I can't change history," said John. "At the time, I've got an empty building and my father sold his family home and tried to help me.
"Also, how many successful strip club owners are there in NZ, you know? Even in Australia, even in the world," he said. "I think one of the challenging parts is being Asian, Chinese, having a sex business. People think 'oh, they must be dodgy people'.
"Which in the early days, it might be a bit."
But there is such as a thing as turning over a new leaf, as well as such a thing as giving a dog a bad name.
But as a rags to riches story and a master-class in ruthlessly pursuing respectability from the worst possible back-story, you'd have to say this one comes with a fair bit of bare-faced cheek.