New Zealand is in the midst of a residential construction boom, with consents at their highest levels in decades.
And one company is streets ahead of the competition in terms of the number of new houses it is putting up.
Based on building consents data from BCI New Zealand, GJ Gardner Homes is the biggest house builder in the country, by some distance.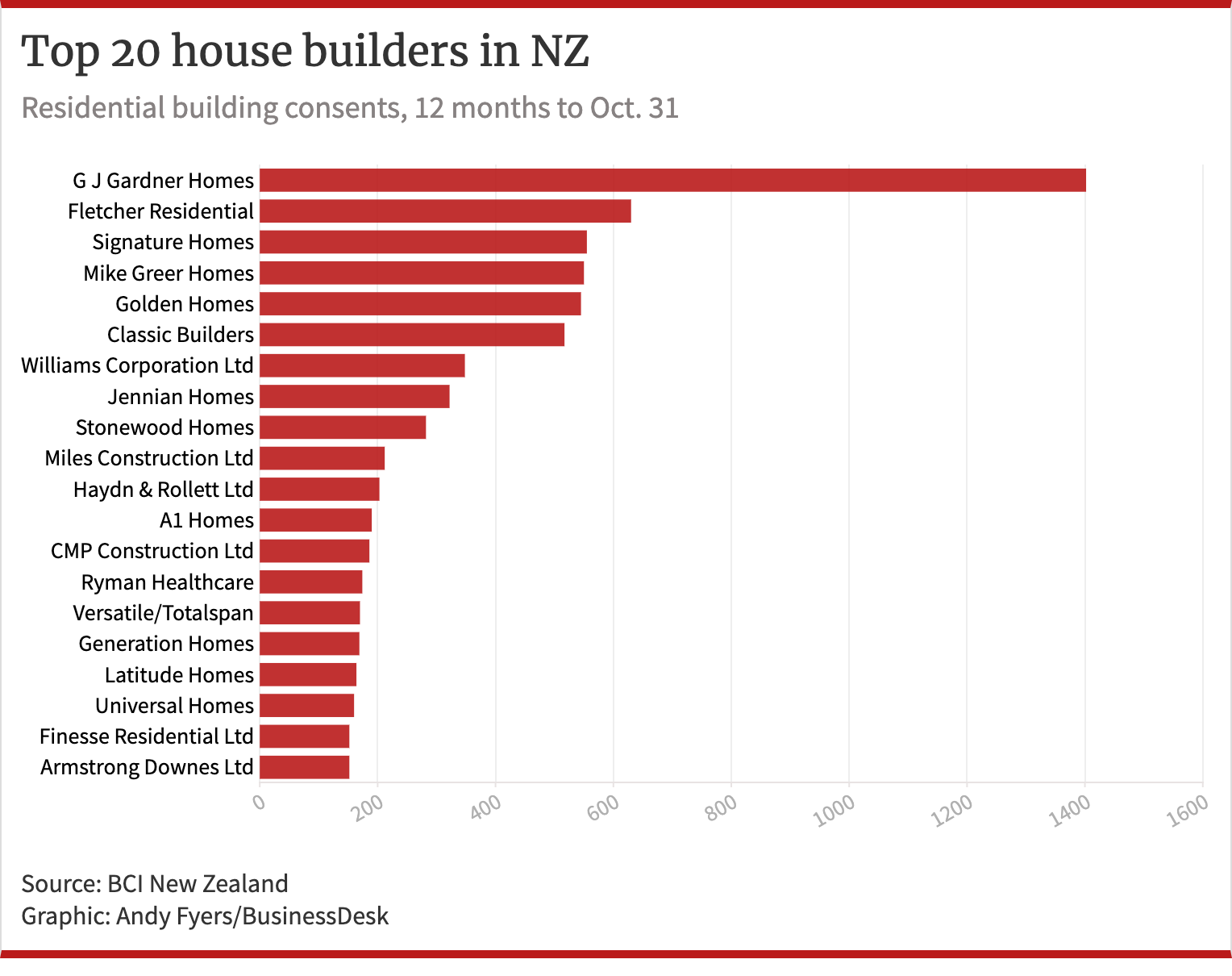 Between Nov. 2019 and Oct. 2020 the company had 1402 building consents issued to it, for projects costing $565 million in total. That excludes the cost of land and fittings.
The chasing pack includes Fletcher Residential, Signature Homes, Mike Greer Homes, Golden Homes and Classic Builders, which all had about 500-to-600 consents issued in the same time.
GJ Gardner homes tended to be bigger and more expensive than their closest competitors at an average size of 172 square metres and an average cost of $403,148.
Franchise builder Stonewood Homes, owned by brothers Michael and John Chow, clocks in at ninth. The brothers have plans to tap wholesale investors for $25 million-plus in the new year, with the intention of underwriting a significant increase in their total of 282 homes built in the year to Oct 31, with an average value of $368,498.
The BCI NZ Residential Construction Top New House Builders report ranks the 165 biggest residential building companies in the country.
The last of these, Rem Building Ltd, built just 14 homes at a cost of $1.96 million, or $139,757 apiece.
Collectively these 165 biggest residential construction companies account for 30 percent of all the new homes built, a further 22 percent were built by other construction companies, 32 percent by owner-builders and the final 16 percent by unknown builders, for which BCI NZ has no information.