New Zealand's top listed companies donate just a tiny fraction of their profits to charity, despite evidence that giving can boost shareholder value.
BusinessDesk analysis of NZ's 10 largest listed companies found that most have been donating less than 1% of their pre-tax profits in the past two years.
The analysis recorded what was reported as donations in the companies' most recent annual reports, which does not include what firms might give to charity in form of sponsorship or marketing.
Regardless, the figures seem low relative to international levels.
A survey of 585 multi-billion-dollar companies completed by Chief Executives for Corporate Purpose found the average firm gave 1.3% of pre-tax profit between 2018 and 2020.
This was the first time that number had risen above 1%, but NZ companies are still trailing well behind.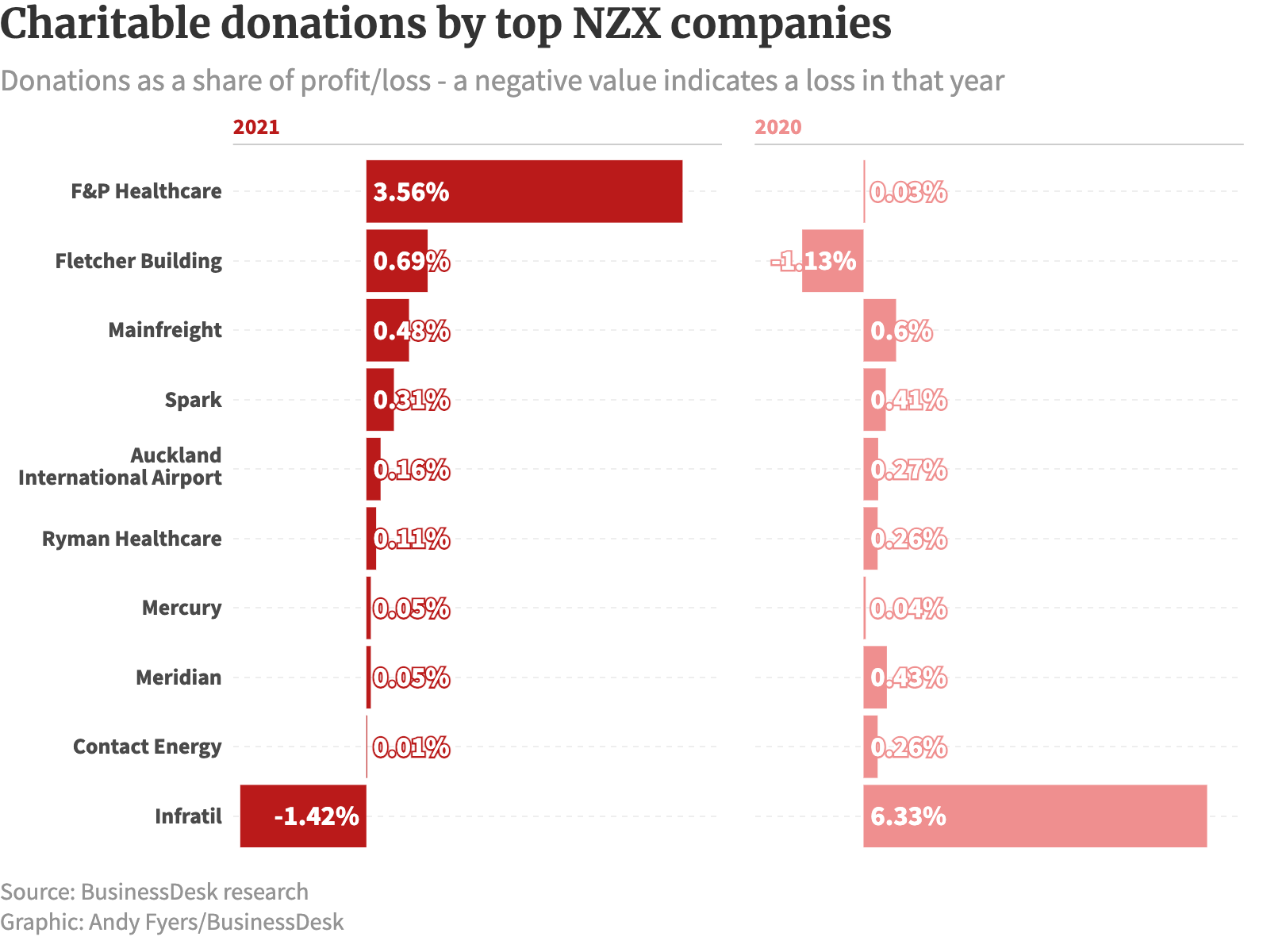 Fisher & Paykel Healthcare is the only company in BusinessDesk's analysis that cleared the 1% hurdle in 2021 and only because it set aside $20m to set up a charitable foundation.
The year before, it reported donating just $100,000, or 0.03% of pre-tax profit.
This number cannot reflect the full value of its giving, because the company's annual report included details of a $250,000 investment in refurbishing its namesake Clinical Education Centre.
That year it also donated $60,000 worth of masks and filters to hospitals in Auckland and donated some of its products to hospitals in Tijuana, Mexico.
The newly set up F&P Healthcare Foundation – which aims to improve under-served health needs, science, technology, engineering and mathematics (STEM) education and environmental goals – will likely see the company making more donations in the future.
Fiscally conservative
Most of the other top 10 companies donated less than half a percent of pre-tax profit in the 2021 and 2020 financial years.
For example, Meridian Energy reported giving just $300k in 2021 on a normalised profit after tax of $232m. The year before it reported giving $111,000, or 0.4%.
Again, this doesn't reflect the full amount of community funding the organisation gives. Meridian said it spent $19.5m on "marketing activities" in 2021, which includes partnerships with charities like KidsCan.
The state-owned electricity generator doesn't report these as donations because they also serve to promote the Meridian brand.
A 2015 research paper published in the Journal of International Trade & Commerce, found that corporate social responsibility (CRS) activities such as donations, sponsorship and volunteering had positive financial outcomes for businesses.
The paper's authors, Dae-Hee Lee, Chang-Joong Kim, and Chang-Hyun Jin, said research had found charity improved attitudes towards corporations, increased firms' competitiveness, and improved share market performance.
"CSR has become the expectation of customers in a modern competitive market where demand for CSR has increased," the authors wrote.
"Most people now expect a company to behave like a responsible citizen and become a vital part of the local community."
The more the better
A 2016 working paper by the European Corporate Governance Institute came to a similar conclusion that making donations improves share prices.
"We find that charitable donations are positively related to financial performance and firm value," wrote researchers Hao Liang and Luc Renneboog.
The pair found the positive effect was more substantial for cash donations than it was for giving away free products or services.
"At first sight, corporate philanthropy may seem inconsistent with maximising shareholder wealth," they wrote.
However, donations can function as a kind of marketing tool, save the company money in some way, or even bond employees to the company.
All these things can improve the financial performance of a firm, beyond the cash lost in the donation.
Let's use Auckland International Airport as an example.
A large chunk of its annual charitable donations is to its own community trust, which was founded to mitigate aircraft noise in suburbs around the airport.
The Auckland Airport Community Trust gives funding to low-income households in aircraft noise areas to install ceiling insulation, heat pumps and ventilation systems.
This is not so much charity as a legal obligation handed down by the Environment Court as a condition for permission to build a second runway in 2003.
The airport does do charitable donations, including $320,000 to the Ara Education Charitable Trust and $85,000 to various other charities – often foodbanks – in 2021.
Overall, it reported $762,000 of donations in 2021, which amounts to 0.2% of pre-tax profit.
Pet projects
Some businesses donate in areas related to their sectors, such as F&P Healthcare or Ryman Health, but others direct their effort towards a founder's passion project.
Mainfreight is one of the more charitable firms in our top 10 list. It reported donations of about $1.3m in both 2020 and 2021 or roughly half a percent of pre-tax profit.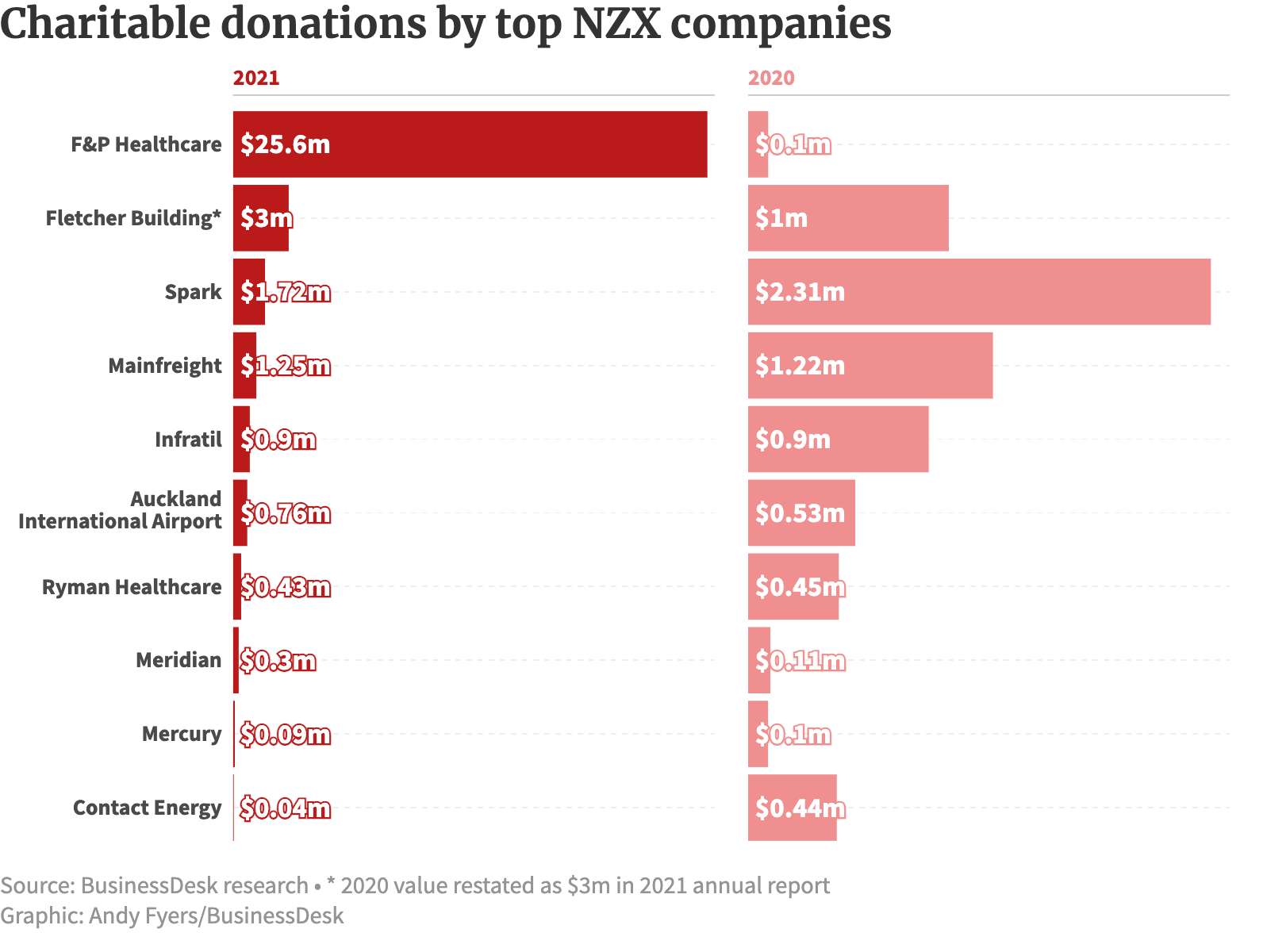 This money has been channelled into education projects such as Duffy Books in Homes, Life Education Trust, and other volunteer projects in local communities.
Much of this focus appears to have been championed by company founder, Bruce Plested, who quoted Alex Haley's "education is the enemy of poverty" in Mainfreight's 2021 annual report.
"This is one of the most common sayings seen on Mainfreight trucks," he wrote. "We believe so much in education, particularly for the less well-off".
Spark NZ donated 0.4% and 0.3% of its pre-tax profit in the 2021 and 2020 years. It focused its investment on ensuring under-served communities aren't being left behind as the world becomes digital.
The bulk of the $1.7m donated in 2021 went to the Spark Foundation, which is independently governed with a mission of building 'digital equity'.
Infrastructure investor Infratil reported charitable donations of $900,000 in both 2021 and 2020 but, unlike other companies, doesn't disclose where that money goes.
Many of the companies in its portfolio have specific charitable ventures, for example, Vodafone gave $1.5m to charitable works through its Vodafone Aotearoa Foundation.
NZ's biggest companies are not reporting large headline figures, but they mostly seem to be following the recommendations made by Hao Liang and Luc Renneboog in their working paper.
The pair said firms should focus on donations to charity, preferably in cash and using a corporate foundation, to improve the effectiveness of their giving.
And those that do ultimately would deliver better returns to shareholders as well, they said.
"All in all, doing well by doing good seems possible," the authors concluded.
Additional reporting by Greg Hurrell